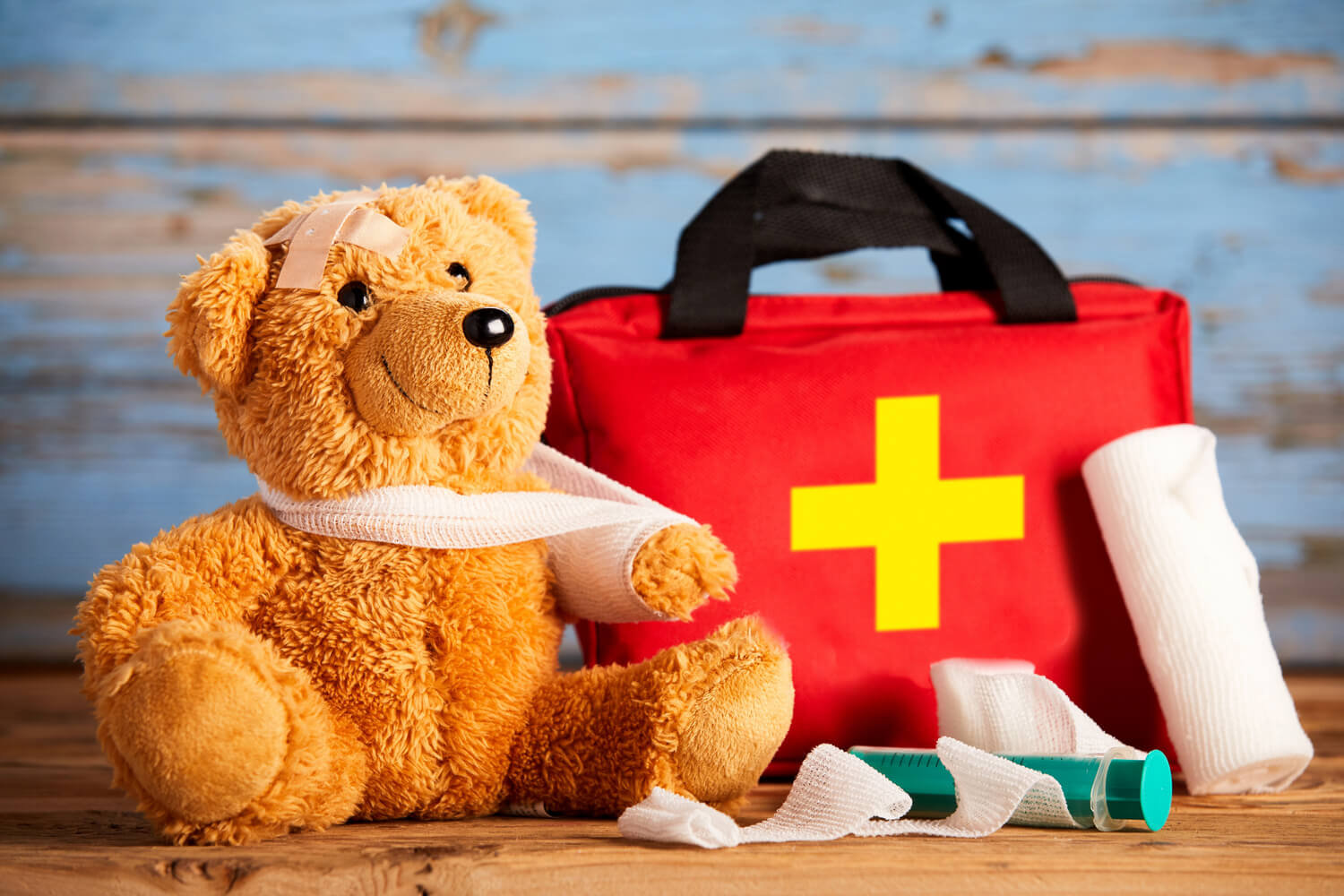 A first aid kit is a vital mini-medical store. It can rescue a person from some unforeseen medical conditions. Having a first aid kit is mandatory if you have a baby. An infant first aid kit will be different from an adult first aid kit. It has specially designed infant essentials.
There is quite a confusion regarding the usage and assembling of an infant first aid kit. In this article, we discuss in detail the first aid kit for babies – why do you need it and how to make it.
In This Article
The Need For a First Aid Kit For Infants
Infants are very much prone to injuries. Crawling and constant hand and leg movements can cause minor bruises and wounds. Digestion issues or colic is a common problem in babies. It can cause them pain and discomfort in the stomach. Because of their immature immune system, a change of place may affect them. This change of place can lead to infections and mild fever. Climate change can also be a reason for colds and coughs. All the above reasons demand a first aid kit.
A first aid kit and your presence of mind can give these small health conditions a better solution. Sometimes, proper first aid and care are all a baby might need to recover. But, it is important to note that not all conditions are manageable with a first aid kit. Some medical conditions may need a doctor's attention. Make sure to have the number of your healthcare provider handy. This is one of the vital essentials you need to have before taking the baby out.
Assembling or Buying a First Aid Kit For Your Newborn Baby- Which is Best?
An adult first aid kit and the essentials widely differ from a baby first aid kit. Everything that comes in an infant first aid kit is baby-friendly. You might need many other things to assemble the proper kit for your baby. You should be able to take care of the basic sufferings of an infant. An infant first aid kit sums up both the basics and their medical essentials.
There are some ready-made baby first aid kits available in the market. But, it is better to assemble one on your own for your baby. You are the one who knows what is right for them. The conditions that they face with certain changes in the climate and food, the type of food that can cause them a stomach bug and discomfort- all these should be noted down. Check them one by one while assembling slowly and carefully.
Basic Necessity Checklist For Babies
The basics of a baby change widely from that of an adult. Your baby's unique requirements means that you have to assemble a few things to take care of emergencies. Some basics include what you might need daily if you are taking your baby outdoors.
Diaper rash cream.
Wet wipes
Baby pillow
Baby towel
Some sets of mittens and socks.
Baby blanket
A small woolen cap in cold weather.
Baby brush
Basic Checklist For a Baby First Aid Kit
It is not easy to deal with infant fever when you are outdoors. Running here and there to find the medicine you want might be tedious. Keeping a first aid kit with all the essentials can save you from such situations. Since you know your baby well, talk to your pediatrician before assembling the medical kit for the baby. Arrange all the necessary basics as mentioned below  and medicines that your baby might need.
A baby first aid kit should have the following items to take care of them in case of emergencies:
1. Baby Thermometer
A thermometer is a device that measures body temperature. There are two types of thermometers that you can use for your baby.
a) Infrared Thermometer
Many pediatricians use infrared thermometers and trust them fully for their accuracy. An infrared thermometer comes to the rescue in all situations, majorly when the baby becomes fussy during fevers. An infrared thermometer can detect the temperature without contacting the skin. It absorbs the rays from the object by focusing an IR light on it. An infrared thermometer is gun-shaped with a trigger-like button and a display screen where you can read the temperature. Since the infrared thermometers do not need to contact the skin directly, they are very safe to use during pandemic times. Infrared thermometers are accurate at measuring the temperature. You must place the thermometer at the correct distance to measure the right temperature.
b) Axillary Thermometer
You can also use an axillary thermometer that is designed for babies. An axillary thermometer (digital) measures the temperature and displays it on a small screen. You can use it by placing it under the arm of your baby. Gently place it under the arm and make sure the tip does not move. You can also place the tip or the sensor on your baby's forehead to measure the temperature (if the baby is above 3 months old). Digital thermometers give an alarm after the measuring is done.
2. Measuring Cups or a Dropper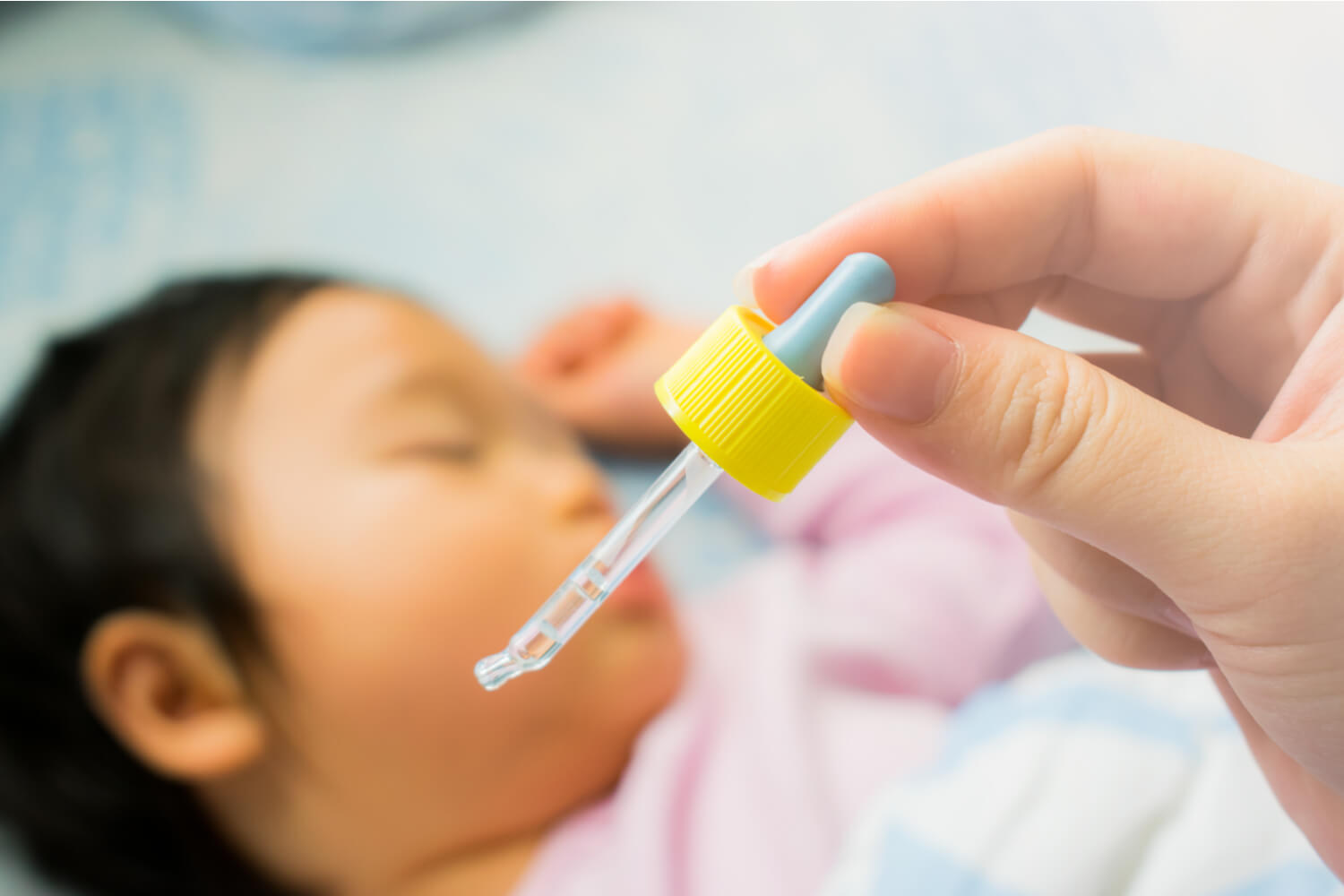 Another important essential that needs to be in your baby's first aid kit is a dropper or measuring cup. These are used to measure the amount of medicine that a baby might need. Once you realize that your baby has a fever, they come to your rescue. Before giving any medication to your baby, call your doctor, update them about your infant's condition and temperature. Administer the dosage according to the doctor's suggestion.
[Read : Trimming Baby Nails]
3. Baby Nail Clippers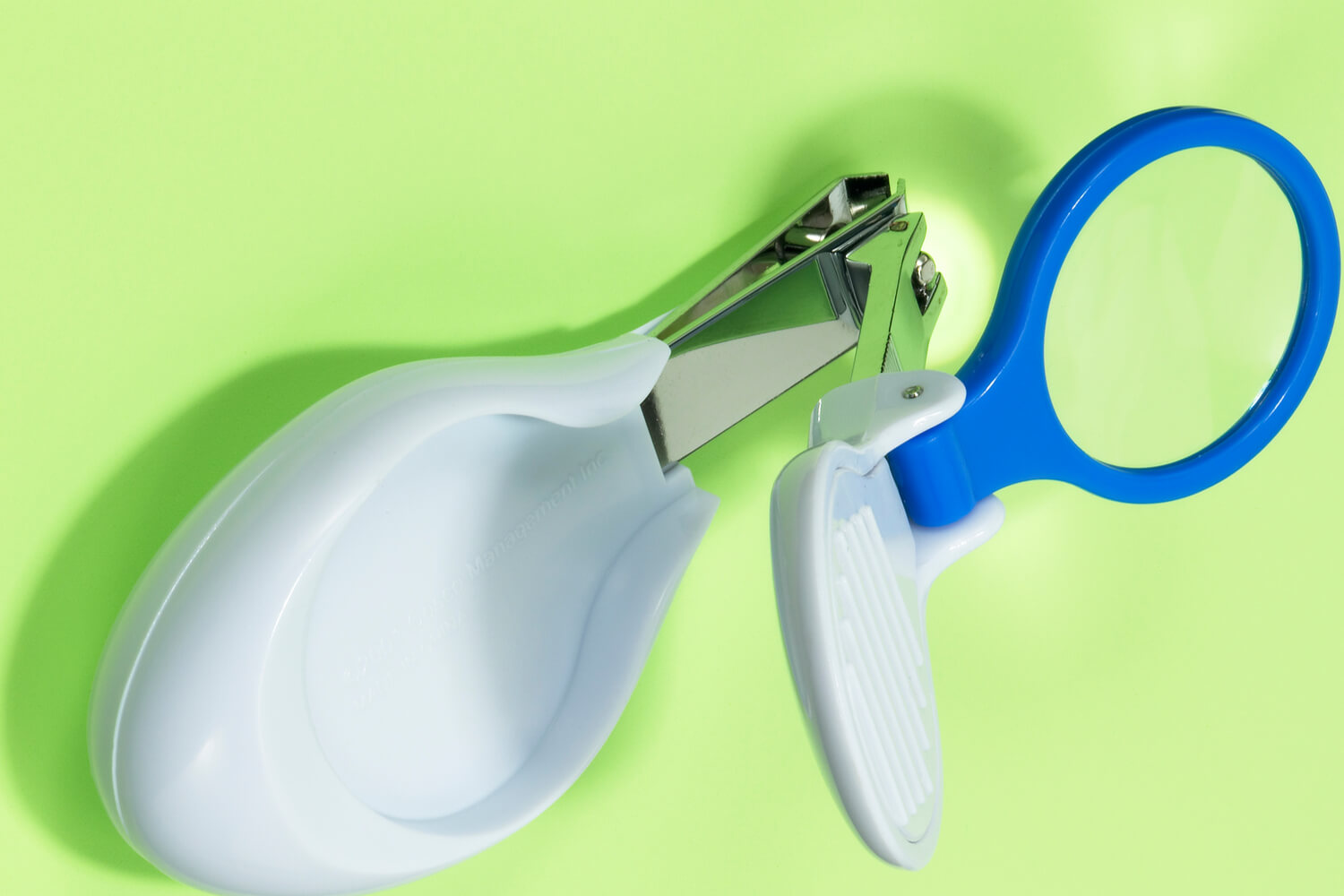 Baby nails grow so fast. You may need to trim them several times. Make sure you have the nail clipper as an essential in your first aid kit. Babies may bruise themselves and the people around them with their leg and hand movements. It is vital to trim them regularly to avoid such situations. You can always buy clippers specifically designed for babies which ensure that you can cut your baby's nails without hurting them. These clippers come with an in-built lens which allows you to have a better view of your little one's tiny fingers.
4. Analgesics and Antipyretics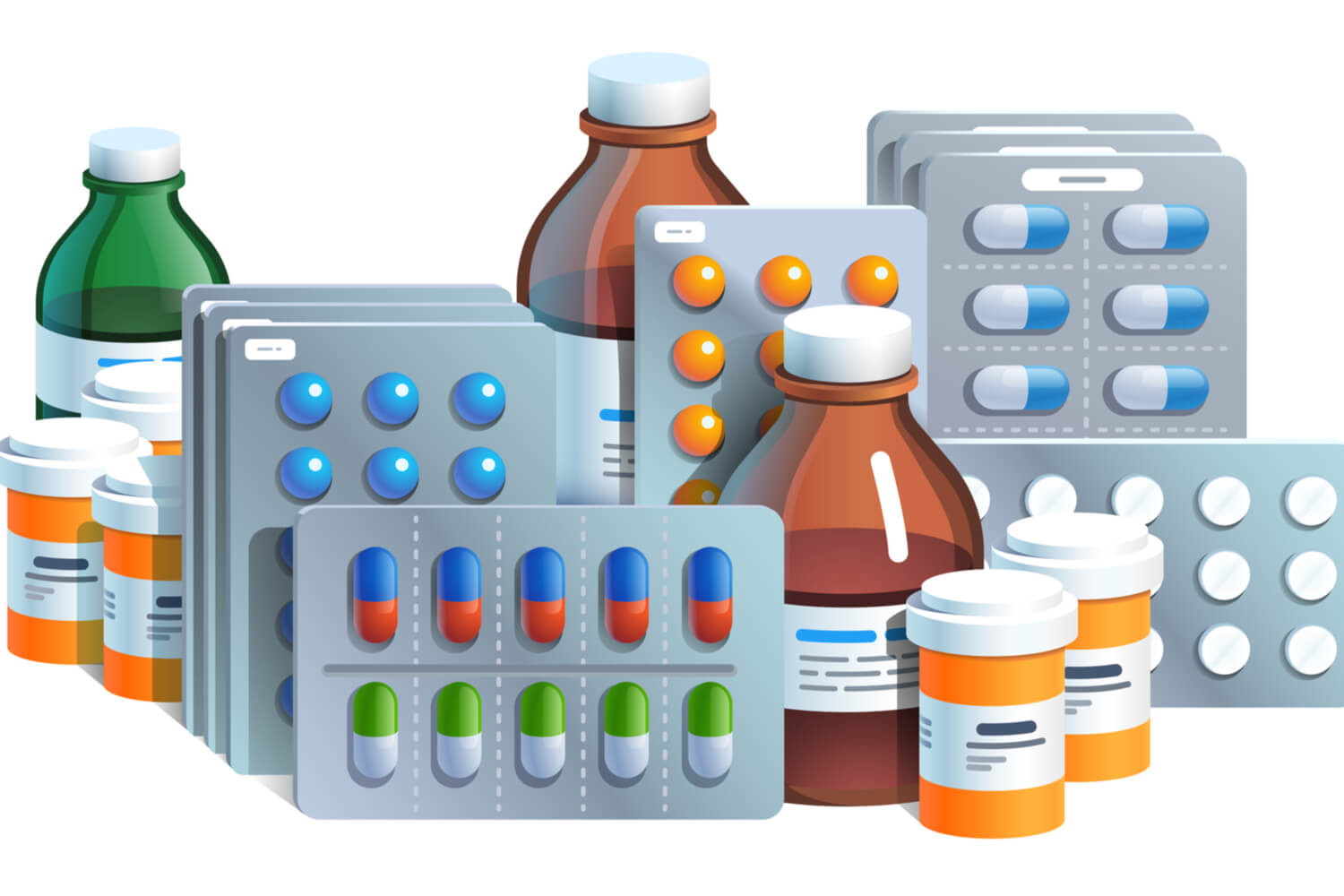 A sudden fever for your baby can make you feel overwhelmed. Mild medication can help you treat such conditions. Medicines like paracetamol are used for relieving mild fevers and pain.
Analgesics are used as pain medication.
Antipyretics are used to relieve mild fevers.
It is important to take your doctor's advice before administering these medications to your baby. Dosage is vital in the case of infants. Excess dosage can lead to unwanted reactions and sometimes prove fatal. This is when the measuring cups and droppers come to your rescue. A decongestant cough syrup might also be necessary for your baby's cough. Carry the medicines with the consent and prescription given by your baby's pediatrician.
5. Cotton Swabs/ Bandaids and Sterile Antiseptic Wipes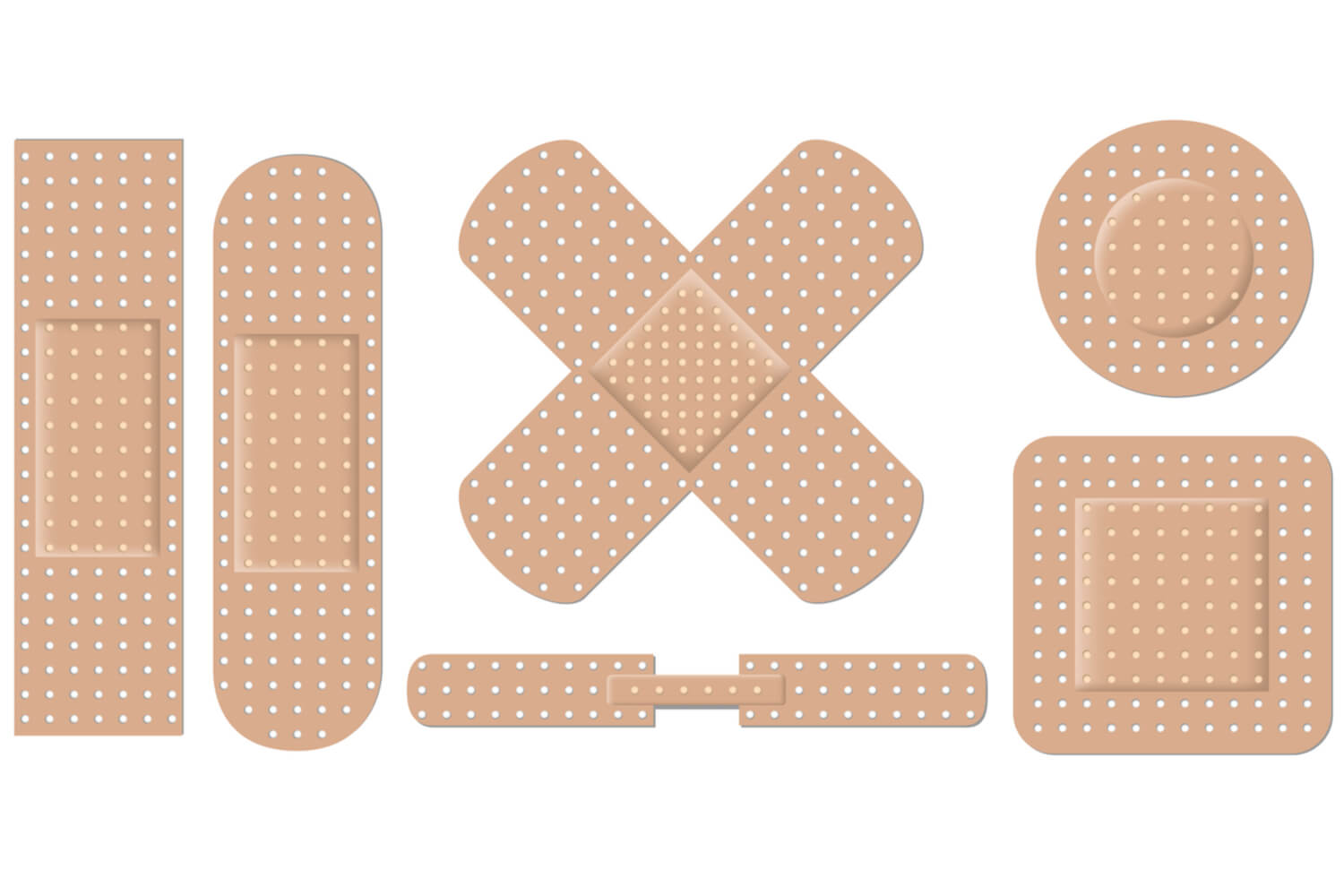 Babies tend to get themselves injured once they start to crawl. Minor cuts and bruises need to be cleaned to avoid microorganisms entering through them. Leaving them open may cause infection. A set of cotton swabs that are made safe is another essential for your baby's first aid kit. Cotton swabs and sterile antiseptic wipes can be useful to clean the area around the wound. Make sure the area around the wound is clean before wrapping the bandaid.
6. Calamine Lotion
Crawling babies hurt their skin. Due to this, the skin becomes rough and scaly. A calamine lotion can help in soothing dry skin. Applying it as frequently as needed will help reduce the itching and irritation caused by dry climates.
7. Ice Pack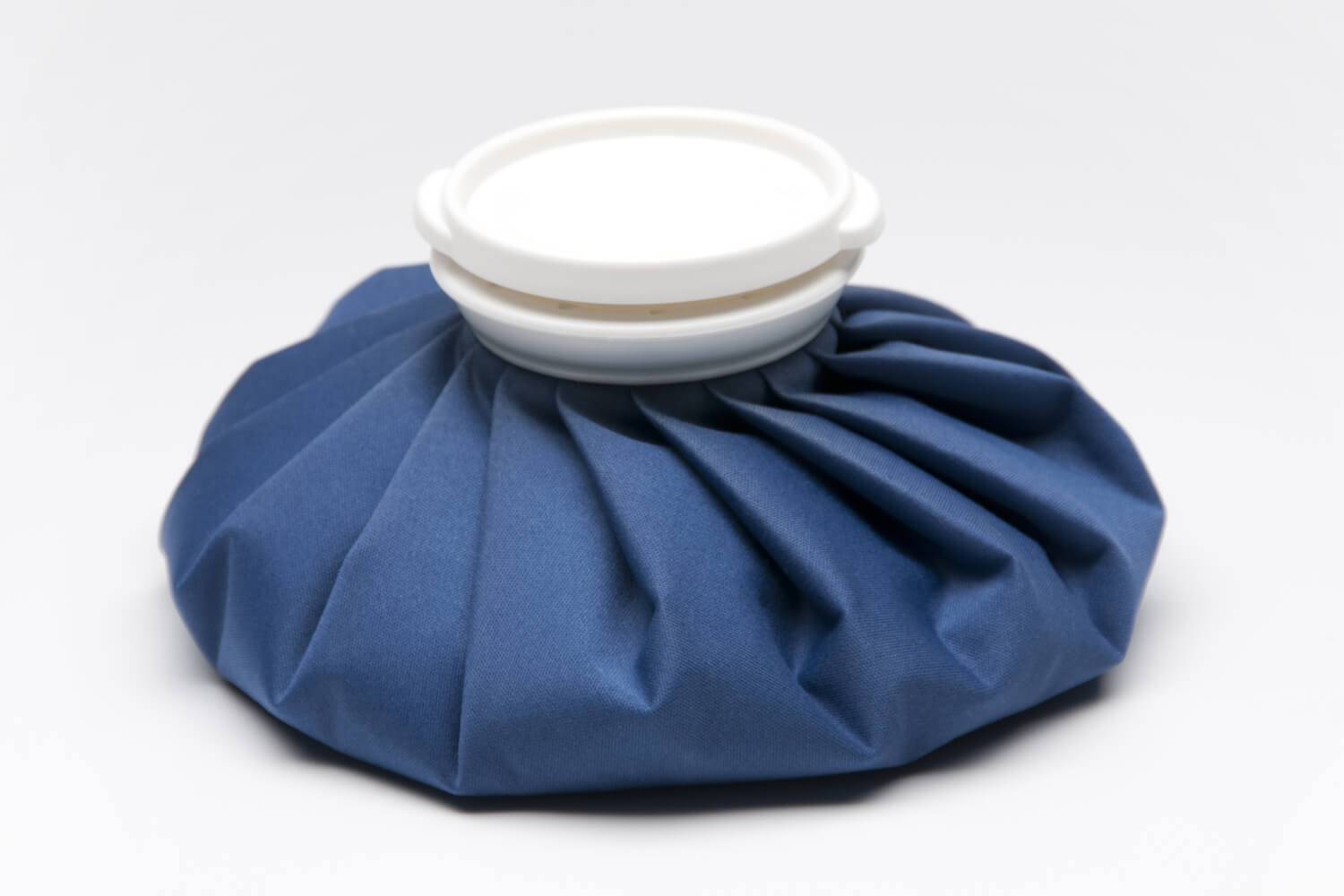 An ice pack should be one of the essentials that go in a baby's first aid kit. You can use this if the babies injure themselves by a sudden fall. Ice pack application can help in reducing inflammation. Do not apply the ice pack directly and do not apply it to an open wound. Wrap it in a soft cotton cloth and gently press it against the inflamed body part.
8. Saline Solution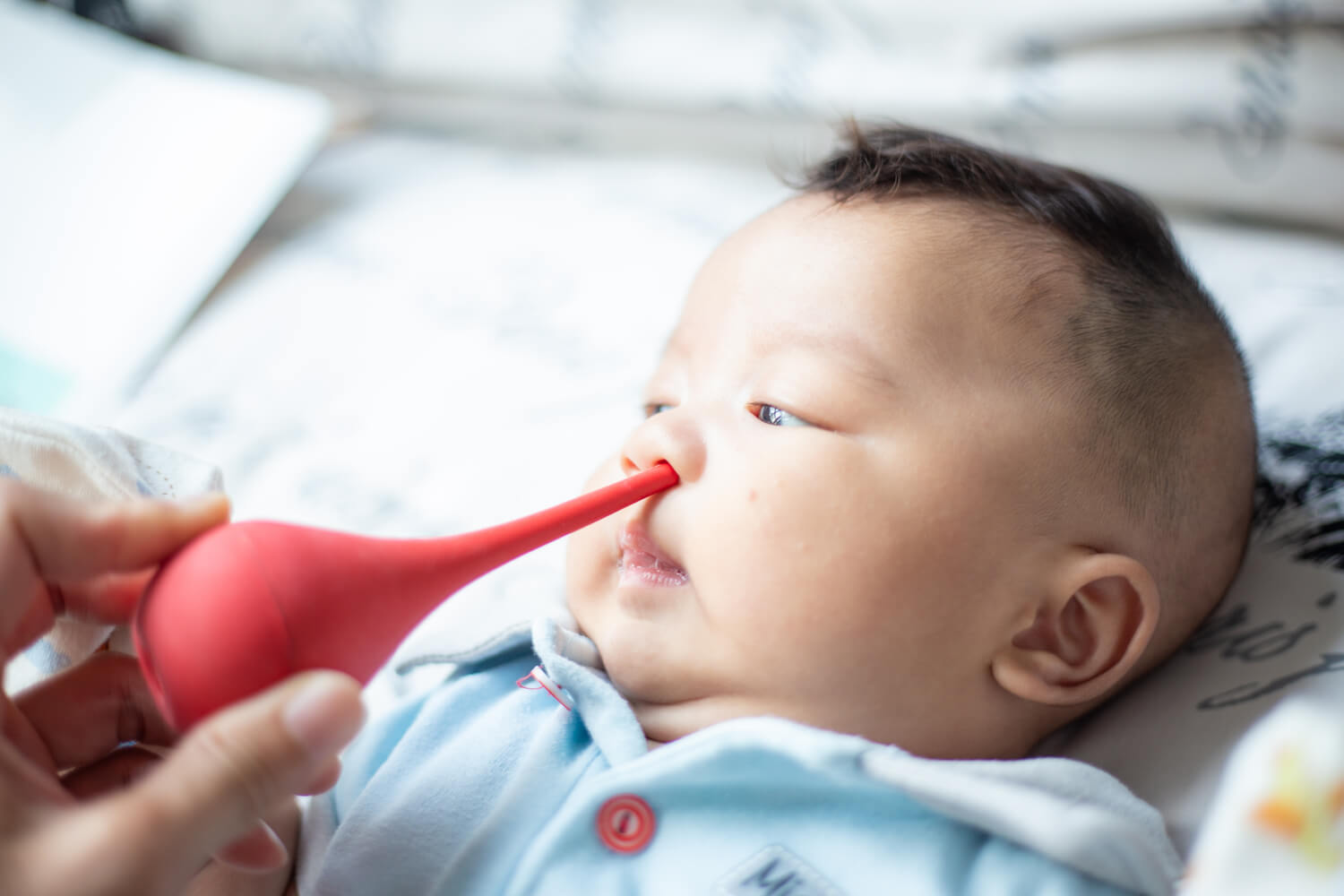 A saline solution comes to the rescue when your baby's nose is stuffy. A stuffy nose can lead to grunting sounds and discomfort in breathing. Using a saline solution can help in cleaning the nose. You may require a nasal bulb syringe or a dropper to put the solution into your baby's nose. Saline drops can help in comforting the baby by clearing the nasal passage.
9. Disposable Gloves and Hand Sanitizers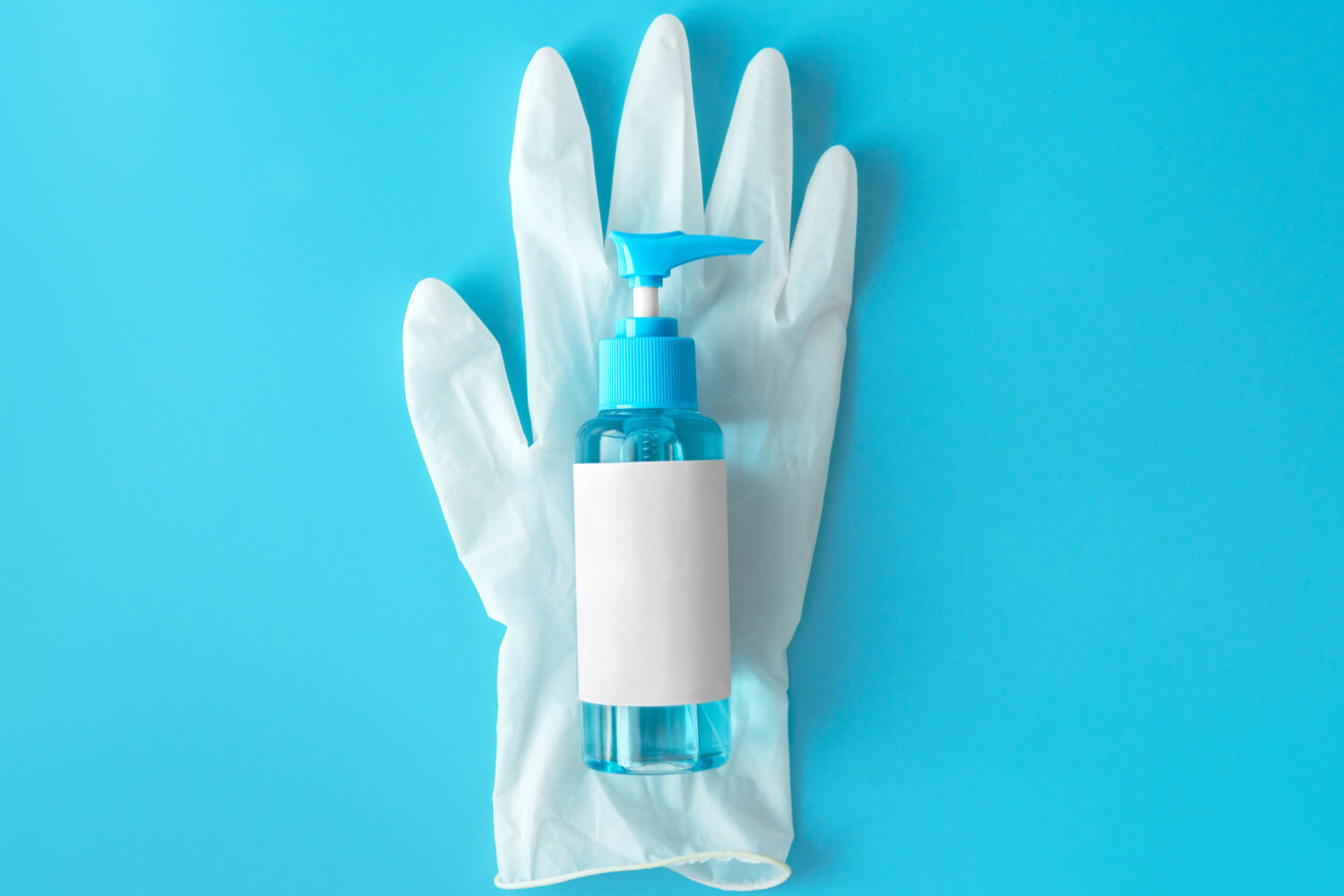 Wearing disposable gloves while cleaning your baby's wounds can help you stay hygienic. This can also help the baby avoid unnecessary infections that can spread from your bare hands. Keep a sanitizer handy if you do not have disposable gloves.
10. Natural Baby Mosquito Repellent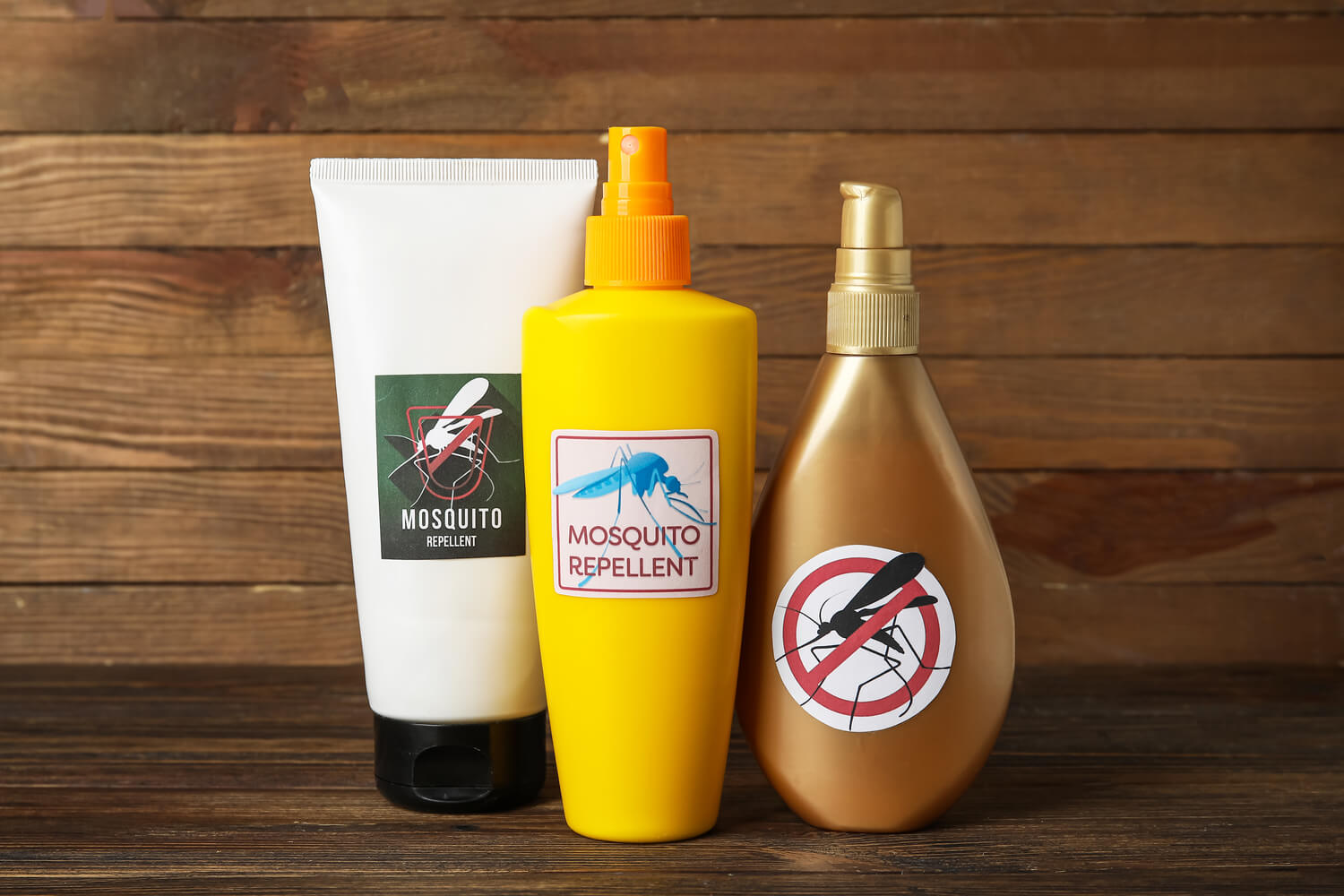 Keep a baby mosquito repellent handy. Use a mosquito repellent cream or a spray that is not made of harmful chemicals. Make sure to check the ingredients. Buy them only if the baby is not allergic to smells like eucalyptus and peppermint oils.
[Read : Safe and Unsafe Mosquito Repellents For Babies]
11. Pair of Scissors and Tweezers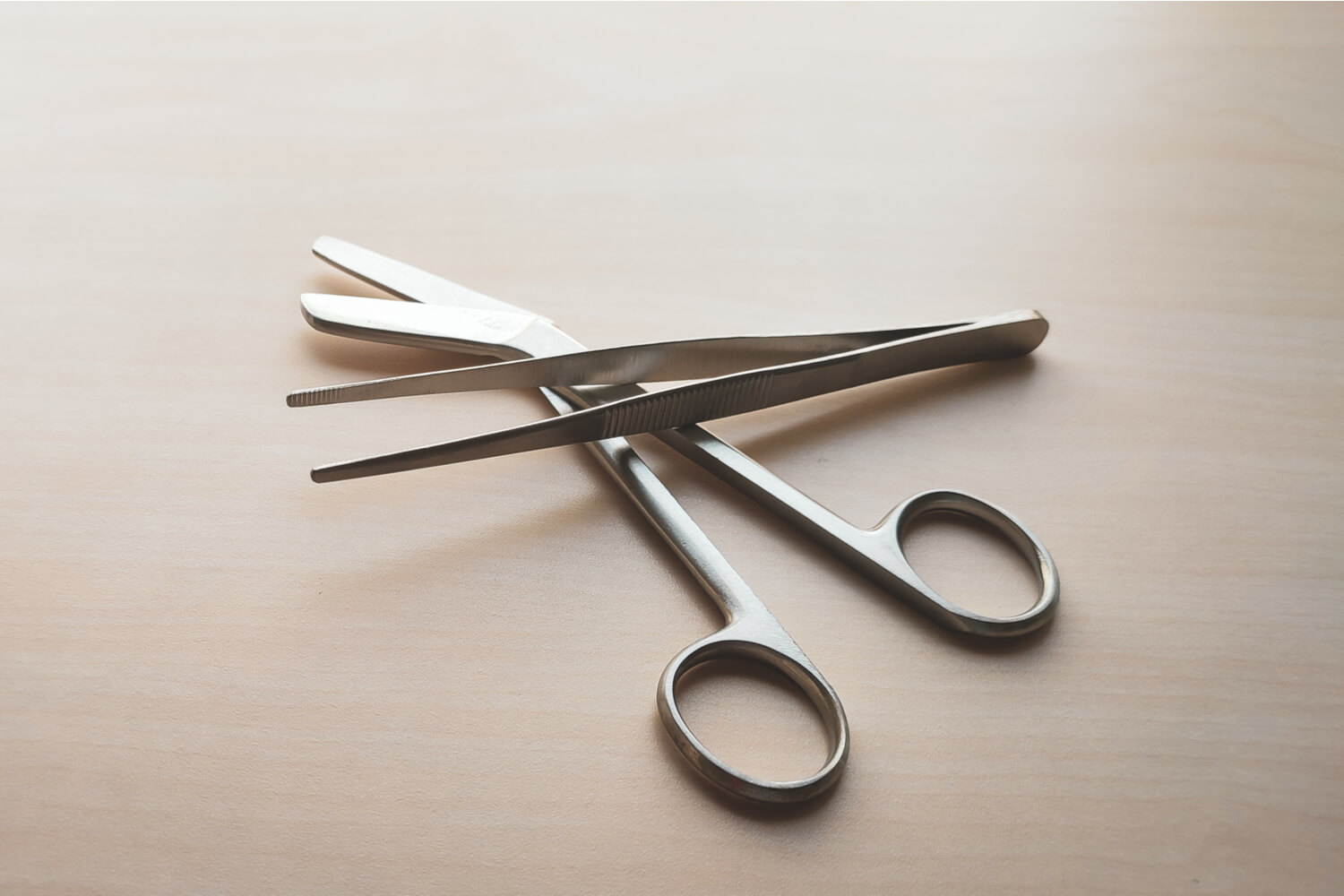 Keep a pair of scissors. These are helpful to cut the bandaids and sterile gauzes to the required size.
Tweezers are another essential that goes in a first aid kit. Tweezers are mostly useful for babies who crawl and those who start to walk. For babies who can get hurt by splinters, you can remove them with the help of tweezers slowly and carefully. Clean the pair of tweezers with an alcoholic solution. Calm your baby and remove the splinter slowly.
Maintaining a Baby's First Aid Kit
While assembling a first aid kit is vital, maintaining it well and keeping it clean is equally important. To maintain your baby's first aid kit and ensure maximum utility out of the kit, you must remember to
Check the dosage of the medicine before you give it to the baby. Incorrect dosage, if given in excess, may cause fatal results. Dosage less than the prescription may be ineffective for the condition.
Avoid sharing the same equipment that you are using for your baby.
Do not clean the wound. Clean the area around it.
Make sure your baby is doing all right after the first aid. It may take some time, but watching them after the treatment is important.
Make sure to replace the expired medication regularly.
Call your doctor if you think something is not fine with your baby.
Keep the kit out of reach if you have an older kid.
Do not use anything very sharp while dealing with baby first aid.
Never make use of a cotton bud to clean your baby's ears or eyes.
[Read : Child Safety – Store and Use Medicines Safely]
Is One First Aid Kit Enough or Will You Need More?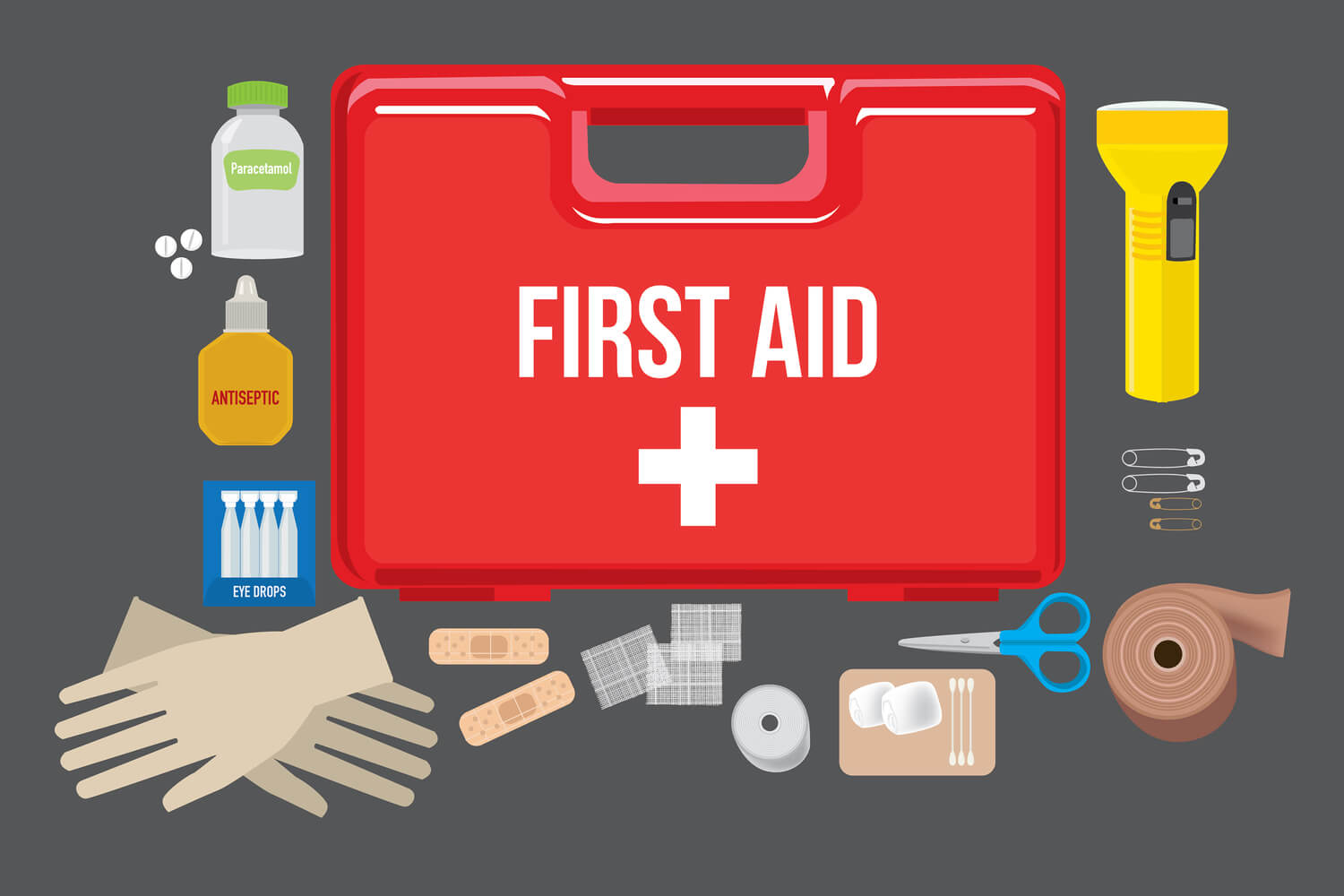 Traveling or taking the infant outdoors might be a task for a new parent. Carrying the whole baby stuff can sometimes make you forget very essential things. In such cases, having an extra first aid kit can help you overcome this situation. While packing, pack two or three kits with all the essentials. Keep the other two in different places and keep another handy. This can also be helpful for other parents with such infants.
Precautions in Case of Emergency
A mother knows her baby more than anyone. Staying calm and treating the baby in such situations can help to a great extent. But, if your instinct says that something is wrong and beyond treatable like
Different Emergency Situations
The following situations indicate an emergency situation where you may need to rush to your doctor.
In case you see a deep cut or wound with continuous bleeding that does not stop.
If the fever is not coming down.
Crying for no apparent reason even after a lot of consoles.
If the area around the wound becomes reddish, warm, and swollen.
If there is any sudden breathing trouble where your baby struggles to breathe.
Things to do in Emergency Situations
Make sure that you stick all the emergency numbers so that you can quickly refer to them in the above emergencies.
Try to call your doctor and follow the steps they instruct you.
Stay calm and take your baby to the nearest hospital.
Collect the phone numbers of hospitals that you can locate easily.
Keep all the medical reports of your baby handy.
Note down your baby's blood group.
Wait there and calm your baby as much as you can till help arrives.
Baby care and giving proper first aid care to the infant is overwhelming. Staying calm and trusting your instincts can help you get through such situations. Sometimes, all a baby might need is your gentle love and care to be fine. Pack your baby's first aid kit properly. Make sure to replace medicines regularly. Keep the prescription handy and note down the dosage of medication. Contact your doctor immediately if you feel there is something wrong with your baby.
FAQ's
1. Why Should We Have a Baby First Aid Kit?
It is important to note down what an infant needs in an emergency and keep them as a first aid kit with you. If you take your baby outdoors, it will be easy for you to deal with some manageable situations that babies face. Unmanageable situations must be taken to the notice of a doctor.
2. What Are the Essentials For a Baby First Aid Kit?
Medicines prescribed by your baby's doctor.
Proper dosage cups and droppers for syrups.
An infant thermometer.
Sterile antiseptic wipes, bandaids, cotton pods.
A baby brush.
A pair of scissors.
An ice pack
Saline solution (for nasal blockages)
Disposable gloves
A baby mosquito repellent made with natural essential oils.
3. What is the Use of Disposable Gloves in a First Aid Kit?
Disposable gloves help in maintaining hygiene while treating your baby. They can help your baby stay away from infections.
Read Also: 8 Useful First Aid Tips For Your Baby