Motherhood is a glorious period that demands its own share of sacrifices for the well-being and protection of the little baby who is completely dependent on the mother. Breast milk is considered as the sole source of nourishment for a child during infancy. It is full of antibodies that no other formula food contains. Therefore, it becomes very important for the nursing mother to keep a track of her diet. She need to eat a balanced diet to provide the required nutrition for her baby while nursing. If you are a fish lover and wondering if it is Safe To Consume Fish While Breastfeeding, then continue reading to know all about it.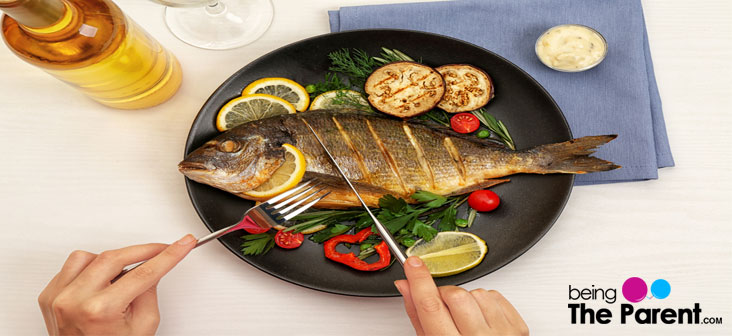 Is It Safe To Consume Fish While Breast Feeding?
Benefits Of Including Fish In Your Diet While Nursing
Fish That Can Be Safely Consumed During Lactation
How To Identify Whether The Fish Is Fresh?
Side Effects Of Consuming Fish While Breast Feeding
Is It Safe To Consume Fish While Breast Feeding?
Consumption of fish during breastfeeding is safe and healthy, if it is consumed in moderation. Though fish is rich in all the essential nutrients, the nursing mother should restrict its consumption to 8 to 10 ounces of cooked fish per week. Choose the fish that has low levels of mercury in order to boost the health and development of their breastfeeding baby.
Benefits Of Including Fish In Your Diet While Nursing
Fish is a source of important nutrients that are essential for better health for the nursing mother as well as the baby
Fish contains Omega 3, which are actually fats found in sea foods. Omega 3 contains DHA (DocosaHexaenoic Acid) and EPA (EicosaPentaenoic Acid) that can improve the nervous system of the little baby
Fish is low in saturated fat, high in protein, Vitamin D and other nutrients that are crucial to the baby's overall development
Babies whose mothers consumed fish while breastfeeding are known to show more signs of early child development than others
Fish That Can Be Safely Consumed During Lactation
Different varieties of fish provide various distinctive health benefits to the mother during breastfeeding. Here are some fish that can be safely included in your diet while you are breastfeeding:
Salmon: They are low in mercury and allergy-causing contents, and are safe for consumption by a nursing mother
Pomfrets/ Butterfish: They are an excellent source of Vitamin A, Vitamin B3, Vitamin B12, Niacin, and Vitamin E. They are known to boost the digestive system of the baby and make their skin glow
Sardines/Tarli: This is one of the healthiest seafood in the world. It is a vital source of Omega3, protein, calcium, copper, Vitamin B2, and Vitamin B12. Sardines also are good for the bones as they contain Vitamin D and Phosphorous, which strengthen the bone matrix
Rohu and Catla : This river fish is easily digestible, lower in fat content, high in minerals such as zinc, iron and calcium. Very low content of mercury is present in these types of fish
How To Identify Whether The Fish Is Fresh?
While buying fish, one should feel the fish and examine if the body flesh and fillets are firm and shiny. If it looks dull, one can assume that the fish is not fresh and restrain from buying such fish.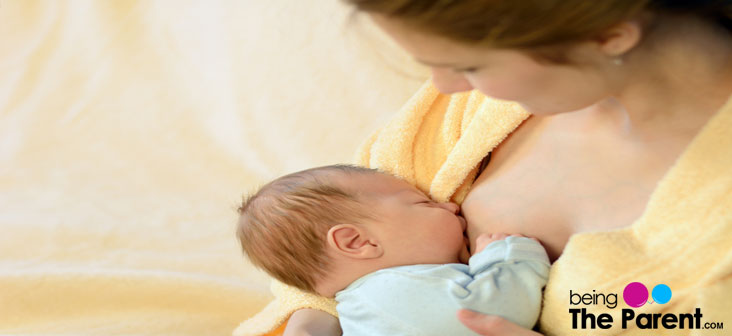 Side Effects Of Consuming Fish While Breast Feeding
While fish consumption has many benefits, it is not without its own share of demerits. Some of them are as follows:
1. High Level Of Mercury
Some variety of fish like shark, swordfish and king mackerel contain high levels of mercury that causes more harm than good for a growing baby. The human body has the tendency to easily absorb methyl mercury present in the fish. Though the metal does not enter the breast milk in large quantity, the little that does enter the baby's body is enough to make the baby vulnerable to its effect. The mercury can, to a certain extent, impair a baby's growing brain
2. Adversely Affect The Cognitive Skills
Cognitive skills that the brain uses to think, read, learn, remember, reason and pay attention, and motor skills that involve physical movements the baby makes with his arms, feet, legs or the entire body is affected by the mercury present in fish
3. Threat Of Pollution
Most fish today are collected live in rivers and waterways that are getting more polluted by the day. The pollutants and chemicals they consume are likely to be transferred to the baby through the mother's milk
4. Large fish are relatively unhealthy
Larger fish as well as predator fish have more mercury content because they tend to eat smaller fish around them that already have mercury in them
5. Avoid Canned Fish
The canned white tuna variety of fish is higher in mercury content than the lighter tuna variety found in the market
Purdue University, a public research university in USA, publishes a handy wallet card that gives us information on what kind of fish is best for the consumption of a nursing mother, and provides the amount of healthy fats, trace elements and heavy metals like mercury. It has also launched a free app called Fish4Health which is downloadable with iTunes. It helps the women users track their seafood consumption, intake of fish oil supplements, other healthy fats and mercury
Remember that three ounces of fish is about the size and thickness of a deck of playing cards. So with this measure a mother can decipher the quantity of fish she consumes.
Is It Safe To Consume Fish While Breastfeeding? Well, though fish has its own advantages and disadvantages, it is always advisable to consult a nutritionist before adding fish to the postnatal diet of a mother.
Did you include fish in your diet while breastfeeding? What benefits did you derive from it? Please share your experience in the comments section below.