Time and again, it has been proven that breast milk is the best milk for a baby. Breast milk exposes your baby to many tastes and flavors, that you intake from your diet. The world over, and specifically in Indian homes, garlic forms a major part of an everyday diet consumed by many families. Given its strong smell and flavor, you might be wondering if it is safe to consume garlic now that you are breastfeeding your little angel. Lets find out.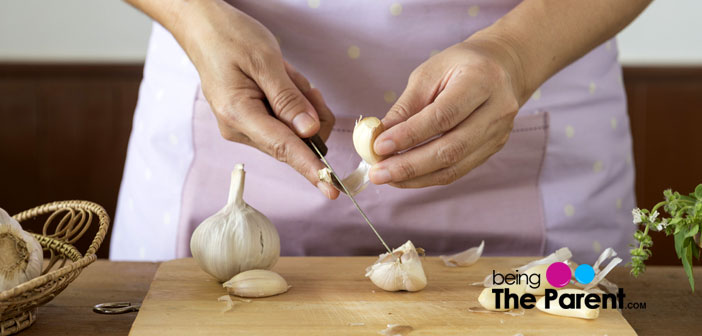 Garlic And Its Nutritional Value
Garlic And Breastfeeding
What Are The Health Benefits Of Garlic?
How Can I Include Garlic In My Diet To Increase Breast Milk?
When Should Eating Garlic Be Avoided?
Can I Give Garlic To My Baby Directly?
Garlic And Its Nutritional Value
Known as (Allium sativa) scientifically, garlic has been used to treat infections, digestive problems, lower cholesterol and blood pressure, since many centuries. Garlic is composed of sulphur compounds, and contains vitamins, minerals and amino acids and has been used as a medicine by itself in Greek, Roman, Chinese and Indian cultures. In some cultures, garlic is also thought to ward off the evil eye! All in all, garlic with all its strong odor and flavor, along with many medicinal benefits can be an interesting addition to your diet, provided you and your little one are tolerant of it.
Garlic And Breastfeeding
Used as a galactogogue specifically in India, garlic's odor that gets transmitted to breast milk has been found to make an infant suck longer and better. The garlic that you consume in your diet does travel into your breast milk and alters the smell and taste. If your baby likes the flavor, it may be well to include garlic in your day to day diet. However, babies who are colicky are generally found to repel garlic, so it is best avoided. As with any food, if you find your baby getting fussy and irritated after you eat garlic, it is best to be avoided. Garlic has often been found to be recommended to increase the supply of breast milk and many women swear that their breast milk production increased after they added garlic to their diet. Though the scientific study does not support this claim, garlic has been used as  herbal treatment to enhance breast milk supply.
What Are The Health Benefits Of Garlic?
Garlic has been often recommended to be included in diet as a food or a dietary supplement owing to the immense health benefits it offers.
Lowering cholesterol and blood pressure: Garlic is known to boost and improve heart health by controlling and lowering both cholesterol and blood pressure. Garlic dilates the blood vessels, and thinning of blood lowers cholesterol levels in the body.
For boosting breast milk supply: Garlic has been recommended to increase production of breast milk since times immemorial. The pungent flavor of garlic is believed to help infants suck longer and better
Helps in digestion: Not only breastfeeding mothers, but garlic can be helpful in eliminating digestive problems in anyone. It improves the digestion by keeping the digestive tract healthy
Anti-infective properties: Garlic has anti-infective properties and can be used to treat bacterial and viral infections.
Anti fungal: Garlic has also been used as a topical treatment for fungal infections such as yeast and candida. However, it should be applied topically with extreme caution as it may cause burns
Garlic may also be useful for treating common colds, asthma, cancer and other infections. Garlic, when introduced to babies through breast milk is found to help infants make better food choices in later life.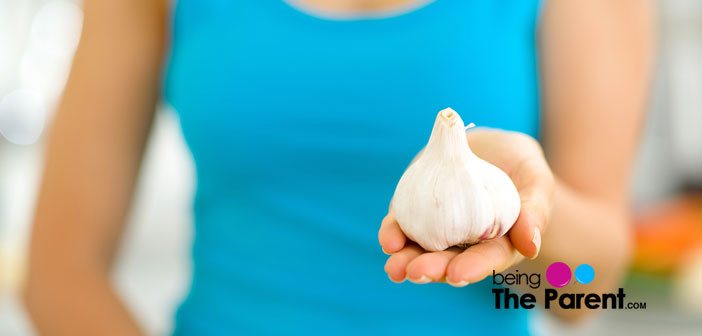 How Can I Include Garlic In My Diet To Increase Breast Milk?
In many Indian households, garlic is used in everyday cooking in tempering the food items. Garlic can also be added to pastas, noodles, vegetables, and vegetarian and non-vegetarian gravy items. One or two cloves of garlic are considered safe during the time when you are breastfeeding. Garlic will cause no harm to your baby in moderate amounts, unless your baby is colicky, in which case the pungency of garlic may irritate your baby.
When Should Eating Garlic Be Avoided?
As with any food, garlic should also be consumed in moderation to derive maximum benefits. Some cases when garlic should be avoided are:
Garlic should not be consumed by people who are hypoglycemic or diabetic as it lowers the blood sugar levels.
Since garlic can be a blood thinning agent when taken in excess, avoid it if you are on anticoagulant medications or blood thinners.
Garlic does have allergic properties and should not be consumed by people who are allergic to onion, leek, and chives and other members of the lily food family.
Can I Give Garlic To My Baby Directly?
Garlic should never be given to babies directly, they should get it only through breast milk. Never give garlic directly to your baby, even if you feel it is a very small quantity.
Owing to its anti-platelet effects, garlic should be used cautiously by women who are at a risk of bleeding.
Thus, garlic should be consumed in moderation only, if you and your baby are tolerant of it. Never take garlic supplements unless specifically prescribed by your doctor. Garlic can be a wonderful healthy addition to your daily diet, but do avoid it if you or your baby have any issues with consumption of garlic.
For more on breastfeeding, click here.