The kids are on winter break and holidays can be a hectic time. When you're ready for some quality family time amidst the chaos of the season, there's nothing better than curling up with one of our holiday favorites. Grab your tub of popcorn, cuddle up on the sofa with your little ones, and celebrate the spirit of the season together with these holiday classics.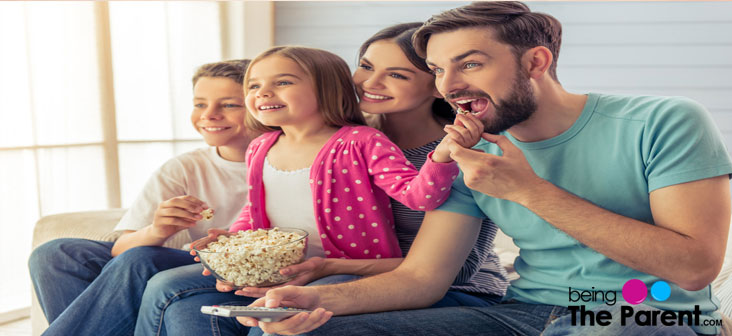 25 Best Movies To Watch With Kids This Holiday Season
ELF: Just like the name suggests, this movie revolves around a sweet elf named Buddy, who is really a human but has been brought up by actual elves. Once Buddy discovers he is not actually an elf, he decides to travel to New York to find his actual parents. The entire movie revolves around the humorous adventures Buddy faces during this search

A Charlie Brown Christmas: This film is all about the character Charlie Brown and the various triumphs and tribulations he faces in his life. The movie depicts the actual Christmas feeling and how Charlie Brown feels saddened during Christmas time. It goes on to show what changes happen and how Charlie Brown becomes happy once again

Home Alone: This is one movie that is a must watch if you have never watched this along with your children to date. A lovely and hilarious movie about how a family departs for a Christmas vacation and accidentally leaves behind one of their children back home. Kevin who is left alone at home finds that thieves are trying to enter his house and the following events are hilarious on how the little boy cleverly wards off these thieves

Jingle All The Way: Another lovely movie that revolves around a dad who faces his most dangerous opponent: A giant crowd shopping for Christmas and the sequel of humorous events that follow this

The Nightmare before Christmas: Even though the movie is named that way, this is not in anyway a nightmare movie, but something spooky that your children are sure to enjoy thoroughly. Based on Tim Burton's poem, the movie depicts the story of Halloween Pumpkin King named Jack. A lovely film that brings you the happiness of Christmas as well as the wonderful Halloween spirit

The Santa Clause : A beautiful movie that tells you the story of a father who has to take Santa's place when Santa falls down from his roof due to getting startled by hearing the father call out to him

Arthur Christmas: A lovely film that helps children understand who helps Santa deliver all his gifts to children all over the world at the same time on Christmas day

Merry Christmas Olivia: An ideal pick for holiday time. It is tells you the story of a sweet pig named Olivia which is a favorite kid character

Mickey's Christmas Carol: A wonderful and favorite version of the actual story "A Christmas Carol" written by Charles Dickens. It is Mickey Mouse who enacts the character of Bob Cratchit in this lovely film

Miracle on 34th Street: This is a beautiful movie about an elderly man who dresses like Santa and happens to be taken away by people who misinterpret that he is of an unstable mind and the events that follow this

National Lampoon's Christmas Vacation: A hilarious film about a humorous character named Clark Griswold. Children love this movie

Shrek the Halls: The story revolves around the well known character Shrek and how he plans to make his Christmas special with his family

Dora's Christmas Carol Adventure: Yet another lovely movie that children love watching

A Christmas Story: This is a touching and sweet story of a boy named Ralph who is nine and wants a BB gun as a Christmas present

The Muppet Christmas Carol: This is actually the interpretation of the famous book "The Christmas Carol" by Charles Dickens

Curious George:A Very Monkey Christmas: A very simple and sweet tale of George and the man who adorns a yellow hat. It depicts how these two prepare themselves for Christmas and the various events surrounding it

How the Grinch Stole Christmas: An entertaining film about how Grinch who is the main character in the movie tries all the tricks he can to avert Christmas from occurring at all

The Dog who Saved Christmas: This depicts the tale of a "K-9 dog" whose name is Zeus who is quite old and unable to bark anymore. It has various incidents about how this lovely dog tries to protect the family

White Christmas: This is actually a lovely musical and regal Christmas film that you need to watch with your family. The famous song White Christmas is in this movie

Santa Buddies: Yet one more wonderful Christmas movie for kids which depicts Santa and his best friend who is a dog working hard in the North Pole

Gremlins: This is an enthralling movie about a teen that gets a furry pet and is a lovely mixture of horror as well as fantasy that will keep your kids glued to the screen

Christmas Town: A lovely movie that your child is sure to love watching

Rudolf the Red nosed Reindeer: Who does not love Rudolf and this is his story

Elmo's Christmas Countdown: Elmo is a favorite character of children and story revolves around him and his friends

The Polar Express: A beautiful animated film that depicts the story of a book with the same name
Hope you enjoy our pick of holiday movies. While the spirit of Christmas is still alive, why not you go ahead and enjoy these movies with your kids.