Everything related to baby care is of utmost importance and should be chosen with care. A new born baby has super-soft skin and anything harsh or chemical ridden is bound to produce rashes and irritation. Since baby wipes are used to clean the baby's skin, and is especially a diaper-changing essential, every mom should choose it with care. The task is quite a challenge because the market is flooded with brands, local and international, each claiming to be better than the other. The only way out is to go for trusted brands while being on the lookout for any signs of irritation/rashes/allergy that it could cause. Here are some of the top brands of baby wipes available in India. Remember, every brand is as good as it is bad. Rather than going by experiences of peers/fellow moms, it's better to go by your own instinct—believe me, a mother's instinct never fails.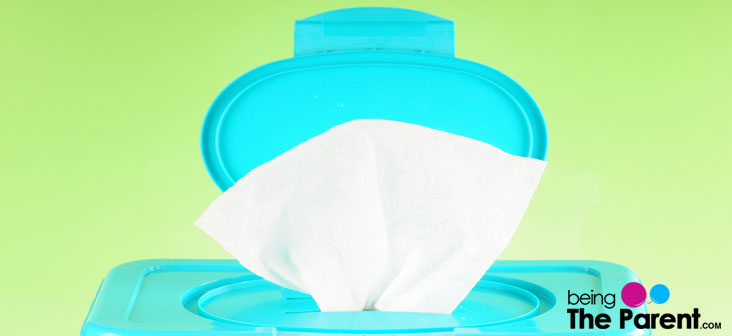 10 Popular Baby Wipes Brands In India
Here are 10 popular Baby wipes brands in India. Remember they are in no particular order or ranking:
Johnson's Baby: A trusted name for several decades, Johnson's never ceases to impress. Its new advanced fiber technology combined with moisturizing lotion ensures that your baby is free from nappy rashes. It is perfect, delicate and alcohol free. The fabric is super fine that keeps your baby's skin soft and healthy. Easily available over the counter and online across India, this is the best choice for moms who are particular about soap free wipes

Himalaya Herbal: Himalaya healthcare offers ayurvedic, personal and baby care products that are not just 100 percent herbal but also mild and soothing. Its baby wipes are clinically tested and specially formulated to cleanse, moisturize and retain the natural moisture of your baby's skin. Besides, it contains extracts of Aloe Vera and Indian lotus to prevent dryness and keep baby's skin soft. It is 99 percent water based and its components ensure that your baby remains free from infection throughout the day

Huggies: With the goodness of Aloe Vera and Vitamin E, Huggies wipes are devoid of soap or alcohol. It is thick, yet soft and absorbent and ensures overall protection for your baby's skin. Moreover it is refreshing and soothing. Though a bit expensive, but it definitely promises quality

Pampers: Pampers wipes are not as popular as their diapers because they are slightly overpriced for the Indian market. However, they are perfect in terms of texture, quality and are hypoallergenic, with a touch of milk. For those mums who ignore the price tags when it comes to choosing baby products, Pampers is an ideal choice

Libero: In the recent years, Libero has made an impressive entry into the Indian market with its baby care products. Its wipes contain moisturizing agents and skin friendly ingredients and are free from any artificial coloring or alcohol. Enriched with olive oil, it is perfect to keep your baby's skin clean and soft. Many users have given it a five star rating and it is definitely a product to try out

Mamy Poko: A Japanese brand and budget friendly, Mamy Poko wipes is ideal for many reasons. It is fresh with mild fragrance, yet thick to effectively clean and keep your baby's skin safe. It is free of alcohol and coloring agents and is perfect for daily use

Mee Mee: The brand with premium quality products in baby care, Mee Mee wipes are manufactured with the highest safety standards. They are soft, dermatologically tested with anti-bacterial ingredients and are absolutely safe for your baby's gentle skin. It contains Aloe Vera to keep your baby moisturized and cool on the go and its mild fragrance ensures that your baby feels fresh at all times

Chicco: An Italian brand with a worldwide presence, Chicco is renowned for its top notch baby products. Its wipes are clinically tested and safe and are free from alcohol, detergents or parabens. With Aloe Vera and Chamomile, this disinfectant coated wipes are gentle on your baby's skin and ensures that your baby is left feeling soft and free of skin irritation and rashes

Pigeon: A trusted brand in baby care since 1957, Pigeon wipes contains extracts of chamomile and rosehip and is made from soft fabric which is effective even on sensitive skin. Its gentle moisturizing barrier prevents diaper rash and lanolin prevents dryness. Its unique lattice woven fabric absorbs moisturizing formula and is effective for cleaning even during frequent diaper change

Dove: Dove needs no introduction as a brand, but what many may not know is its foray into the world of baby care products. Dermatologically tested, Baby Dove wipes are extra mild and non-irritating, hypoallergenic and alcohol free. Its moisturisation leaves your baby's skin soft and can be used for newborn babies too
The list is exhaustive and the choice difficult. While on the one hand, it is imperative to keep an eye on the price and affordability depending on the use, it is more important to find out which brands suits your baby. Each child is unique and their needs vary. So what suits one may not suit the other. Take your time and choose your brand. Do your research well. After all, when it comes to your baby and its needs, there can be no compromise.