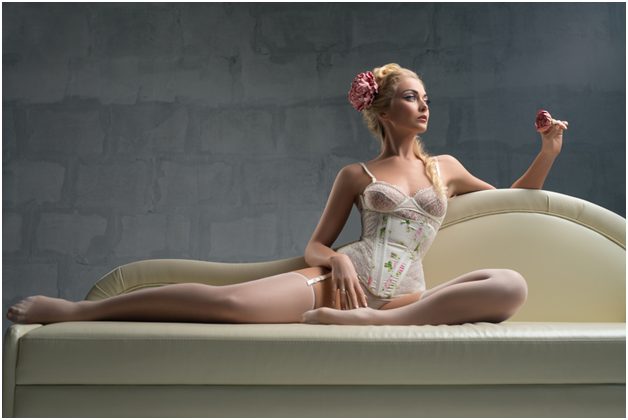 Being a mom is such a joyous moment. It is probably one of the best moments of your life. Nevertheless, it comes with some drawbacks.
Some people like the fact that they have put on weight, and are happy with their voluptuous shape. Some, on the other hand, don't like the extra weight and try several ways to tackle the problem.
Undoubtedly, your belly will gain more bulge compared to the rest of you, and that is usually everybody's first concern. Your belly now has layers of saggy skin, which needs to be taken care of.
Browse through the guide below to own your postpartum body and to get an hourglass look with waist trainers, corsets and shapewear. Hope you enjoy!
Benefits of Waist Training
Let's begin with the benefits of waist training.
Improves Your Body Shape
Waist trainers have gained popularity ever since the Kardashians started monopolizing the media. Practically, anybody can start a boot camp on waist training.
All new moms can greatly benefit from waist training, as it will help them reduce the baby pouch during post pregnancy. The trainers will cinch your waistline. So, while you wear it for a certain period of time, your stomach will start to take on the shape of the waist trainer.
Enhances Your Posture
Most waist trainers and corsets are made of steel bones or plastic bones, which will help you keep your back straight for a long period of time. Hence, by wearing it for so long, you are aiding your spine to be straight and firm.
If you are a sloucher, this is for you. Also for new moms, who are tired of slouching for nine long months, waist trainers will give you the support and the posture to stay healthy.
Eases Back Pain
By maintaining perfect posture, waist trainers help you to eradicate upper and lower back pain. The boning in the trainer lets your spine stay straight and firm for a long period of time, so that you slouch less. Hence, it helps you find relief from back pain, which you may have incurred from the pregnancy.
Eat Less
The binding of the waist trainer squeezes your waistline, therefore it reduces your ability to eat too much. If you do end up eating too much, you will feel sick, because the trainer stays tight around your waist.
By minimizing your ability to eat too much, you are helping yourself lose weight around the waist and also in other parts of your body.
Soothes Menstrual Cramps
Some women found that waist training has helped them during that time of the month. The trainer pressurizes your peritoneal organs, which results in lesser blocks and contractions in the uterus during your period.
Waist Training Guide
Now we are going to look at the different types of waist trainers that you can wear after giving birth to your little sunshine. Your options are belly binders, waist trainers, corsets, and shapewears, which you can learn more about in the description below.
Belly Binders
Before you begin your waist training journey, it is better to start with easy waist shapers, such as belly binders. They are not as intense as waist trainers and corsets, but they will set the stepping stone to a slim, hourglass figure.
You should wear this at least in the first week after giving birth. Belly binders will push out the fluid debris from your uterus that you need to cleanse after pregnancy. The adjustable velcro of the binders allows you to tighten it as you shrink back.
Waist Trainers
You can start wearing waist trainers one month after giving birth. Go slow, and wear it for an hour each day to eight hours each day.
All waist trainers have a hook and eye closure system at the front, and can be worn under clothes even when you're walking or just doing some house work.
You will start to see results in about a month, if you have been consistently wearing it eight hours a day, and following a healthy diet. In six weeks time, you can start working out while wearing the waist trainer.
Corsets
Corsets are more intense than belly binders or waist trainers. They are made of steel bones and have laces to adjust the tightness.
Corsets are known for sculpting your body with high compression, and can be uncomfortable at first. So, start wearing it for an hour or two a day, then gradually increase the hours to eight or twelve. It can be worn over or under clothes.
Shapewears
If you are uncomfortable with your postpartum body, don't go out without wearing shapewear under your outfit. Shapewears are less intense with regard to compression, however, they will make your midsection appear slimmer, while giving your curves a boost.
Other Information
You must still have many questions about waist shapers now. Read below to know more:
When Should You Start Wearing It?
Waist training will shrink your waist over a period of time if you are doing it right. It is advisable to wear as soon as you are medically safe in your postpartum journey.
How Long Should You Wear It?
The perfect waist trainer will have great reviews, will feel comfortable upon wearing, and won't irritate your skin. By wearing it six to eight hours a day, you can gradually help your stomach shrink to its regular size.
When Do You See Results?
You can achieve your desired results in a few weeks time. Although you have to maintain a strict diet and exercise to achieve quick results.
What are They Made of?
Waist trainers are commonly made of latex and spandex, with nylon, cotton or lycra added in the mix. Corsets can be made out of silk, linen, velvet and coutil. On the other hand, shapewears are made of spandex and nylon, and can be made seamless to appear invisible.
What Size is Right for You?
First, measure your waistline, just two inches above your navel. Then pick a waist trainer or corset that is four inches smaller than your waistline. You can adjust the hooks or the lace as your stomach shrinks.
In Conclusion
Waist shapers can help you a lot for losing the baby weight, and achieving an hourglass look over a short period of time. Nonetheless, you also have to maintain a disciplined diet and exercise routine to shrink that tummy.
You don't have to wear the cinchers if you feel sick. Also, there is no need to rush the process by wearing cinchers that are too tight for your body.
Waist shapers, corsets, and shapewears are not strong enough to crush your ribs, although some people think that way. Also, your organs won't displace themselves unless you go overboard with them.
So take it easy, and enjoy the postpartum period with your little baby and the waist shaper.