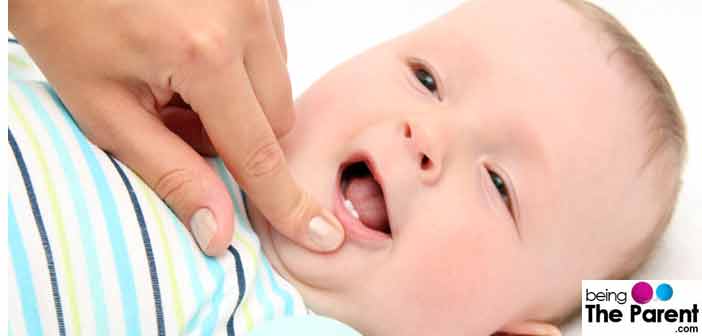 A baby forms his teeth while in the mother's womb and it is primarily dependent on the mother's healthy pregnancy. A complete dental exam should be planned when pregnant. When a baby is born, his teeth have already formed inside his gums. Caring for a baby's teeth begins as early as around 3-4 months. Getting your baby used to having his mouth, teeth and gums cleaned in his daily routine will ensure that the transition to brushing is easy and smooth. Oral hygiene is a lifelong practice, and the earlier it is started, the better.
But these aren't permanent teeth
If you think that your baby's first set of teeth are not permanent and so he does not need to brush or maintain oral hygiene, you are wrong. Caring for your baby's teeth should start even before he sprouts his first set of milk teeth- at around 4-8 months of age. Infact, it is a good idea to use a soft and wet washcloth and wipe your baby's gums softly with a finger every time you feed him. Experts recommend that starting early not only helps the transition to brushing but also helps in keeping the tooth decay at a bay.
The first teeth of a baby make the spacing for the permanent teeth and also help the baby talk and chew, aiding speech and digestion. They need to be cared for since at this age also the gums can get infected with gingivitis, and affect the spacing patterns of the permanent teeth.
If you think that putting your baby to sleep with a bottle of milk or (worse) juice eases you out, well, then you are not thinking right as this could cause cavities in your baby's teeth. The baby's gums or teeth (as applicable!) need to be cleaned after every feed with a finger or a brush suiting his age.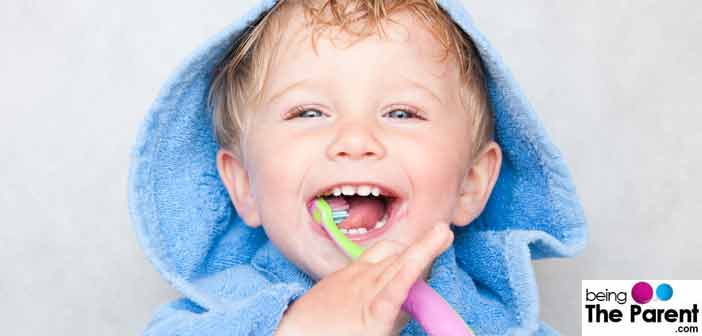 Caring for your baby's teeth after they have emerged
A very soft-bristled and small-headed toothbrush can be used to clean the baby teeth once he is eating table foods. Having a brush in his mouth also prepares him for the transition to brushing when he is about an year old. Water has fluoride properties, so washing your infant's baby food traces in the mouth with it is also helpful to take care of gum infections.
You can begin with non-fluoride toothpaste when he is ready to brush at around 3 years of age, since he is getting his dose of fluoride from water – with or without formula, and breast feeds till now. Toothpaste should be around the size of a pea or a grain of a dal, to begin with. Softly brush on the outside and the inside of your baby's teeth. Try cleaning the tongue as well, if the baby allows you to. There is not a huge need of rinsing, because you are using a very small amount of the toothpaste. Once your baby learns not to swallow it, introduce fluoride toothpaste to him – the market is flooded with children's low fluoride toothpastes these days. Choose a brush that is soft and tender, with a small head and a long handle; and replace it regularly after 3 months of usage.
Continue to supervise the brushing process till the baby is able to brush his teeth by himself. This will happen around 6 years of age, and till that time, you must be closely involved with your child's dental care regime.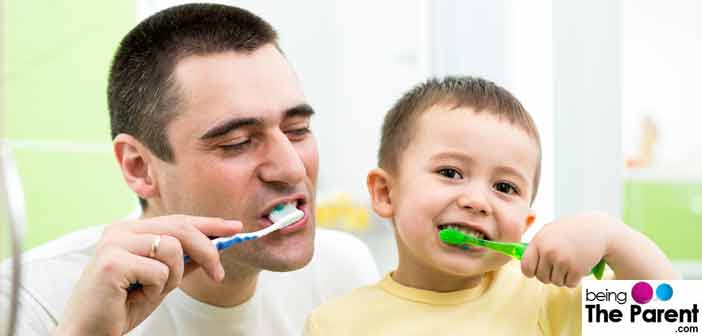 Protecting Your Baby's Teeth
Restrict sugary foods to meal times only. Sugar carries no nutrition but poses huge chances of tooth decay and mental problems
If you want to give your baby juice, dilute it with water from six months of age , restricting that too at mealtimes
Do not coat the baby's pacifier with anything sweet or sugary, not even honey
Never let your baby sleep through the night after having milk – wipe or brush his gums and teeth clean. Feeding water (not until about six months) is also a good idea to wash away the traces of infant milk/food. Leaving food inside the baby's mouth and letting him sleep will cause tooth decay
Watch out for white or brown spots or pits on your baby's little teeth
Schedule his first visit to the dentist when he is around an year old
Visiting The Dentist
It is recommended to visit a dentist within 6 months when the baby sprouts her first teeth, or by the first birthday, whichever is earlier. Be aware that a history of cavities and dental problems pose a risk for your baby; in such a case you are required to be more careful. At every visit to the pediatrician, make sure the doctor has a look at your baby's teeth.
We suggest you begin oral hygiene early- so that the good habit stays even when your baby grows up!