Pregnancy is a very crucial stage in a woman's life and it is also a period when one comes across several myths regarding the diet to be followed in their quest to know more and ensure healthy beautiful baby. It is always recommended to consult your doctor before you add or make any changes to your diet. Saffron or Kesar Milk is one of the most commonly recommended dietary intake by elders during pregnancy. Their recommendation is backed by their strong belief that the baby would be born fair as a result of consuming kesar milk. Do you feel the same? Have you ever raised your brow on this thought? If yes, read on to know more.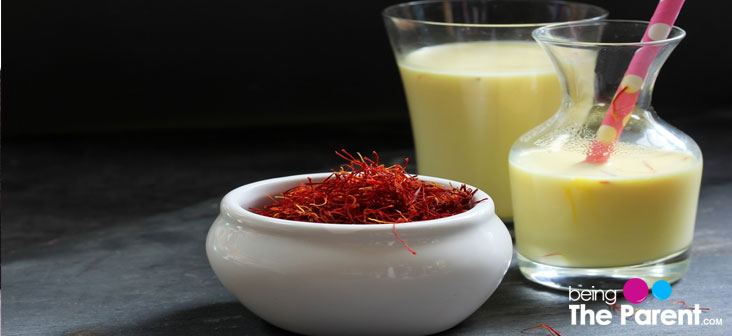 What Is Kesar /Saffron?
Why Is Saffron So Expensive?
Benefits Of Saffron (Kesar)
Will Drinking Kesar Milk During Pregnancy Make The Baby Fair?
Benefits Of Saffron/ Kesar Milk During Pregnancy
How To Make Kesar Milk?
A Word Of Caution
What Is Kesar /Saffron?
Even before we begin to comment on whether the above thought holds true, let me ask you, how much do you know about Kesar/Saffron as a spice? To begin with Saffron is a spice derived from the flower of Crocus Sativus. Saffron is basically the styles of the flower. A Crocus Sativus flower consists of 3 styles which is a long tube like structure attached to the ovary of the flower. The pollination occurs through these styles. These styles along with their stigma are plucked from the flower and dried and sold as Kesar/Saffron.
Why Is Saffron So Expensive?
The entire process of obtaining Kesar is very laborious and requires highly skilled labor to carry out the task. Considering each flower has only 3 strands and approximately 14000 strands are required to form 1 pound is what makes this spice so expensive.
Benefits Of Saffron (Kesar)
Saffron is popular spice used in many culinary dishes and also possess many medicinal benefits. Some of the common uses and benefits are as below:
Saffron is used as a popular flavoring ingredient in the famous Hyderabadi Biryanis and is often used as a garnishing element in many Indian sweets. Kheer, aamras, flavored milk, rasmalai , thandai etc are some of the sweets that contain saffron as an essential flavouring ingredient
Saffron is a good source of Vitamin A, Vitamin B, Iron, Manganese, Thiamine and Riboflavin
Saffron aids in digestion by reducing gas and acidity
It helps women during pregnancy by suppressing the cramps
Saffron due to its anti-inflammatory properties helps cure respiratory illness. It helps to dilate the airways and reduce the inflammation in lungs
Saffron is known to lower blood pressure and cholesterol levels. Daily intake of one or two strands in milk is suggested to be good for health
Saffron is known to cure cold and cough. It acts as a decongestant and reduces the inflammation during cold and cough
Saffron is famously known as a beauty enhancing agent. It is used as an ingredient is several beauty creams and packs. Saffron helps to regain the glow and radiance of your face
It is also used as a skin toner when mixed with milk. One has to mix little quantity of milk with few strands of saffron and apply it on the face using cotton It is known to improve the texture of the skin
Saffron is also known for its anti-oxidant properties that help to slow down the ageing process
Will Drinking Kesar Milk During Pregnancy Make The Baby Fair?
A glass of saffron milk is known to do wonders during pregnancy, however, increasing your child's fairness or beauty isn't one among them. Sorry to bust the myth, but it is a fact. The baby's fairness is absolutely governed by the genes of his parents and the amount of melanin present in the skin and saffron does not have much of a role in it. There are no scientific studies that prove that saffron makes your baby fair.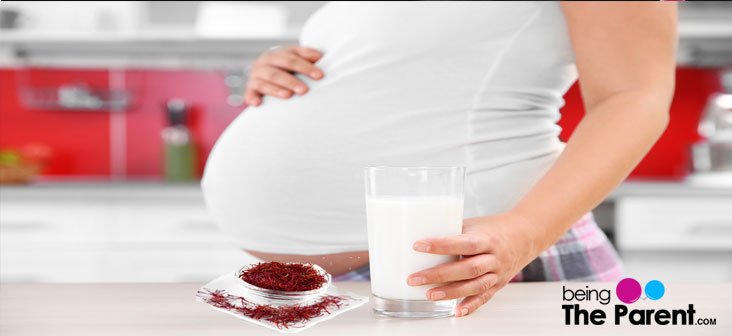 Benefits Of Saffron/ Kesar Milk During Pregnancy
Milk is a rich source of proteins and calcium which is required during pregnancy. Adding a few strands of saffron to your milk during pregnancy has other benefits that can help you have a trouble free pregnancy.These include:
Kesar milk gives relief to women who suffer from flatulence and bloating during pregnancy. This a common problem faced by many pregnant women
Kesar is also known to improve the appetite
Pregnancy triggers mood swings and depression in women. Intake of saffron milk acts an anti-depressant in such cases
Kesar Milk helps to tackle acidity and digestive issues in pregnant women and hence recommended during pregnancy
How To Make Kesar Milk?
Saffron can be consumed through consuming sweets which are garnished with saffron or food like Biryani where they are popularly used. However, for daily take of saffron during pregnancy one can have it along with a glass of milk.
Warm the milk to the desired temperature and to it add two-three strands of saffron. Wait for few seconds and you will notice the change in color of the liquid. This shows that the saffron is slowly dissolving in the milk. You may drink the milk after few seconds along with the saffron strands in it.
A Word Of Caution
Please ensure you have it no more than 2-3 strands during your pregnancy. Excess consumption has its side-effects too. Consuming more than 10 gms can trigger uterine contractions. It may also cause nausea and vomiting and can have a drowsy effect on you. Saffron is not be consumed by one's who suffer from bi-polar disorder
We hope you found the above article of use to you and it answers your query. Before you include saffron in your diet for daily intake it is best to consult your doctor. Many women are influenced by the elders in their family to adhere to a particular diet during their pregnancy. Now these suggestions and advice may have worked for your elders during their days, however, it is not necessary that following the same diet will benefit you too. Every Individual is different and the bodily functions vary from person to person. What suits your body may not suit someone else. So before you adopt any hearsay elements in your daily diet during pregnancy let you doctors know of it. If you wish to share your experience with us or add any more to the above content, please feel free to drop your thoughts in the comments box below.