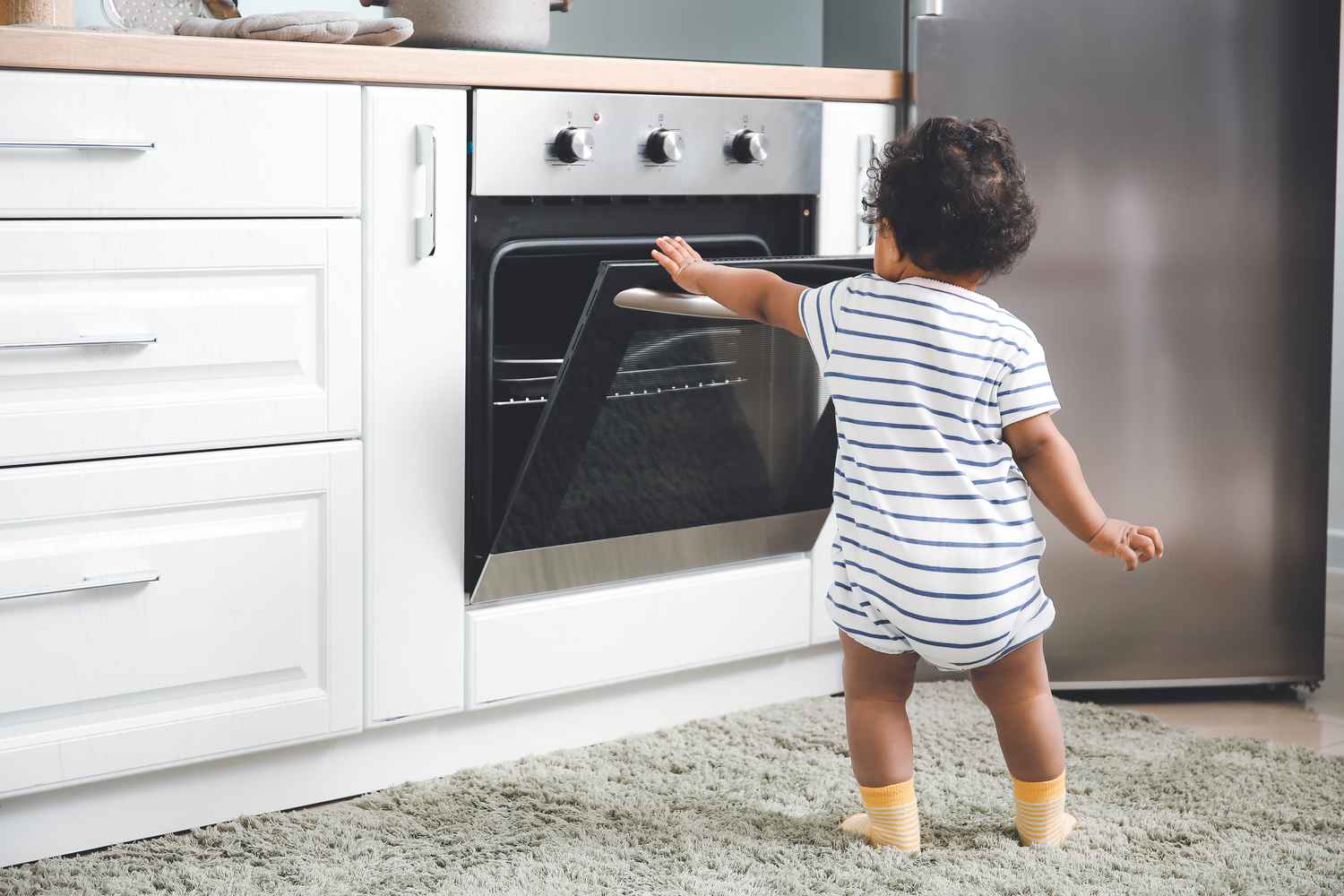 Kitchen is where a child sees his mother and finds that all activity of the house is centered here. The curiosity of a child about everything finds a feast of question at this place. Here is where all his sweet delicious treats are kept hidden, and the child will obliviously come looking for something or other in the kitchen. The smell of food, cluttering sounds, colors and flavorful smells are more compelling to a child. This hustle and bustle is like a calling for a child and he loves to be around his mother in the kitchen. This habit can be a bit dangerous if safety is compromised.
Why Kitchen??
We do many things in kitchen like cooking; washing utensils, stocking up preserved food, grains and pulses. We also keep sharp objects in the kitchen to cut vegetables, meat and many other things. These all things if used properly are of lot of help to us. For a child it may be of not that much help. Most things in kitchen are sharp, heavy, and hot or work on electricity. These things if in unsafe hands can cause injuries.
Parents should be careful about their kitchen habits if they have small kids around, so that the child or you yourself are not exposed to injuries that are caused in kitchen. Your child would need undivided attention, and any lack there can have consequences. Here are some safety tips for parents to follow in kitchen for safety of their child.
Tips for Parents for Safety in Kitchen
Kitchen is a busy place full of furniture and equipments like dining tables, refrigerator, shelves, oven, etc and there is a high chance that your child might just come here to see you and hurt himself with something or other. Hence, it is important to cushion all the sharp edges with Styrofoam and cello tape or you can go to the market to buy protective guards for covering these sharp edges on walls.
Make sure all the electric appliances are kept away after being used and switched off properly. Take care that the sockets are sealed with tape or the child might electrify while playing with it. Make sure that machines like grinders are plugged off or the child can injure himself/herself unknowingly
Take time to notice that your gas stove and oven is not hot after being used and put-off properly. Keep kitchen gas cylinders out of access by all means. Make sure that the oven's door is closed and kept out of reach of a child
Make sure that all the glasswares are kept safe and out of reach of your child's hand. When you use glass items like glasses and bowls, wash them immediately and keep them in their proper place, where your child cannot reach. Children usually get excited to see new things and handling glass objects is not safe for them, as they can break the item and cut themselves
Lock all the cupboards and shelves, or secure all the knobs in the kitchen shelves. Children get curious to see what is inside the cupboards, and end up messing up your kitchen or having things fall on them. Toddlers have a peculiar habit of opening and closing drawers and chests
Make a separate cupboard for storing all the spices in the kitchen, and always keep it locked when not using. No parent will want to see their child playing with chili powder in the kitchen or any other such spices. These spices can harm your child and cause irritation on skin and eyes
If you store alcohol in your house, make sure it is out of reach from your child. Young children often mistakenly drink alcoholic beverages confusing them with water or some kind of exotic juice
If your child is a bit old and wants to try his hand on cooking encourage him, but make sure you assist your child for doing most of the stuff with knives and hot pans. Otherwise, it does not take much time for any accident to happen
Teach your child about kitchen safety, tell him why one should use apron in kitchen, why we need to put gloves for holding hot pans. When he/she will understand the reason behind doing few things in a certain way, your child will not try to do the same in wrong way
Do not keep his favorite things in glass jars up on the top shelf. The child might want to eat it and may climb the shelves to reach for his favorite cookies. He might also fall down from the kitchen counter. You can always make more cookies or buy more of them, but you cannot afford to have your child injured over some cookies
If your child is hurt notice the severity of it give him/her first aid and take to the doctor if necessary
The most important thing is to be very alert when your child is in the kitchen. If you have a toddler, cook when he is sleeping or when someone else can take care of him for some time. Never, ever leave your child without supervision in the kitchen.