Once you know that you are pregnant, all that you want is a healthy pregnancy and a normal baby. For this it is absolutely imperative that you take all the necessary precautions to avoid any complications and also to reduce the chances of any birth defects. Doctors usually ask you to stay away from certain medicines during pregnancy as they are known to cause birth defects in babies. But if you have been suffering from polycystic ovarian syndrome (PCOS) or type 2 diabetes, then there is a possibility that you have been prescribed Metformin as a treatment option. Once you conceive, you must be wondering whether you should continue taking this medication and if .there are any harmful effects of it on you or the life growing within you during pregnancy. Read ahead to find out more about this medication and how safe this is during pregnancy.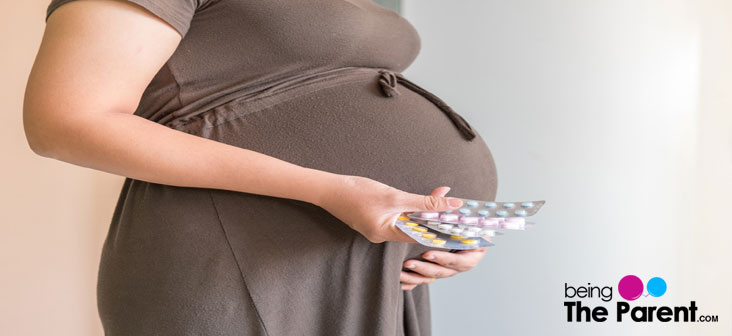 What Is Metformin?
This is actually one of the most commonly prescribed oral tablets that is found to be effective in controlling type 2 diabetes and PCOS. It works by reducing the production of hepatic glucose and also helps to lower absorption of glucose by the intestines. It also helps in hiking up glucose utilization and peripheral uptake levels. While PCOS is a type of endocrine issue that is normally found in women, type 2 diabetes is an issue of increased levels of blood sugar in your system. For women suffering from PCOS, this drug lowers the level of fasting insulin stimulated LH levels and basal and also free testosterone concentrations. The big question arises whether this drug is safe to use during pregnancy? This drug has been categorized in the B category by U.S. Food and Drug Administration (FDA) and is considered safe during pregnancy.
Metformin Before Conception
If you have been prescribed Metformin before you have conceived, this drug can be a real godsend as there are many cases where this wonderful drug has been found to help you conceive faster. Women suffering from PCOS have problems getting pregnant due to periods that are irregular and tint cysts growing in the ovaries. As high blood sugar levels and PCOS go hand in hand, many doctors prescribe Metformin to regulate the blood sugar levels in the body in order to avert the risk of developing Type 2 diabetes and maintain healthy weight . So the next question that arises once you conceive is whether it is safe continuing this pill during pregnancy period?
Is Metformin Safe During Pregnancy?
Whether you are taking metformin for treating type 2 diabetes or PCOS, this medicine is considered safe during pregnancy. Your doctor may encourage you to continue taking metformin during pregnancy as there is very low risk of complications associated with this medicine. Also doctor will take this decision keeping in mind your medical history and what is best for your and your baby's health.

It helps to deal with metabolic syndrome: This medication has been proven to effectively deal with metabolic syndrome which many women experience during pregnancy
Averts chances of stroke and heart issues: Being on this medication ensures that your LDL and triglyceride levels are kept under check during this sensitive period thereby averting any possible risk of stroke or heart problems during pregnancy
Ideal for PCOS: This drug as mentioned above is one of the most commonly prescribed drugs that have been found to be effective in treating PCOS and all the complications related to it
Lowers blood sugar levels during pregnancy: Research proves that the chances of developing gestational diabetes were comparatively low in women who used Metformin during their pregnancy period
Helps to keep your weight under check: Since Metformin is actually found to be quite effective in maintaining normal levels of LDL and triglycerides, it also helps with keeping unnecessary weight gain at bay during pregnancy period
Lowers the risk of Miscarriage: Some studies suggest that taking metformin during the first trimester can lower the risk of miscarriage in many pregnant women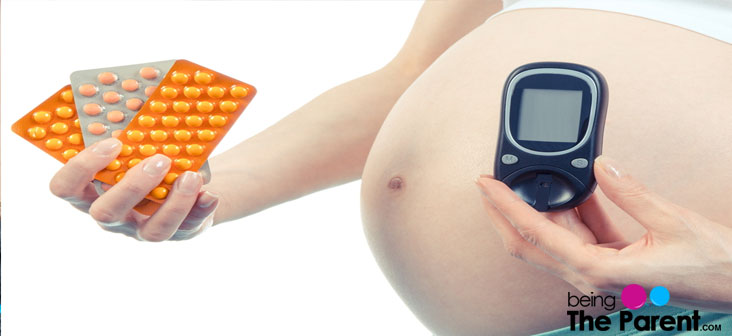 Can Metformin Cause Birth Defects?
Studies reveal that Metformin does not trigger any kind of birth defects or birth complications during delivery. If you were already on this drug before you conceived, it is imperative that you do not suddenly stop having this medicine unless your doctor suggests you.
Precautions While Taking Metformin During Pregnancy
As in case of any medicine that you take during pregnancy, it is important to take certain precautionary measures with Metformin to make sure that you are safe during pregnancy. Here are some of them:
If you are suffering from type 2 diabetes, it is important to monitor your blood glucose levels regularly and take a healthy diet to ensure that the sugar levels remain under control
There are chances of suffering a lot of side effects if you suddenly stop taking Metformin during pregnancy. So make sure you continue taking this medicine even after you conceive unless and until you doctor tells you to stop it
If your blood sugar levels are not under control, it can cause a lot of complications during pregnancy and can be even fatal
If you have been prescribed insulin along with Metformin, check with your doctor about the correct dosage and frequency of consuming this medicine in order to control blood sugar levels
Metformin During Breastfeeding
Good news is that this drug is found to be perfectly safe even after delivery and can be continued if your doctor recommends it even while you are breast feeding your little one. This drug does not pose any kind of threat or risk to the baby as it very small amount of it gets ingested through breast milk. On the contrary, Metformin is ideal to keep levels of blood sugar under control and also is excellent to help you lose those extra pounds that you gained after pregnancy.
So go ahead and continue using this harmless medication if you doctor gives you the go signal as this drug is proven to be absolutely fine and harmless during pregnancy.
Were you prescribed Metformin during pregnancy? Please let us know your experience in the comments section below.