We all know the importance of exclusively breastfeeding babies for the first 6 months. However, this becomes a difficult task especially when the mother is travelling outside her house and is in a public place. Although you know the importance of breastfeeding, you are at times cautious and a little embarrassed to breastfeed in public. This is quite understandable as a good number of people in our society frown at the sight of a woman baring her chest in public. However, there is absolutely no need to be guilty! You do not need to have any inhibitions to exercise the superpower your body has to feed your offspring. Read on for 18 tips that moms all over the world use to breastfeed in public without guilt.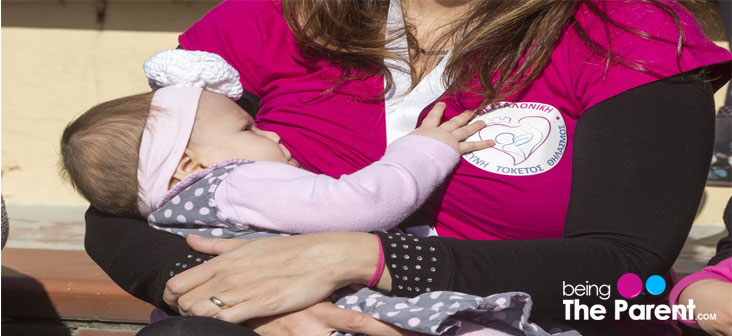 18 Useful Tips To Breastfeed In Public Without Feeling Guilty
Be confident: Remember that there is no shame associated with feeding your baby in public. If you feel anxious, your child will sense it. So the best option is to be confident and do it with élan. This will also keep the moral police at bay
Know the legalities: Not only that what you do is absolutely natural, it is legal as well. Most countries have laws that protect a mother's right to breastfeed in public
Plan: If you are stepping out, you know that there might be a need to nurse in public. Be prepared for it by keeping everything you will need easily accessible
Use a cover: The best way to nurse discreetly in public is to use a dupatta, a stole, or a receiving blanket to cover your breasts and the baby. Make sure there is enough gap on the top for you to see the baby and ensure he/she is nursing right
Use a nursing bra: It will be difficult to unhook your normal bra or lift it up in public. It is best to use a nursing bra, which is available in plenty in the market. Find one that is comforting and convenient
Use a nursing vest: Many at times women feel conscious about lifting their top and exposing the stretchmarks ridden tummy area in public. One solution for this is use of a nursing vest. It covers your tummy and opens up at your breast – so you can lift your top and breastfeed while the vest covers your tummy area
Invest in few nursing tops: There are many nursing tops that are fashionable, yet helps nurse conveniently. Some of these tops discreetly open in the sides with layers of clothes over it, which makes sure you can nurse in peace without the use of a covering blanket
Buy front open Kurtas: In India, kurtas are one of the most popular dress choices for women. You get nursing–friendly kurtas that are front open
Use a scarf: If it is not possible for you to carry a covering blanket always, invest in a good long scarf that you can wear often with your clothes

Practice makes perfect: If you are really conscious about breastfeeding in public, you might want to sit in front of a mirror in the comfort of your house and "see" how you would look in public. You can make adjustments based on what you want the public to see and not see
Buy a loose fitting tee-shirt: If it is not possible for you to buy nursing clothes, then the next best option is wearing a loose fitting tee-shirt (invade your husband's wardrobe). This will be easy to lift up for nursing, while also ensuring the extra cloth will cover your baby and your body
Use a baby carrier: It is also possible to use a sling or a wrap that you use for carrying your baby around to breastfeed. The advantage is that your child is already in a comfortable position and your hands are free
Pick the nursing spot smartly: Choose a place that is comfortable for you to sit. It should give you good back support. Also make sure you are slightly away from the view of the general public, if you are conscious about that
Get the latch right discretely: As you know, once your baby latches, then your nipple is covered by your baby's face. So in the few seconds it takes for your baby to latch on, turn away from public glare
Smile: Someone is glancing at your direction often clearly disapproving what you are doing? Smile at them. Your priority is your child and ensuring good health for him/her through natural breastfeeding
Plan a response: Prepare for a worst case scenario, when someone might just walk up to you and tell you what you are doing is wrong. Anticipate this and prepare a good response to give them
Do not breastfeed in a washroom: Someone suggests breastfeeding in the washroom? Ask them back, with a smile, if they would consider eating inside a public washroom. If not, how can they ask expect your baby to do so?
Do not get into a fight: Mostly because it is not worth it. You are legally allowed to breastfeed in public. You are not naked, and you are making all efforts to cover up as much as possible so that onlookers do not feel disturbed (although they do not have to). Despite all these, if someone has a problem, ignore them. You are bigger than them
Breastfeeding is something that you should be proud of. So we hope these above tips will help you to breastfeed in public without being nervous, intimidated or self-conscious.