Once your little one is around 4 months old, you begin searching for semi solid foods that you can introduce to your little darling. Be it apples, bananas or peaches, they are all loaded with goodness that is perfect for your little one. Peaches are a common choice as a first baby food these days.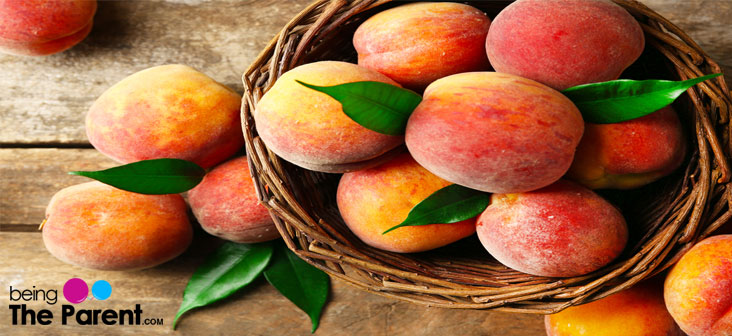 At What Age Should Peaches Be Introduced To Babies?
Peaches with its allergenic properties are a wonderful choice for your little one and can be started as early as four months if your doctor gives the green signal. Six months is just perfect and absolutely safe to introduce peach puree to your little one.
Benefits Of Peaches For Babies
Peaches are ideal to get rid of constipation in babies
Peaches are loaded with folate, Niacin, Vitamin A ad C that are all required for healthy development of your baby
They are also rich in phosphorus, calcium, potassium and magnesium
This is an ideal finger food that babies love
There are umpteen recipes for preparing peach puree. Given below are some of them
How To Peel A Peach?
The best way to peel a peach perfectly is dropping the peach into a pan of sizzling water and letting it boil for just a minute. Now take the peach out and put it into a bowl of cold water to stop the cooking process. Then peel it. The skin comes out very easily after this is done.
5 Lip Smacking Peach Puree Recipes For Babies
Peach Puree

Wash a peach thoroughly and peel it
Dice it into pieces and them either boil it in some water in a pan or steam it well
Make a puree out of this steamed or boiled peach with the help of a food blender or processor
The perfect consistency can be reached by adding the required quantity of water
Your puree is ready to serve to your little baby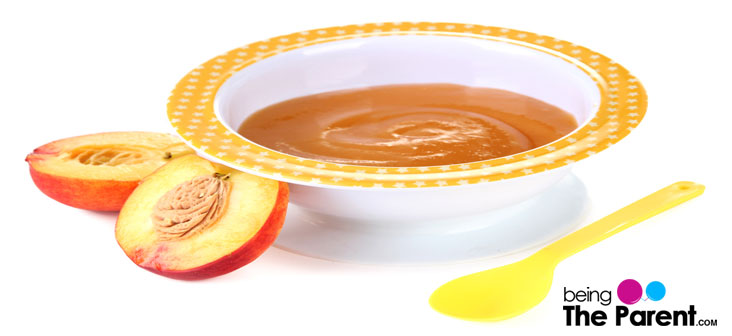 Tapioca and Peach Magic

Wash a peach and peel it. Take off the seeds
Now take half a cup of water in a pan and boil it
Now add around 1/3rd cup of tapioca into the pan stirring it continuously
This requires to be cooked for at least five minutes on low heat
Now prepare a peach puree and then pour this mixture to the tapioca that is cooked
This yummy dish is ready to be fed to your little darling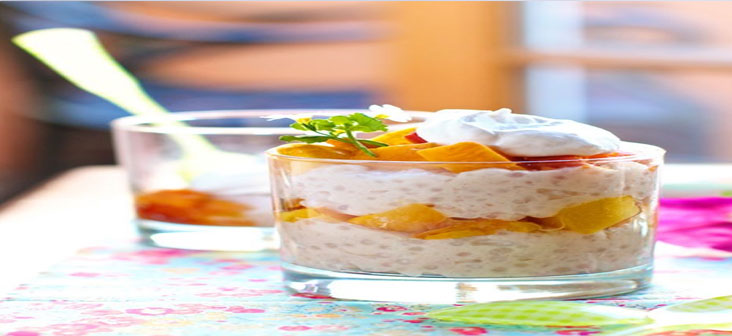 Peach Punch

Peel a couple of apples and peaches
Cook them well by steaming them or boiling them till they become very soft and tender
Now mash the mixture in a processor or blender
Add a few pieces of diced bananas and mash it once more till it becomes a smooth paste
Add required quantity of water till you get the right consistency for your little one
Nutmeg and Peach Surprise

Wash a peach and peel it
Cut it into pieces and boil it till it becomes tender
Put it in a blender till it is blended to a smooth paste
Now add around half a cup of natural yogurt along with a drop of vanilla essence to this mixture
Also add just a pinch of powdered nutmeg to the puree
If you like, a drop of maple syrup would also add flavor to this yummy puree
Blend all the ingredients well and your peach surprise is ready to serve to your little munchkin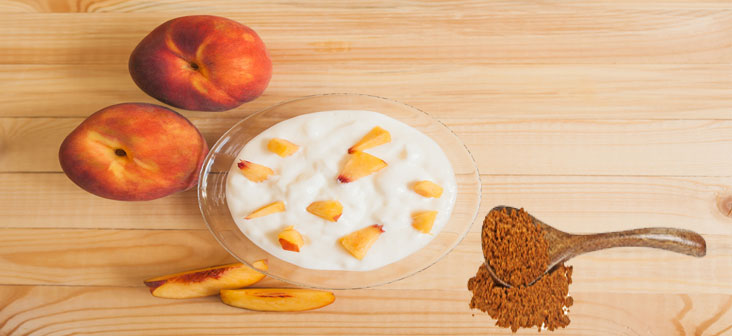 Fruity Oatmeal Puree

Take half a peach and peel and dice it into small pieces
Now wash an apple, peel, core it and cut this also into pieces
Take half a cup of rolled oats and keep ready
Keep ready one tablespoon of sultanas too
Now pour half a cup of water in a pan and let it boil
Add all the above ingredients into the pan and let it simmer under low fire till it becomes soft and cooked completely stirring all the while
Mash the mixture well after it gets cooked
Now add half a cup of yogurt to this mixture and blend it well
Your yummy fruity peach and oatmeal puree is now ready to be fed to your darling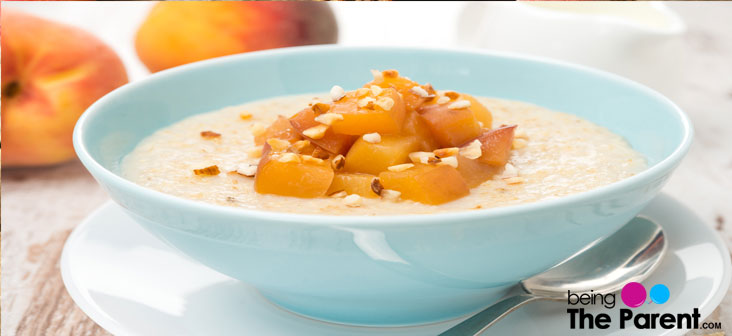 So go ahead and try out one of the above mentioned peach puree recipes for your baby today itself. Your little one is sure to gobble up this tasty puree that is not only yummy but absolutely healthy and wholesome too.