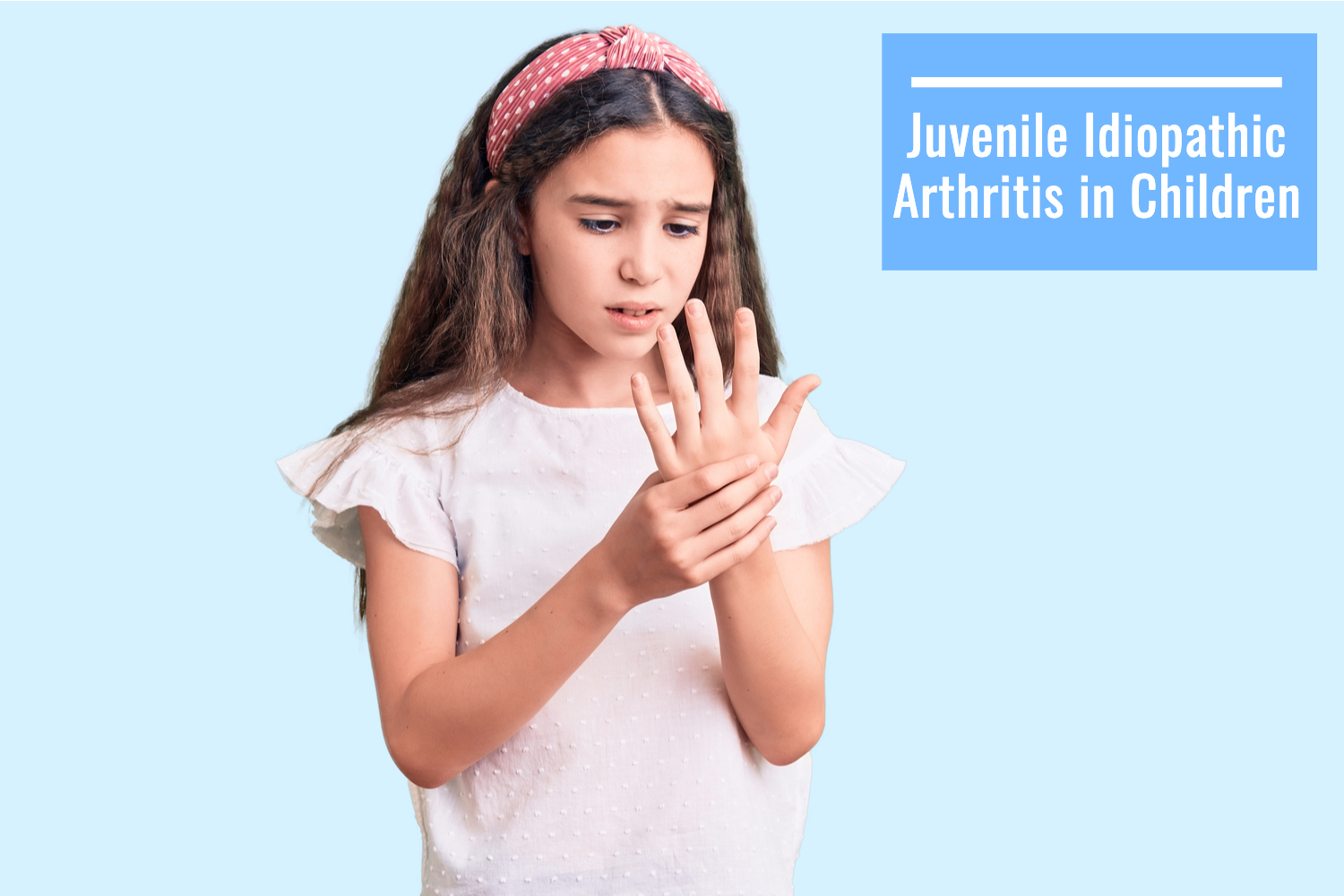 Children are inclined to infections and mishaps. Therefore, fever, swollen and painful joints, rashes, and fatigue can be mistaken as signs of infection, overexertion. Parents also might think of swollen or painful joints in children is as a result of injury during a game, or so-called growing pains. Do you know that these simple signs can be due to Juvenile Idiopathic Arthritis (JIA)? Juvenile Idiopathic Arthritis in children is the most widely recognized arthritis. It is also one of the most common chronic diseases that affect toddlers to children below 17 years.
According to studies, the estimated prevalence of JIA is around 48/100,000 among Indian children! An interesting fact is that girls are more likely to develop rheumatoid arthritis than boys at most ages. Do you know children can develop Rheumatoid arthritis? Are the tests used to diagnose Rheumatoid arthritis in adults useful in children? Who should I consult if my child develops joint pain or joint swelling? The following 7-min reader will answer all your queries!
In This Article
What is Juvenile Idiopathic Arthritis?
Juvenile Idiopathic Arthritis (JIA) is a condition that leads to inflammation of the joints, with persistent stiffness, warmth, and pain in the joints. Some children experience arthritis only for a short term, as of a couple of months, while others have arthritis for quite a long while, lasting several years. In rare cases, the condition can last a lifetime.
It is quite different from adult-onset rheumatoid arthritis in the following aspects.
While a large number of children experiencing JIA come out of the illness, adults generally possess lifelong symptoms.
JIA may affect the development of the skeletal system as well as the normal growth of the child. This will not happen in adults with rheumatoid arthritis.
About 70 to 80 percent of all adults with rheumatoid arthritis are positive for Rheumatic factor(RF). However, fewer than 5% of all children with JIA are RF positive.
The presence of RF shows the increased possibility of arthritis continuing into adulthood.
Kindly note that 5% of healthy children can develop RF positivity during some minor infections, and hence RF positivity alone is not sufficient to make a diagnosis of Juvenile Idiopathic Arthritis.
What are the Causes of Juvenile Idiopathic Arthritis?

Juvenile Idiopathic Arthritis occurs when the body's immune system attacks its own cells and tissues (autoimmune). It is a mystery why this happens. However, it is believed that both heredity and environment have a part in provoking the immune system.
Some experts rely on the theory that it could be because of factors like a virus, which then vanishes from the body after creating permanent damage. In addition, if some or any family members experience some kind of autoimmune disorder, children of the family have a higher tendency to develop JIA. This shows the genetic cause behind JIA.
Symptoms of Juvenile Idiopathic Arthritis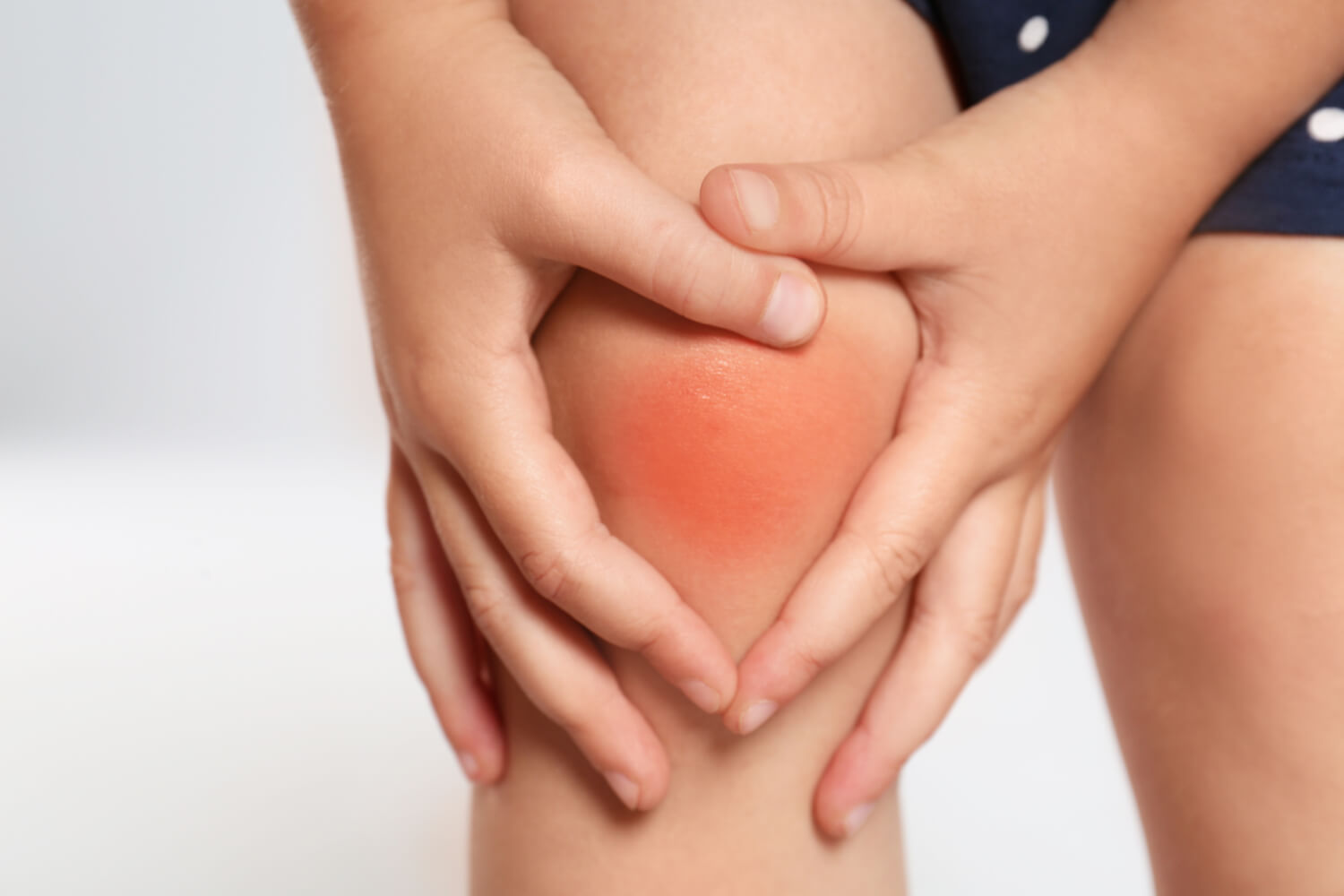 Juvenile idiopathic arthritis can affect babies who are a few months old to any child who is below 16 years old. If this affects the toddlers, they are too young to explain what is troubling them. Therefore, it is important to recognize these symptoms to get a proper diagnosis from the child's pediatrician.
Early detection and appropriate treatment can prevent acute and perpetual damage to your child's joints. There are different types of Juvenile Idiopathic Arthritis. The signs and symptoms vary with the type of arthritis the child developed.
The most prevalent signs and symptoms depending on the types are:
1. Systemic-Onset Juvenile Idiopathic Arthritis
This is one of the most common types of chronic arthritis noted in children in the Asian population. It affects both boys and girls to the same degree. It causes inflammation in one or more joints (both small and large joints are affected) and is often accompanied by a high fever.
The Symptoms involve:
High fevers often increase in the evenings and then suddenly drop to normal.
Inflammation of the outer linings of the heart or lungs. This can cause chest pain or shortness of breath among children.
The spleen and lymph nodes become puffed-up.
The child looks pale and anemic.
Rashes may unexpectedly appear and disappear, emerging in one area and then in another.
Gradually many joints get affected, becoming stiff and swollen, generating pain, and eventually making the movements difficult for the child.
[Read : Anemia in Children]
2. Oligoarticular Juvenile Idiopathic Arthritis
This form of arthritis usually affects toddlers and is more commonly seen in girls. Usually, the large weight-bearing joints such as the ankles and knees are affected. Hips are not usually affected. However, occasionally, this type of arthritis may also affect the smaller joints like the fingers and toes.
It is usually not symmetrical, which means that it affects only one side of the body and the joints rather than both sides. It is important to note that these children can develop silent inflammation in the eyes (called anterior uveitis). Once fail to detect this promptly, it can result in permanent visual problems. Therefore, it is always better to have a periodic eye check-up in children with long-standing arthritis.
3. Polyarticular Juvenile Idiopathic Arthritis
About 25% of children with JIA have the polyarticular form. Polyarticular JIA can affect more than 4 joints. This disease usually affects the smaller joints of the fingers and hands. But in some cases, it may affect the weight-bearing joints such as the knees, hips, and ankles.
It affects joints on both sides of the body in a more symmetrical manner. Kids with polyarticular Juvenile Idiopathic Arthritis are at a higher risk of joint damage than in the other forms of JIA. A subset of these children are Rheumatoid factor positive (RF positive) and these children tend to continue into adulthood with chronic arthritis.
4. Psoriatic Arthritis
Juvenile psoriatic arthritis refers to arthritis that occurs in children along with a skin disease called psoriasis. In some of these children, family members may have psoriasis, reflecting the genetic nature of this disease.
The symptoms include:
The scaly red rash can appear behind the ears. It can also appear in the belly button area, eyelids, scalp line or even elbows and knees.
Psoriasis affects the finger and toe nails.
Pain and puffiness in one or more joints, more often in the wrists, knees, ankles, fingers, and toes.
[Read : Fungal Skin Infection In Babies]
5. Enthesitis-Related Arthritis
This form of JIA is common among adolescent boys. In this type of arthritis, there is tenderness in the area where the bone connects with a tendon, ligament, or other connective tissue (called enthesitis). It most often affects the hips, knees, and feet.
The symptoms involve:
Pain, puffiness, and rigidity in the joints of the hips, knees, ankles, feet, and lower back.
Lower back or buttock pain that is worse with rest and better with activity.
The child complains of the heel, foot, or knee pain (with or without swelling).
6. Undifferentiated Arthritis
This type of arthritis occurs when arthritis does fall under any of the above classifications or if the child shows symptoms of more than one type of Juvenile Idiopathic Arthritis.
Does Early Diagnosis Help to Deal JIA?
Yes, studies show that a better health care system that allows for early diagnosis and treatment will reduce the frequency of morbidity in JIA. A one-and-a-half-year hospital-based cross-sectional study was conducted from January 2011 to July 2012.
They did a thorough evaluation of clinical and laboratory profiles as well as morbidity. There were 62 children with JIA, with an average duration of illness of 24 months. They fell under the following subcategories of JIA:
Polyarticular JIA ( among 26 children that makes around 41.9%)
Systemic JIA (among 20 children that makes around 32.3%)
Oligoarticular JIA (among 15 children that makes around 24.2%)
Enthesitis-related arthritis (In 1 child that makes 1.6%)
Also, according to this study, the knee (38.7 percent) was the most commonly affected joint (38.7 percent), followed by the ankle (25.8 percent). When compared to another study conducted in North India, this study from a tertiary care center in south India discovered that early diagnosis and treatment help significantly lower the frequency of morbidity.
Following are the outcomes of both studies (study conducted in South India Vs study conducted in North India):
The articular damage (30.6% vs. 60.7%)
The extra-articular damage (24.2% vs. 39.3%)
Growth failure (19.3% vs. 68.5%)
Pubertal delay (4.8% vs. 20.2%)
Therefore, yes, prompt diagnosis and early treatment will definitely help.
Complications Due to Juvenile Idiopathic Arthritis
Several serious complications can result from JIA. Therefore, careful monitoring of the child's condition and giving appropriate medical attention as early as possible is necessary to reduce the risk of these complications.
The Potential Complications of Juvenile Idiopathic Arthritis include:
Long-term recurring pain restricts the movements of the child, eventually causing joint damage.
Hindered growth
Uneven limbs as the bones and ligaments get affected.
Serious eye-related complications like uveitis can happen. It is a condition in which inflammation happens to the middle layer of the eye. Once fail to detect and treat promptly, it may bring about cataracts, glaucoma, and even blindness.
Swelling around the heart can result in chest pain and related issues.
What are the Treatment Options For Juvenile Idiopathic Arthritis?
Various treatments are available to manage Juvenile Idiopathic Arthritis effectively and minimize the effects of the condition. The foremost goal of the treatment is to get rid of pain, swelling, and the destruction of joints, and to maintain movement and strength.
To accomplish this, Pediatric Rheumatologists usually recommend a combination of treatments. The treatment that is effective for one child may not necessarily help another one. Therefore, a pediatric rheumatologist and physical therapist will work jointly to plan the best method of treatment.
Most of the time, JIA treatment merges medication, physical therapy, and exercise.
The aim of physical therapy is to keep the joints bendable, enable the range of motions, and improve muscle tone.
A physical therapist recommends the best exercise.
A therapist may also recommend and train the child to make use of joint supports or splints. This helps to protect the joints and keep them in a good functional position.
Giving corticosteroid injections to the joint also helps in some cases.
Children with JIA often need treatment for a few months to years. If treated appropriately, they can escape joint damage and participate in all kinds of activities.
Take-Home Message
Children can develop arthritis.
Prompt evaluation and treatment will help prevent damage to the joints.
Juvenile Idiopathic Arthritis is the most common cause of chronic arthritis in children.
Juvenile Idiopathic Arthritis is an autoimmune disease.
Pediatric Rheumatologist is the person who treats this condition.
This is not an orthopedic condition.
Children with Juvenile Arthritis must consult an ophthalmologist to detect any complications in the eye.
 Medications and exercise will help in treating children with Juvenile Arthritis.
Read Also: How Important is Physiotherapy For Juvenile Idiopathic Arthritis? by Dr. Sagar Bhattad