It is one thing when your husband touches your pregnant belly lovingly and mutters sweet nothings to you and the baby inside. But it can get very freaky when random strangers walk up to you and touch and rub on your pregnant belly as though it is a magic lamp and a genie might pop out if they do so. It is all the more creepy because these people assume that you are okay with them touching your belly and that you appreciate them acknowledging your pregnancy. And finally, most of them do not even ask before extending their arms, or the question comes after the act ("hope you do not mind me touching the belly"). What's the deal here?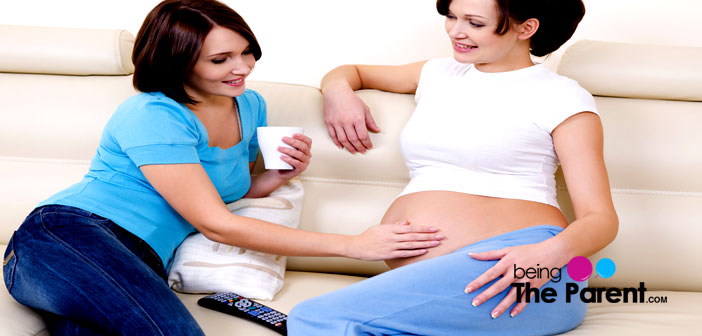 Why Do People Like Touching My Pregnant Belly?
It could be many reasons. Some might genuinely think that the pregnant women would like it. Some might want to feel the baby kicking or moving. For some, it is a way of showing support. Whatever be the cause, one thing these "belly touchers" do not realize is that touching the belly (or any other part of the body, for that matter) of someone without permission is an invasion to privacy.
Is It Okay For Strangers To Touch Pregnant Belly?
If you do not mind, it is okay. Go right ahead and enjoy the care and pampering. We repeat, as long as YOU do not have any problem, it may as well be alright for people to feel your pregnant belly once in a while.
But if you are uncomfortable, remember that you have every right to say no. You have not become a public property just because you are pregnant. And no one has any right to judge you if you guard your tummy from these belly touchers!
How Can I Stop Strangers From Touching My Pregnant Belly?
Ok, there is no way to guarantee that strangers would not touch your pregnant belly. But here are some of the suggestions experienced women have suggested.
Keep watch: Every time you are in a public place, like a park or a mall or a supermarket, get your guards up. You can tell if the lady in front of you is about to come to you for a bit of belly touching. You spot someone who is looking at you, getting excited and walking towards you with a ready smile, turn away! Moving away from the space is easier than having to be rude to a stranger in a public place

Guard your belly: Most of the time, if you keep both your hands on your belly, the stranger will have no place to touch. Remember this when a stranger walks up to you. If you keep your guards down and move your hand, the stranger gets an opportunity!
Tell a firm NO: As we said before, it is your body, your pregnancy and your baby. Nobody has any right to touch your pregnant belly and feel good at your expense. If someone does ask you if they can touch the belly, tell them a polite, yet firm NO. You can say you are not comfortable with it. If they do not ask, and go right ahead to touch the belly, take a step back, or even move their hand away and explain that you are not comfortable with strangers (or anyone) touching you belly
Give a tongue-in-cheek response: "You want to touch my belly? Do you want to touch some other part of my body too?" or "You want to touch my belly? Can I touch yours too?" Of course, this kind of responses should be saved only for the creepiest kind of belly touchers. It might not go down well with an aunt, for instance. So unless there is a huge need, do not simply opt to be rude. Tackle the belly touchers with some sensitivity
Ok, we are not asking you to pretend you are in a spy movie and always remain guarded. When you are pregnant, your life is hard and stressful in any case. You feel bloated, lethargic and even nauseous. At the same time, the fact that a tiny life grows inside you makes your pregnancy super precious. What we are saying is that your plate is already full. You do not want to deal with these belly touchers. So fill your days and space with people who will try to make you calm and happy. And do not hesitate to say a firm no.
Happy pregnancy!