As you dance and merry on the tunes of "rang barse..(रंग बरसे)" your little one is also excitedly hopping and running around with his pichkari (पिचकारी) gun somewhere around. Young kids often resort to notorious ways of making Holi (होली) fun; by throwing eggs and balloon filled with colored water. However, the festival of colors has taken a turn towards festival of chemicals. People prefer colors with stronger dyes which leave hard to remove stains. Unfortunately, these colors are laden with heavy metals and chemicals which pose serious hazards to the kids.
Holi Safety Do's And Dont's For Babies
Holi Safety Do's And Dont's For Toddlers
Holi Safety Do's And Dont's For Babies
Special caution must be particularly exercised with babies; read below:
Don'ts For Playing Holi When You Have A Baby
Do not apply or let others apply colors directly on your baby's delicate skin
Do not allow your baby to touch colors.

Babies have the habit of putting everything in the mouth so beware and do not let your baby touch or ingest anything
Applying colors is considered auspicious so if others want to make your baby cute by applying colors insist on applying sandalwood tikka (चन्दन टिक्का)on the baby's forehead. However, you need to take care that it doesn't falls in the baby's eyes

Never leave your baby unattended

Babies may drown even in a small tub of water
They may ingest colors
Better for general safety of the child

Do not allow older children to shoot pichkarees on your baby or throw water balloons
Do's For Playing Holi When You Have A Baby
It's best to keep your baby indoors since colors are thrown in the air which can be easily breathed in by the baby

The toxic chemicals inhaled can be fatal and lead to development of respiratory diseases or allergies
Loud music and the sound of beating drums paired with bizarre color-smeared faces may excite the baby or make him uncomfortable and fussy

Apply Vaseline/coconut oil/baby oil/mustard oil liberally on your baby's skin and hair. This will create a barrier between the skin and external pollutants
Dress your baby in full sleeves, full bottoms and socks, preferably in cotton fabric
Refrain from getting your baby wet – he can easily catch cold and feel uncomfortable too
Cover the head of your baby with a soft fabric scarf or cap. This will protect baby's head from the sudden splash of cold water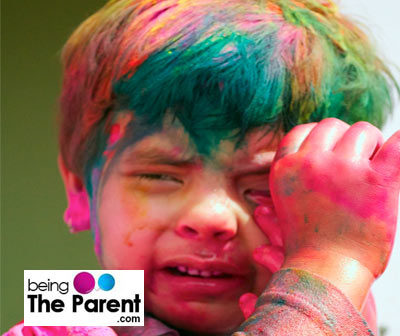 Holi Safety Do's And Dont's For Toddlers
In addition to above, below are a few tips to ensure a safe and fun-filled Holi for your little one:
Don'ts For Playing Holi When You Have A Toddler
Never let your kid out of your sight.

Best to have your kids supervised by an adult at all times
Toddlers are always super-charged on such events. They may fall or hurt themselves
They may accidentally pick bhang(भांग)-laced food too

Do not repeatedly wash your kid's skin with water and soap. Instruct him to bathe once after the entire Holi program is over. Repeated washing and scrubbing may irritate the skin
Do's For Playing Holi When You Have A Toddler
Opt for organic or homemade colors. They are safer and do not irritate skin. Read how to go about them here.
Teach your kid to create less nuisance and learn healthy Holi manners such as

not shooting pichkarees directly at face, babies and unwilling people
absolute and firm 'no' to water balloons
restrict hooters – they sound weird and cause and instant increase in heart beat

Try gel based colors. They are gentler on skin and easier to wash off
Keep first aid kit handy along with a bucket of clean water
If you cannot get hold of organic color, choose colors wisely
Darker colors such as red, black, silver and purple contain more harmful chemicals and are semi-permanent. Opt for lighter colours such as yellow and pink
Teach your kid to protect himself from color attack by dodging (using arms), closing eyes and lips
Use gram flour (besan-बेसन) mixed with curd and turmeric for removing color
Encourage young kids to play with water rather than strong colors
Organize a pool party with music and delicious snacks
Consider dental caps to avoid staining teeth
Make sure that your kid doesn't runs on wet and slippery surfaces

Try putting rubber foot mats around the tub of water

Use sunglasses to protect your child's eyes from dust of colors in air as well as from harmful sun rays.
Keep your kids away from frenzied mob of over enthusiastic and alcoholic people which may manhandle them.
Follow these tips and you can be sure that the safety of your child is not being compromised for the sake of fun. Try to restrict time played outdoors in sun and with colors and water. Devise more fun ways to celebrate Holi. You may organize a storytelling session about Holi or a children's movie and supply them with delicious munchies. How about going for a short trip to a safari park or a nearby hill station?

So this Holi, be relaxed, be cautious and splash colors with your child! After all, बुरा न मानो होली है…!