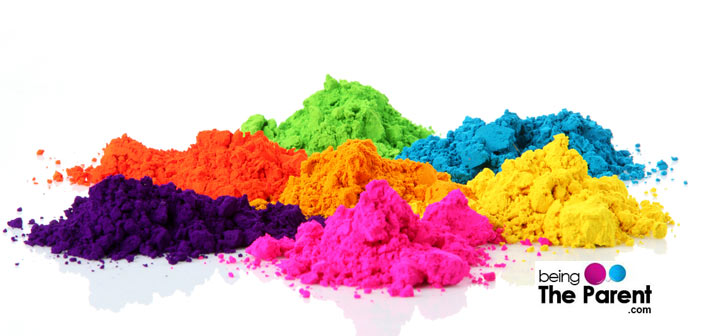 With the onset of summer, Holi (होली) or the festival of colors comes just like a silver lining on the cloud! The sight of splashing colors, color-smeared faces, music and Holi platter brings some respite. Kids are particularly attracted to this celebration of colors and arm themselves with pichkarees (पिचकारी), masks, hats and colors. But given the dangers of chemicals in the colors used to play Holi, it is no wonder that your child could end up with some serious skin issues, rashes and other skin allergies. For this reason, much has been discussed on celebrating Holi the natural way – making organic Holi colors at home.
Why Should You Make Holi (होली) Colors At Home?
In recent years, the chemicals used in colors have been questioned for their safety. Incidences of irritated skin, rashes, skin allergies, and effects on eyes have been highlighted. This happens because of silica and asbestos that are used in making Holi colors. Dry Holi colors are also lined with tiny glass pieces which can be rough on the skin and cause severe skin issues. Even the colors intended to be used wet are laced with various harmful chemicals. The immune system of young kids is not so strong and their skin is far more sensitive. Young skins absorb chemicals from colors. These colors have been found to cause respiratory problems and impaired vision and even temporary blindness. The mica added to give a sheen effect to colors causes skin irritation and allergies. Therefore there is need to adopt the concept of skin-friendly and eco-friendly Holi. Playing a safe Holi should be yor priority and when you make Holi colors at home, you not only keep your kids safe, but also do your bit for the nature.
How To Make Organic Holi (होली) Colors At Home?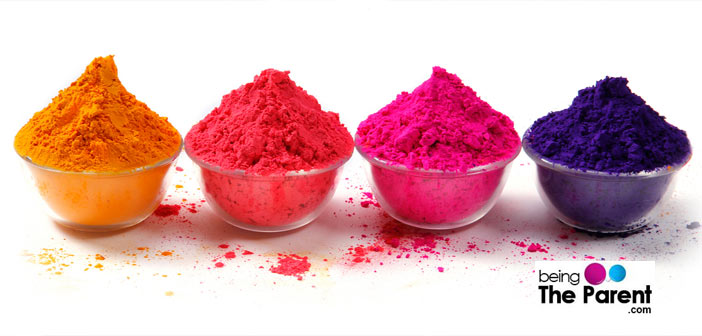 So this summer, ditch the synthetic colors and prepare flowery and aromatic colors in your own kitchen and that too with little effort. Below are few easy ways to make color which are 100% natural and safe:
Making Green Holi Color At Home:

Henna: Henna leaves a greenish color on skin behind and is also considered to be an excellent conditioner for hair

Dry henna leaves, powder them and soak overnight in water for wet color
Mix powdered henna leaves with flour (atta-आटा) or refined flour (maida-मैदा) for lighter shade of green

Spinach, Coriander & Mint: High in antioxidants and have a cooling effect on skin.

Grind together spinach, coriander and mint leaves to obtain green paste, which can be added to water for deep green color
Dry spinach, coriander and mint leaves, blend them in a mixer to obtain fine green powder

Neem (नीम) leaves: Excellent anti-bacterial properties.

Boil neem leaves in water, leave it to cool and your fresh green color is ready
You can add a little turmeric to this to get a new bluish color

Gulmohur leaves: Natural and safe.

Dry leaves of Gulmohur tree and powder them to obtain green powder

Making Red Holi Color At Home:

Red hibiscus flowers: High in antioxidant, good for skin.

Soak hibiscus flowers in hot water to obtain beautiful red color

Kokum(कोकुम): High antioxidant content.

Soak kokum in water overnight for deep red color

Red sandalwood:

Mix red sandalwood powder with water for red color

Organic vermilion or sindoor(सिन्दूर):

Simply smear organic vermilion

Making Blue Holi Color At Home:

Blue hibiscus flowers: Aids hair growth.

Make a powder of dried blue hibiscus flowers to obtain powdered blue color
Like red hibiscus, pour hot water over blue hibiscus flowers for instant deep blue color

Making Yellow Holi Color At Home:

Gram flour and turmeric: Good for skin.

Mix gram flour (besan-बेसन) with turmeric and lo! your yellow color-cum-beauty pack is ready

Making Bright yellow Holi Color At Home:

Marigold petals: Great healing properties. Best for skin

Boil plenty of marigold petals in water and leave it overnight

Turmeric: Anti-septic and aids glowing skin

Simply add a big teaspoon of turmeric to water and boil.

Saffron:

Saffron strands: Glowing skin, fights pigments and brightens skin

Soak a few strands of saffron in 2 tbsp. water for couple of hours. Grind it to form a paste and add it to the water to obtain the desired color

Sandalwood powder: Cools and brightens skin

Simply add the aromatic sandalwood powder to the water for instant wet color

Tesu/Palash(पलाश) flowers: Increase suppleness of skin and possesses medicinal properties.

Boil tesu flowers, available freely on the roadside and obtain wet color
Dry the flowers, powder them mix it with sandalwood powder

Making Black Holi Color At Home:

Gooseberry/Amla(आमला): Great for skin and hair!

Cut gooseberry in small pieces and allow it to dry. Put these dried pieces in an iron vessel and let this stay overnight. They will turn black which can be powdered to obtain black color
Add water to this powder for wet color

Making Magenta Holi Color At Home:

Beetroot and rose petals: Gives instant glow, has whitening effect for the skin. Leave lovely pinkish stain
Slice or grate beetroot and soak overnight in water with rose petals
Pomegranate seeds: Anti-ageing properties and packed with essential nutrients.

Soak pomegranate seeds in water overnight to obtain magnificent color.

Making Gulaal(गुलाल) Holi Color At Home:

Rose petals: Aromatic, good for skin and safe
Dry rose petals and grind them to form powder

Making Orange Holi Color At Home:

Henna leaves: Natural, safe and hair conditioner

Grind fresh or dried or henna leaves and mix it with water to make to obtain the paste which can be added to water to obtain orange color

Sandalwood powder with turmeric & rose water: Cooling effect on skin, moisturizes and has antiseptic properties

Mix rose water with sandalwood powder and some turmeric

Making Purple Holi Color At Home:

Jamun(जामुन)/black grape juice: High antioxidant content and leaves stain

Obtain juice or pulp of jamun/black grapes and liberally dilute it with water. This will ensure that the sweetness is nullified and the ants don't trouble your little one!

Making Brown Holi Color At Home:

Tea leaves/powder: Natural and safe. Tea is kind of loathed in summer, so why not splash with it?

Boil tea powder or leaves in water and allow it to cool. Your reddish-brown color is ready!
Although the above made colors are natural and safe, exercise caution. Many kids have very sensitive skin so watch out for skin irritations and rashes. Apply Vaseline, coconut oil or moisturizer on skin and hair before playing with colors. This will facilitate easy removal of colors. After playing with colors, wash gently with soap and warm water, do not use nail polish remover or detergents on your kid's skin as they may aggravate irritation.
With the organic trend hitting the market it's easier to pick a packet of colors, however do not be fooled by them as they are not standard nor regulated by any agency.
So this Holi, say bye to the synthetic colors and welcome the herbal, aromatic splashes!