Using silverware for feeding the baby is something quite close to us Indians. We also tend to make the baby wera silver bangles and anklets. But why do we use silverware? Why is silver the most commonly gifted item during baby ceremonies? Is it just to show off affluence and luxury (remember the phrase "born with a silver spoon")? Or are there any other reasons behind the widespread use of silver? Like most Indian age-old traditions, usage of silverware also appears to have some underlying medical reasons that makes it a popular cutlery option across the world. Let us look at some of the benefits of using silverware for babies: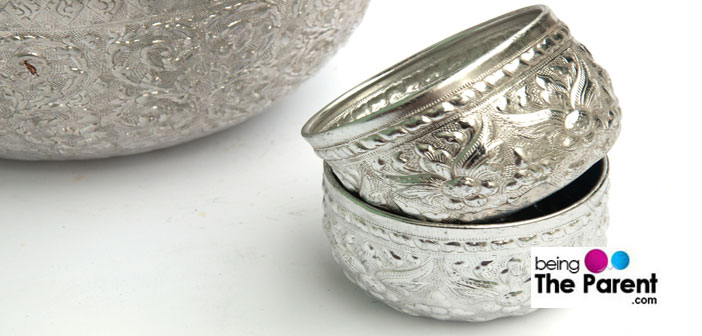 What Are The Benefits Of Using Silverware For Babies?
Importance Of Silver In Ancient India
Silver And Digestion
What Type Of Silverware Are Available For Babies?
Advantages Of Silverware For Babies Over Plastics
How Can I Use Silverware For My Baby?
Why Do We Wear Silver Jewelry?
What Are The Benefits Of Using Silverware For Babies?
Using silverware for babies has been practiced since decades, and it is believed that eating from silver has the same benefits as eating from a banana leaf. Top 5 benefits of using silver cutlery for babies are:
Bacteria-free: Silver has the unique property of preventing bacteria cells from building up chemcial bonds for its survival, making it antibacterial. Unlike other synthetic and plastic utensils, you do not have to sterilize silverware as it is bacteria-free. The antibacterial property of the silver is the reason why medicines are usually given to small babies in a silver pallada or sangu
Easy maintenance: The fact that you can clean the silverware with just water and soap, and not sterilization, makes it easy to use and maintain silverware. However, silverware used for babies should not be polished regularly
Immunity boosting: Silver has the property of killing germs, and so it can be a boon to health. It is believed that traces of silver is infused in the food eaten by the babies, which can improve the immunity of the child and generally improve health
Non-toxic: Unlike other metals and plastic ware, silver is not known to cause any cancers, reproductive or neurological damage or any adverse health conditions. Silverware is non-toxic and hence safe for kids
Retains freshness of food: Silverware is also known to kill various germs, bacteria and virus in the food. In fact, in olden days, silver coins were added to milk to keep it fresh for longer time> History has it that water and wines were kept in silverware to retain their freshness and enhance taste
These benefits mentioned here are not newly found. The usage of silverware were very common in ancient India, of course, for the affluent class as silver is a precious metal.
Importance Of Silver In Ancient India
While ancient Indians knew about the antibacterial and non-toxic nature of silver, their use of silver was not limited to plates, bowls and cutlery. They leveraged the therapeutic properties of various metals, including silver, for healing in Ayurveda. The base of this usage was that when silver (and other metals) comes in contact with water, it transfers its healing quality to the water and then this water could be used in Ayurvedic therapy.
Silver And Digestion
Silver-charged water was specifically known to do wonders to people who were having digestion and related problems. The anti-bacterial, anti-viral and anti-fungal properties of silver eases problems in tummy, digestive tract and intestines. This water was also known to keep urinary problems at bay. In temples, the holy water was always stored in silver containers for the same reason. And as mentioned before, milk was key fresh for a longer time using silver coins. So there! There are number of evidences from ancient India that support the silverware's claim to fame.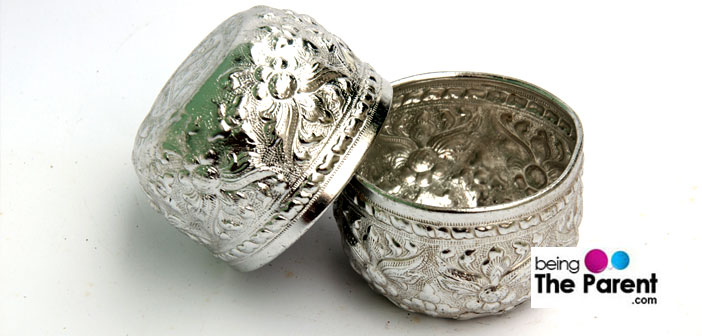 What Type Of Silverware Are Available For Babies?
There are many kinds of miniature silverware available for babies. The popular ones are:
Paladai, which is a small bowl, shaped like "shangu" or "shankh" or conch shell, with a tipped end that makes it easy for feeding liquids
Silver cutlery, especially small baby spoons
Mini silver glassware
Silver bowl
Silver plate
Some of us might, understandably, brush off the above-mentioned benefits as pseudo-science with no real proof. But considering silver is definitely non-toxic and antibacterial in nature, we believe that it is definitely harmless to use them. May be you can give one meal a day – preferably a warm food like soup – in silverware. Furthermore, when you compare silverware with the alternative, that is plastic utensils, we feel that plastic items are a bit disadvantaged.
Advantages Of Silverware For Babies Over Plastics
Non-biodegradable: One of the biggest problems with plastic is that it is not a green or earth-friendly product. Something as thin as a plastic cover takes 1000 years to break down fully (and even then it does not become non-toxic), so imagine how many thousands of years a plastic bowl will take to degrade?
BPA: BPA is added to plastic to make it more durable. And this can leach into food items. BPA is known to create hormonal imbalance and obesity in humans. It is also known to increase risks of infertility, prostrate and breast cancers. So unless you buy very high quality "BPA free" plastic utensils, you are in the danger of BPA side effects
Phthalates: Pthalates, another common ingredient in plastic, are known to cause immunity and fertility related issues in men.
Since prolonged use of plastics definitely is not in the best interest of you, your son or even the earth at large, it is again a good idea to look for alternate safe options, like silverware
We have covered the dangers of using plastics for baby here.
How Can I Use Silverware For My Baby?
Using silver utensils for feeding the baby is the simplest way to use silver for babies. Use a silver glass to gve juices and water, large silver bowls with a silver spoon for rice, khichdi, daal ka paani and mashed roti, and smaller silver bowls for mashed fruit purees like apple, carrot, green peas, banana and peach.
Why Do We Wear Silver Jewelry?
Silver jewelry has been worn by both men and women since ancient times owing to the medicinal properties of the metal. Being antibacterial,wearing silver jewelry is believed to fight infections of cold and flu, and helps provide a cover against potential toxic substances. Silver reacts and changes color when it comes in contact with toxic chemicals. For this very reason, babies and adults alike wear silver jewelry. Babies are often made to wear silver anklets and bracelets to boost immunity and for positive energy. And of course for the tinkling sounds!