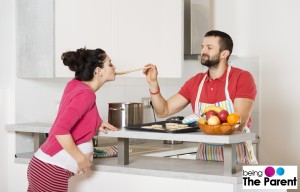 As many women must have put it, and as many men must have agreed, sharing your partner's pregnancy like her, in technical terms, is plainly not possible. So while the mothers-to-be lead a life of unparalleled and multiple changes both physically and mentally, the fathers-to-be just be a couch potato, running errands if asked to, or worrying about how life is going to be after a baby. Well, there's much better things that need your attention, and though you cannot feel the nausea, the first breaths or the kicks, there's plenty to share with your wife and be a part of the incredible journey you are on the path of.
Well, you cannot be pregnant. But you can be supportive to the creation that is growing, multiplying and becoming more of a baby day by day. Observe. Track. Feel. Speak. Listen. Yes. Do it all. See how she has her mood changed in a second, and how her tummy is growing. Understand what makes her feel better about herself, and do those things often. Talk to her. Share your plans on the baby. Opinions. Listen to her. Let her tell you how she's feeling from inside, why does she need to pee so often, and what's her backache all about. You could cook for her, since she'd be hungrier than ever before. Remember to remind her of taking the prenatal pills – goes a long way to show that you care.
Hold her hands, and whisper sweet nothings. Light candles, send her flowers, and bake a cake, maybe. Long drives, well on the best of road, why not? Sex might take a backseat, yes, but understand that your relationship is not only about being physical! You are taking it to the next level, so be confident, and do not carry the grumpy-hubby-without-sex look. She knows she's not looking like Julia Roberts now, but be kind, even if you do not find the protruding belly sexy, say so. Every time she looks into the mirror and fits oddly into the XL size dress she just bought, she loses out her confidence. Give it to her, nothing can make a woman feel happier than her partner telling her how beautiful she looks – with the belly.
Be with her on her visits to the doctor, feel the kicks, support her during hard times, talk and read and sing to the baby. Give in to her temptations, and expectations, and gleefully help her overcome her fears. Go on the walks together, exercise with her. She might want an ice-cream at 11 pm, do not make a sad face, and take her to the parlour happily. Try making it to home early so that you two can have a cozy dinner. Put away that glass of booze, do away with the cigarette. Eat healthy, and refrain from eating something she may have been advised again.
Lock on the baby names together. Shop for the baby, and the mother. Help her preparing the hospital bag, and continue to make her as comfortable as you can. Try opting for the parental leave for atleast a few days. Plan your baby's room. See that it's comfortable for the baby as well, get the childproofed.
When her water breaks, chances are that you will be driving her to the hospital. Do figure out the shortest way, since the screams might confuse or overwhelm you. At the hospital, into the labor, she needs you the most. Be prepared for a lot of ruckus, and wails, and screams, but remember, your creation is on its way to your arms. Embrace life, embrace love.
And you thought, you had nothing to do!!