Pimples may have bothered you when you are in your teens. What if your infant develops tiny acne, just like teens? Surely it will worries you more than seeing your first pimple. But there is no need to bother at all. Baby acne is pretty common, and will resolve itself, unlike the pimples that troubled you throughout your teens. It is harmless and there will be no scarring.
As usual, even if there is no need of much worrying, lots of questions may arise in your mind. This article will help you to ease your tension.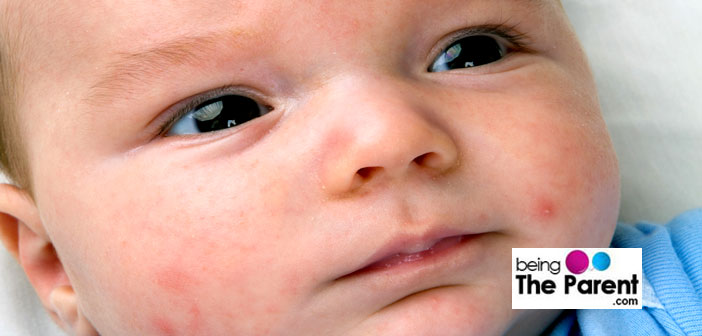 What Is Baby Acne?
Baby acne closely resembles teenage acne that develops on the new born baby's skin. Although it can occur anywhere in the baby's face it is more often located against forehead, chin, and cheeks. Some babies are found to develop acne on their back.
What Does Baby Acne Look Like?
Baby acne looks like red bumps or pimples with the red skin surrounding them just similar to a pimple that appears when you are a teenager. It usually clears within three to four months. Sometimes baby acne appears and disappears two or three times before the baby is six months old.
Is Milia And Acne Same?
No. Milia is in no way related to acne. They are tiny white bumps develop on your child's face when dead skin cells become trapped in small pockets in the skin. Milia appears during birth and vanishes within few weeks after birth and sometimes many mothers mistake milia for acne.
Are There Types Of Baby Acne?
There are two types of acne.
Neonatal acne: This type of baby ace will develop within first three months after the birth of the baby and will be gone within two to three months
Infantile acne: This type of baby acne appears when the baby is between three to six months age. This type of baby acne will disappear only within a year or two
When Does Baby Acne Appear?
Acne can be present at birth, but it usually appears within one month the baby is born. Sometimes the baby is found to born with acne. The prominence of the acne will be more when the baby gets fussy because of the increased blood flow to the skin.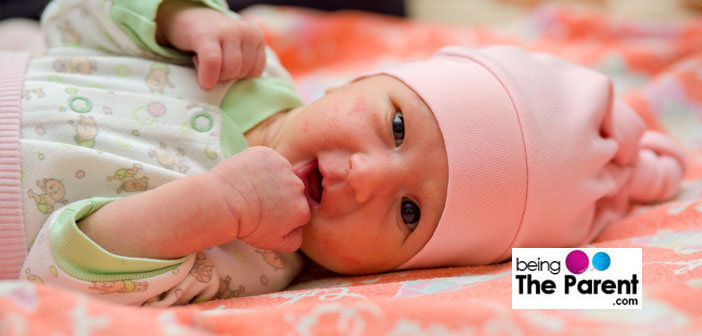 How Does Baby Acne Occur?
An important cause of baby acne is hormones. Wait, are you talking about baby hormones? Surprised? But here the culprit is the mother's hormones which are still circulating in the blood stream of the baby. During the final stage of pregnancy, mother's hormones get into the baby's blood stream through the placenta. These hormones which help in lung-maturing sometimes stimulates the oil glands on the skin of the baby, in due course giving rise to pimples. Sometimes the skin of the baby may devoid of fully formed skin pores. These partially formed pores can be clogged more easily developing pimple.
There are some factors that worsen the baby acne like:
Spit-up saliva which is very common at this age
Formula milk
Breast milk
Rough fabrics
Fabrics washed with strong detergents
Baby cream, lotions, powder, and soap will increase the irritation due to acne
Medications that the mother might be taking and passing on to the baby through breast milk
Medicines that the baby might be taking
How Can Baby Acne Be Treated?
No medication is usually required as it disappears its own within few months. If the acne is severe and irritates your child to the extent of bothering him, the pediatrician will prescribe topical treatment to sooth your child's skin. When the neonatal acne doesn't disappear even after four to six months the pediatrician will check for hormonal disorder.
Never apply any medicated or non-medicated cream as per your decision without your doctor's permission as it will damage your baby's delicate skin and can worse or cause additional skin irritation. If the acne is persistent, it might as well be an indication that your child may have to deal with acne in his adolescence as well.
How Can I Prevent Baby Acne From Spreading?
Some of the measures that can be taken to minimize the aggravation of baby acne are:
Don't scrub or squeeze the acne of your baby
The area with acne should be cleaned with water
Only pat dry the skin
Never use any kind of oils or creams on your baby's face
Sometimes symptoms of eczema or some allergic reaction are mistaken as baby acne. So consult your doctor just to make sure as he can diagnose baby acne on sight.
Be patient. Baby acne will vanish in a short period of time. Just avoid the things that aggravate baby acne and wait patiently.