Each of your child's milestones – be it the first smile, the first rolling over or the first tooth – is extremely special to you. But one that tops most of the other milestones is that moment when your child speaks her first word, more so if that word is ma-ma! There is something magical about your baby's first words.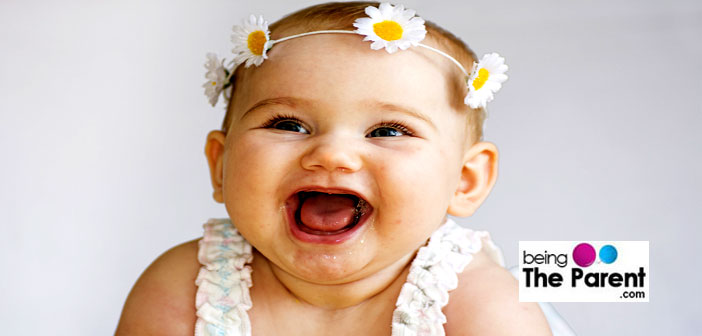 For starters, it is a huge relief that your baby can speak. You no longer need to spend sleepless nights wondering "what if…?"
It also indicates the baby's hearing is intact
At a more emotional level, baby's first word indicates that you can connect with her now at a different level, engage in conversations, teach her more words and so on
It is one of her first steps towards being a social being
Of course, it is always quite a controversial topic what the baby's first words were. Ma-ma or da-da. If it was da-da, does that mean she likes da-da better? Well, we do not want to add oil to that fire! sss You can debate all you want, but the good news is once the baby starts saying the first word, she will follow it up soon with many other words.
When Can You Expect Your Baby To Speak Her First Words?
Your baby's first non-verbal talk happens soon after she is born. The cries, the faces, squirms etc. all are a way for your baby to communicate her feelings – most likely of hunger, frustration or sensory overload. You will need some time and patience to understand and differentiate between various cries of the baby. By the time your baby is 3 months old, she starts listening to you intently, tracing your movements and face as you talk to her. She may even give some cues as to whose voice she prefers more – mom's, dad's or granny's.
By the time your baby is six to eight months old, she will have moved past the coos and started babbling. It could be simple consonant sounds, like ca, da, or ba repeated continuously. Even if you overhear a "ma-ma" or "pa-pa" or "da-da", these aren't likely her first words. She is still too small to comprehend what she is babbling. The "ma-ma" at 6 months is unfortunately random sounds that the baby is making. Yes, she does not yet know the meanings yet.
However, after 8 months and before 11 months, you can expect your little one to utter her first word. She can understand more words now, and more importantly understand the meaning of the words she is uttering.
By one year, they will be able to say more words and respond correctly to your questions. They will know when they say "Ma Ma" or "Da Da" and can follow simple one or two word commands. Your baby may also start to respond to you and your short sentences.
What Can You Do To Encourage Your Baby To Speak?
There are many reasons for speech delay in kids, most of them harmless. These include babies being prematurely born or being a part of multilingual household. Gender also plays a role – boys are generally slower to pick up words than girls. If you do notice a delay longer than usual, it might be a good idea to discuss with your child's doctor about any physical problems that might be impacting your baby's speech. These could include oral-motor problems, hearing problems or physical impairments in tongue. If such problems are ruled out, then you can encourage your baby to talk by: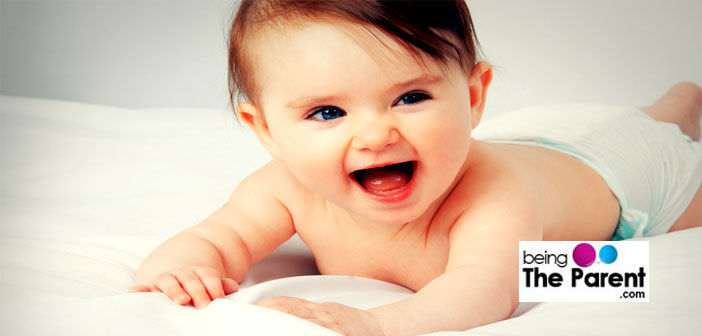 Talking to the baby all the time, but talk properly as your baby is in the process of learning what she is hearing. Do not babble like her, instead provide simple conversations
Giving a running commentary about everything you are doing. This helps babies to relate to things and actions
Singing to the baby helps babies learn the rhythm of the words and get familiarized with them over time
Encouraging them to imitate what you say will again help your baby recognize words and thus strike conversations
Making eye contact while talking to the child is one of the most important aspects of making your baby talk. Make sure you look at the baby in the eye and grab her attention
Reading the bedtime stories exposes a baby to simple sentences, situations and vocabulary. Babies also learn voice modulation
Asking them loads of questions so that they are motivated to speak back
Letting the child play a lot with other kids. Among themselves, kids learn to play, pretend and imagine which are crucial for speech development
Naming things that you use with the baby
Listen when your baby tries to say something, lending an ear to your baby, paying attention to her will keep her interested in talking to you
Reply to your baby even when she babbles so that conversations become fun for her and she feels the different tones and sounds
Praise your baby often as she is grasping the power of language through your reactions and gestures
Your first conversations with your baby are the most beautiful things you will experience in your lifetime.
Speech Development Delays In Babies
Problems with getting your child to utter those first magical words? Read our articles on:
Happy parenting!