Way back in time when we were kids, playing in mud and dancing in the rain, we never realized what a big deal strong hair were. And our parents took utmost care of our hair and enriched them with available vitamins and nutrition to make them what they are today. Similarly, providing the gift of strong and healthy hair to our kids is our responsibility. Here are 10 Home Remedies To Strengthen Your Child's Hair. If You take care of the child's hair this age, it would definitely yield fruits till they age.
People all over the world spend a huge sum of money on baby products and other cosmetics to strengthen their children's hair. Baby product companies make huge revenues by promising the parents that they are going to secure the best possible hair for their kids.
But we believe in natural remedies as it is harmless and inexpensive. It would shock you, but you can do wonders for your kid's hair by using the things lying on your kitchen shelf. This secret of nature is as effective as any high-brand child hair product and comes with a full guarantee of "no side-effects"
So now, let's explore, what is in the nature's bag.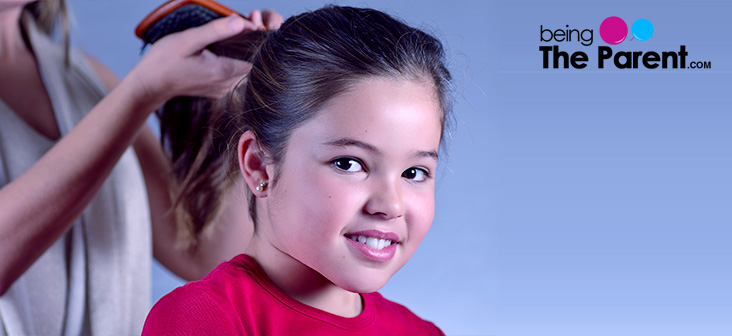 Top Home Remedies To Strengthen Your Child's Hair
Before using any home-made hair mask for your child, you should know about his/her hair type. Find out if it is oily, dry or normal. And according to the type of the child's hair you can apply these natural wonders.
1. Regular oiling:
When talking about hair care, oiling and massaging is something that comes first on the list. Regular oiling with coconut oil can strengthen the soft scalp of the kids and also helps in strengthening the hair roots, thus reducing the hair fall. Massaging also increases the blood circulation and provides a good blood flow to the follicles of hair.
The parents can also trust almond oil and amla oil, since they are rich in vitamin E and provides luster to the hair. A thorough massage of these oils once in a week can gift your child a lifetime of soft and lustrous hair.
2. Aloe Vera gel:
Aloe Vera gel that can be easily grown in one's house has a lot of medicinal qualities. One of its prime benefits is providing moisture and coolness to hair, thus preventing from all possible damage and breakage. This aloe Vera gel can be directly extracted from its leaves and can be applied directly. Apart from enhancing hair growth, it also does a great job in preventing dandruff by moisturizing the scalp.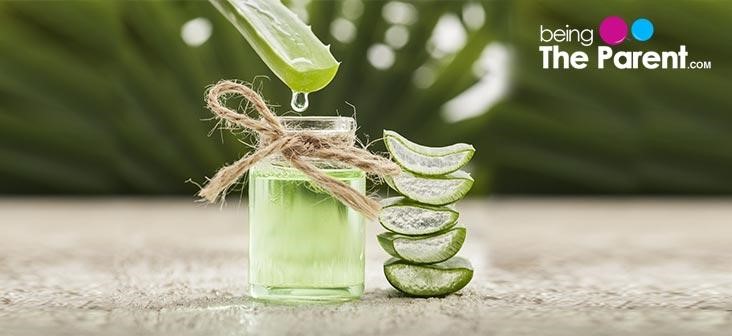 3. Neem Bath For Child's Hair:
Another super inexpensive way of killing all the germs from the hair is taking Neem bath. Neem plant has antibiotic qualities and it is the best home remedy for killing off all the possible harm causing agents.
Another advantage of taking Neem bath is that, it prevents itchy scalp and fights hair lice (which is pretty common in kids). So, add a few leaves and provide your kid the healthiest kind of bath.
4. Lemon Juice:
Good news for all the mothers, who is trying to improve the dryness and dullness of their kid's hair. Lemon slice can be your best friend. Rich in vitamins, this simple ingredient of your kitchen is best to provide shinier and healthier hair.
5. Coconut milk For child's hair:
Most of the hair products include coconut milk as their prior ingredient. Then why not, use this milk, raw only. Coconut milk can nourish and condition even the driest hair. The best time to apply coconut milk is soon after giving bath to your young one. Just leave it for 20 minutes on the wet scalp and see the magic!
6. Yogurt mask For child's hair:
Another hair strengthening ingredient that is sitting right in your fridge is yogurt. The vitamins, calcium, and antioxidants present in yogurt nourish hair and provide it length. It is also the most convenient hair mask and conditions hair naturally.
7. Egg yolk:
Just separate the egg yolk from its white and apply to your kid's hair. It is another protein-rich solution for damaged hair. Its regular application can make hair smooth and shiny. Apart from that, fatty acids present in egg yolk, can easily eliminate roughness and restore the lost smoothness and bounce.
8. Fenugreek seeds:
This little angel from your kitchen shelf makes the best hair mask. To apply these, one must soak them in water overnight. And once they absorb the water, finely grind them and apply the paste. Or one could mix it with aloe vera gel and double its benefits. It proves to be the best in accelerating the hair growth and preserving the natural color of your kid's hair.
Apart from these external applicable natural products, you can always include healthy and nutritious food in your child's diet. There are many foods that can strengthen hair follicles and can reduce early breakage of hair.
9. .Honey:
This product having natural origins is a bundle of health. And also proves to be a great help in case of weak and brittle hair. One can directly include honey in their child's diet or can apply it like a mask and gently massage it for 10-15 minutes. Both the methods will provide the same advantage.
10. Olive oil:
Experts suggest that all the food should be cooked in olive oil as it contains such beneficiary properties which can't be gained from any other type of oil. In this case, either one could eat salads or food with dressing of olive oil or can apply it directly on hair and gently massage it over scalp with fingers.
Hope these 10 Home Remedies To Strengthen Your Child's Hair was helpful. You can also find baby hair growth tips here