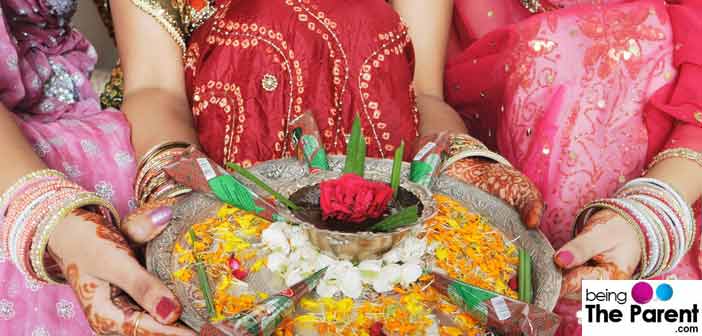 India is a land of celebrations, and in spite of the odds that we Indians battle, we are in for celebrating happiness with friends and relatives. Indian Godh Bharai(गोद भराई) is a hot favorite, and while the news of soon-to-be-arriving family member keeps up the family in good cheer, women relatives and friends adorn themselves with jewelry, flowers and expensive clothes, put heena on their hands and sing traditional songs. Men join in too, more so for the amazing spread laid out in the dining space. The air is filled with positivity, love, happiness and cheer, and gives the expecting mother a chance to have fun and relax.
What Is Godh Bharai Rasam In India?
When Is Godh Bharai Rasam Celebrated?
How To Celebrate Godh Bharai?
Ideas For Celebrating Godh Bharai?
How To Ensure An Enjoyable Godh Bharai For The Mother-To-Be?
What Is Godh Bharai Rasam In India?
Traditionally held for the well being of the mother and her child, and in anticipation of her producing even more healthy offsprings, the Indian baby shower function is exciting and holds a lot of importance in Indian culture. However, because it is celebrated during the last trimester of pregnancy, it can be tiring as well. Hence, if planned well in advance, it would turn out as an enjoyable experience for the mother as well, as it is for the rest of the women. Godh Bharai(गोद भराई) essentially translates into 'filling (भराई or bharai) the lap' (गोद or Godh) with abundant blessings, good wishes, and joys that motherhood brings. A to-be-mother's lap is filled with goodies, including bangles, cash, jewellery and clothes.
Godh Bharai(गोद भराई) is celebrated across cultures, shaad in Bengal, seemandham in Kerela, and valakappu in Tamil Nadu. However, across the Indian geography, the gist and the significance are the same. With the to-be-mother blessed to rear a healthy baby, she is also given gifts and treated like a queen. Generally a puja is performed and post that, a lavish lunch takes place.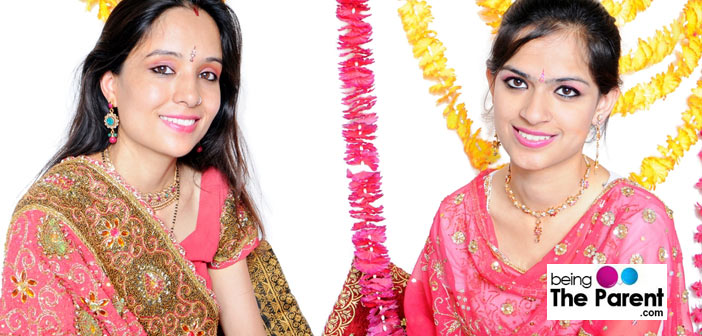 When Is Godh Bharai Rasam Celebrated?
Across most cultures,Godh Bharai is performed in the seventh month of pregnancy, while in some others, the eighth month is the time of celebrating. It is believed that the mother and the baby are safe after the mentioned months, so the family can very much rejoice. In some communities, puja is done only after the birth of the birth of the baby, and they do not have a Godh Bharai function as such. Because the celebrations are centred around the mother and the baby, many families chose to keep the function low key and celebrate only if both of them are doing pretty well in pregnancy.
How To Celebrate Godh Bharai?
Traditionally, Godh Bharai is a function to bless the mother and her unborn baby. Being vast, Indian traditions of Godh Bharai differ from region to region, but the essence remains the same. Very often, the function is a 'women-only' event, however, men can participate too. A puja is always performed before festivities begin. Gifts to the mother-to-be include bangles, clothes, cash, and jewelry, while most people wait till the birth of the baby to buy something for him, some do go a bit further and bring gifts for the unborn baby as well. The festivities are filled with glee, glamour and a dash of teasing with singing, dancing and lots of games. Mostly, women try to guess the baby's sex by touching or feeling the pregnant belly. It is a fun game with endless bouts of laughter and giggles. Men are generally not included in the games.
Ideas For Celebrating Godh Bharai?
It could be a theme oriented celebration, or a traditional get-together of family and friends for a quick snack. Many people opt for theme based celebration and traditional Godh Bharai is now-a-days a thing of the past. Having a theme could be fun but has its cons as well, and it's up to each individual to opt for traditional or modern way.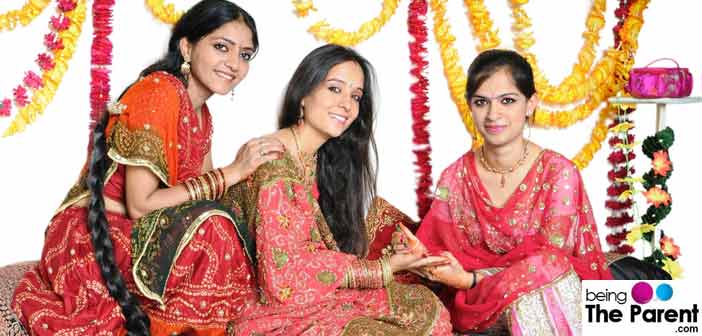 Here are some fabulous Godh Bharai or baby shower planning ideas:-
Traditional cum Modern – It could be a traditional Godh Bharai with some changes or innovations/ additions of modern or westernized baby shower. The mom-to-be can dress in typical traditional way in a saree or a Punjabi dress as she prefers, flower garlands around her hands, neck, waist and head, bangles, heena on hands and legs. The ladies should be asked to dress in western clothes specially the grandmas, moms and aunts close to the expectant mother just to surprise her. The food, decor, games and favors should be mixture of traditional and modern style
36th week of pregnancy – Invite guests to come in dressed as 'nine months pregnant' i.e. pillows or cushions stuffed in belly to surprise the mum-to-be and so that she doesn't feel out of place. If men are also invited then would be lot more fun to see them this way, especially seeing the dad-to-be in stuffed belly would bring a lot of joy to expectant mother
Childhood memories of mom-to-be – Decorate the place with expectant mothers' childhood pictures, her infant and toddler aged clothes (if any have been preserved by parents), favorite toys, books, notes from parents and relatives about how she was as a child. Close on with letters or videos from far-n- wide family members or close friends who can't make it on this special occasion
Potluck – Potluck party is generally arranged by friends and family for a small get together but would be surprising for a baby shower if dishes are pre-decided and especially mother-to-be's favorite delicacies. Plan it on a full moon night on open terrace
Pampering the mum's – Rather than having a traditional baby shower where having venue, food, decor is monotonous, arrange for a spa at home or book one for this day for a few close friends of the expectant mother and let them have a blast! Facials, massages, manicures and pedicures would be loved by everyone, and to go along with it arrange, some light snacks or finger foods
Diet Theme – If you are health conscious and want to spread this around have a healthy-diet theme where food is mainly fresh fruits and juices and salads. Main course should be either steamed or baked and desserts should be sugar free and non fried items. To make it even more fun the dress code should be workout clothes or by the pool where guests can swim and enjoy

How To Ensure An Enjoyable Godh Bharai For The Mother-To-Be?
Because the rasam is carried out in the last trimester of pregnancy, it can be somewhat tiresome for the to-be-mother. The mother adorns herself with jewellery just like on her wedding day, which means she is traditionally clad in heavy saree which can be cumbersome. One can choose to dress light and comfortable; according to the weather and the place, and it is best to stay hydrated, eat well, dress comfortably and make the most out of the festivities. When you see your female friends singing and dancing in the celebrations, you may be tempted to shake a leg or two. If you feel for it, go for it.
Planning an Indian baby shower isn't easy, but with few good ideas you can plan in a great way to show mum-to-be how much you care and make the occasion a memorable one for her and all your family and friends.