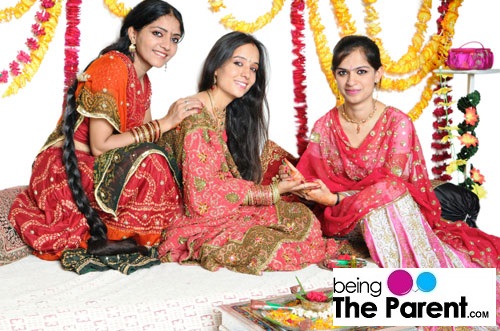 Baby shower is a tradition celebrated in almost every culture and in most parts of the world. It is meant for mothers to be to celebrate the wonderful journey of pregnancy.
India being a land of diversity; and people follow various customs and traditions, celebrate different festivals and other occasions; and the festivities associated with a baby shower is nothing different. Named as 'Godh Bharai' in the Northern and Western India, a baby shower is known by many names across the length and border of the country such as 'Puli Oonu' in Kerala, 'Swad' in West Bengal, 'Seemantham' in Tamil Nadu, 'Dohal Jevan' in Maharashtra, 'Satwasa' in Muslim households. The rituals maybe be different but the purpose and excitement is the same and the common celebration is to welcome and bless the unborn child and the mother-to-be with good health and safety.
Baby Shower is thrown in the last trimester, generally when the mother-to-be completes her seven months of pregnancy where the child is in a safe and feasible phase. It helps to lighten the mother's mood; and parents-to-be receive presents and tips to help them to get prepared for baby's arrival.
Planning a 'Godh Bharai' is not mere tradition, but involves hosting a function, that translates into fun filled day for everyone. Here are some suggestions to plan a successful baby shower:-
Date – The most important thing is to set a date which is appropriate for everyone and specially mother-to-be,. Since it is carried out at the end of pregnancy, make sure it is not too late so as mother has no trouble in keeping up with the celebration. Being a religious ceremony, many fix an auspicious date given by the priests.
Guest List – It is mostly thrown out to close people with few close relatives and friends. Traditionally, men do not attend Godh Bharai, it's only women have fun filled time, but in today's multicultural environment they are not left out.
Venue – The venue should be decided early and should be comfortable for mother to be, and should be decided considering the number of guests. Avoid having it at home, as it would be quite stressful to clean up after the party. However, if help is available, it suits the mother-to-be to be at ease in her own home.
Invites – Sending out texts, emails or personal invitations with traditional cards for people on guest list should be done in advance so that you do not miss out on any. If you have decided on a theme, make sure it is listed.
Budget – Draw a budget depending on the number of people who will attend the shower, inclusive food, decorations, return gifts(if plan to give any). Split the costs accordingly. Planning on a budget? Read on…
Decorations – You can either opt for traditional decorations like flowers and lights, if not, now-a-days a variety of decorations are available for baby showers like baby shaped balloons, mom-to-be written on a sash or crown.
Food – If the shower is arranged during lunch time make sure you have a lunch menu planned and if planned for early evening have tea time snacks arranged. Opt for finger foods.
Games – To keep guests occupied you can have many games arranged and this will add up to a fun factor, select a person to be in charge of the games. Internet is flooded with games that you could play in gatherings.
Return Gifts/Party Favours – Giving a return gift to guests is optional. If you have the budget and the desire to include, you can give one to your guests or keep prizes for winners of the games played.
An addition to a family is God's blessing and therefore Indians consider it auspicious and such occasions are celebrated with great zest!