If you are breastfeeding your first child and just realized that you are pregnant again, its quite natural to have many questions playing on your mind. How will breastfeeding the older kid affect the baby in the womb? Will I run out of breast milk by the time the new baby is born? Will my older kid be affected if I wean him now? Can I breastfeed two kids together?
We will try to answer all these questions and more in this article.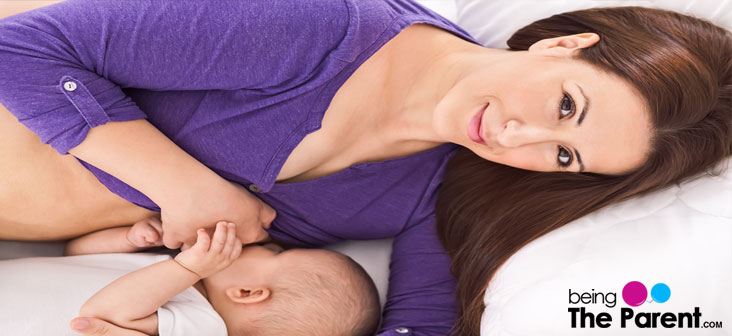 Is It Safe To Breastfeed My Baby When I Am Pregnant?
Yes, it is, as long as you are having a healthy pregnancy. The key word here is "healthy".
There are three major concerns that pregnant women have with respect to this dilemma:
Can it lead to preterm labor? One of the major concerns for expectant mothers who are breastfeeding is the fear of early contractions. Breastfeeding triggers the production of a hormone called oxytocin. Oxytocin is the hormone responsible for stimulating contractions resulting in labor. So the major concern here is can the oxytocin produced during breastfeeding cause preterm labor? The answer is no, as the small amount of Oxytocin produced during breastfeeding cannot lead to preterm labor. Also it cannot cause miscarriage
Will I pass pregnancy hormones to the older child? The second major concern for expectant mothers who are breastfeeding is if the pregnancy hormones will pass onto to the breast milk and then reach the older child? This is also not a cause of concern because although a few pregnancy hormones might pass onto your older child through breast milk, it poses no risk or causes no harm
Will there be enough milk for the smaller kid? Yes, your body will continue producing milk throughout the pregnancy, and after the delivery of your second child. So the quantity of milk should not worry you
However, if you are not having a healthy pregnancy, then it might be a good idea to wean your older child before the younger one arrives.
When Is It Not Advisable To Breastfeed During Pregnancy?
In the following cases, it might be best to wean your child before the delivery:
If you have high-risk pregnancy
If you have a history of preterm labor
If you have a history of miscarriage
If you are carrying multiples (twins, triplets etc.)
If you have uterine pain or any other pregnancy complications
If you fall in any of the categories, then please talk to your doctor about potential complications of continuing to breastfeed during pregnancy.
Are You And The Baby Ready To Wean?
There is a huge emotional angle to this dilemma as well. Whether your older child is willing to wean or not depends on his age and personality. In your second trimester, your body will start producing colostrum. This is thicker than regular breastmilk and tastes different. In many cases, the older child weans himself at this stage. Sometimes, they won't. It is an emotional decision for you as well, because you wonder if the bond between you and the older child will lessen if he weans. Another important consideration to make is if the older child is breastfeeding for nutrition or for comfort. If the latter, then weaning might not be a bad idea.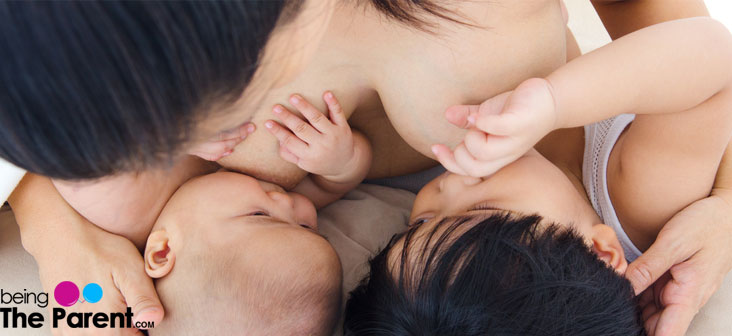 10 Tips To Breastfeed Smart During Pregnancy
Make sure you are eating well. Remember that you need extra calories to support breastfeeding, in addition to extra calories for your pregnancy. You will need 500 to 600 calories extra a day if you are breastfeeding and you will need 350 to 450 extra calories for the baby in the womb. Plan your diet accordingly
Be prepared to deal with sore nipples in the first trimester. At this stage, your nipples can get sensitive due to pregnancy, and this can make breastfeeding an unpleasant experience
During the second trimester, when your milk supply reduces, keep a watch on the older child's weight gain and supplement with top-up milk or other food items to compensate, depending on the age
Prepare your older kid for tandem nursing (nursing 2 kids at the same time). Make sure he understands he will need to "share" momma's milk with his younger brother or sister
In the first few days after the birth of the second child, try to limit the breastfeeding to the older child so that the younger one can get the healthy, nutrient-rich colostrum
Educate yourself about tandem nursing. Join support groups or talk to experienced moms about it
Breastfeeding during pregnancy can increase the chances of having morning sickness. Try to keep some non-greasy snacks like rusk or biscuits handy to fight nausea
Try to stop nursing your older child to sleep as this can lead to problems when the younger child arrives
If you plan to wean your older child, do this few months before the younger one arrives so that the older kid does not feel you are picking the younger one over him. He already needs to adjust to having a sibling, let us not make the journey more difficult for him
Talk to your doctor or lactation expert in case you are worried or you experience unexpected challenges
All the best! Do remember to leave a comment about your experience!