Pregnancy is a delicate phase in a woman's life where she needs to be extremely careful even while undertaking day to day activities to ensure a healthy pregnancy and a normal healthy baby. You may not realize but you there are many chemicals that you come in contact with every day, from cleaning supplies to pesticides. As a pregnant woman you might be concerned about their effect on your health and the health of your unborn baby. Some of these chemicals have been proven to cause neurological damage and birth anomalies in fetus. So when you are pregnant you need to avoid all the harmful substances as it can harm the baby growing inside you. Even a mild exposure to daily chemicals can cause abnormal growth or birth anomalies.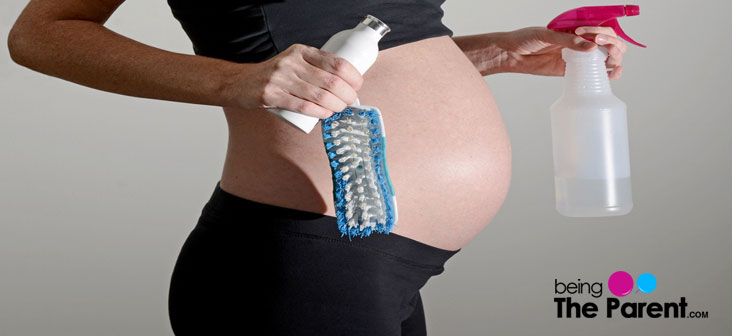 How Can Chemical Exposure Occur?
You can get exposed to chemicals in various ways. It can either occur by inhaling chemicals or ingesting them in foods or drinks. It can also get absorbed through the skin pores. No matter how it enters your body, there is no doubt that certain chemicals can cause adverse effects on both you and the baby growing inside you. However not all chemicals can cause you harm. Its just exposure to some of them, which may turn out to be risky. Given below are five common chemicals that you need to steer clear of during this delicate period.
Five Chemicals That Can Be Hazardous During Pregnancy
Paint: Once you realize you are pregnant, you feel the urge to revamp your home and get ready to welcome the new baby to your home. And one thing that you may feel like doing is painting and getting the nursery ready for your baby. However, you have to steer clear of the below mentioned substances

Spray paints
Oil-based paint
Polyurethane finishes for floors
Turpentine
Paint removing liquids

All these contain harmful chemicals that can harm the little life growing inside you. And if you feel you need to paint, pick out paints that have a water base and make sure you brush the paint or roll it rather than spray paint it. Ensure the room is well-ventilated while doing the job. And remember to wear face mask and long sleeved clothes while painting

Lead: Lead is another chemical that you need to completely avoid during pregnancy. The common places where you can get exposed to lead include:

Drinking water that has traces of lead: Lead leaks into water if your pipe has a leak. Suppose you reside in an old apartment, there may be plenty of lead pipes in your building and the best solution is to let some water run out before you fill your kettle or glass. You could also make use of a water filter to purify the water of all such impurities
Assess drinking water: You can get in touch with the health department nearest to you and request them to evaluate the safety levels of your drinking water
Removal of old paint when revamping your home: Old paints have traces of lead content in them
Art and craft: Hobbies like jewellery making, ceramics, stained glass painting and glass blowing

Adverse effects of lead: Over exposure to lead can cause adverse effects including premature delivery, low birth weight, abortions and even developmental disorders in your baby. It can also adversely affect the little one's behavioral and learning development in extreme cases

Mercury: Yet another chemical that you need to steer clear of during your pregnancy period. You can get exposed to mercury when you eat contaminated fish. It has been proven that high contents of mercury have been found in fish like shark, marlin and swordfish. It is advised to not eat these fish during pregnancy period and concentrate on tuna and similar types that have been found to be safe and contain no mercury. Mercury can affect the brain and nervous system development of your unborn baby. It can also affect the speech and vision of your baby

Arsenic: Arsenic is another chemical that can be hiding even in your courtyard. Exposure to this chemical can cause still birth and even abortions. Almost all wooden outdoor structures are normally treated with a preservative that has strong traces of an arsenic base. These include play sets, decks and picnic tables. So you need to ensure that you wash hands thoroughly each time you come in contact with these furniture items and also cover your picnic tables with a plastic cover before you dine on them
Pesticides: Over exposure to pesticides can harm the baby growing inside you. So ensure you do not get yourself exposed to any of these pesticides during your pregnancy period. It is said that pesticides do the same amount of harm as smoking during pregnancy. Follow these tips if you must use these pesticides:

Adorn rubber gloves if you are gardening so that your skin is not into direct contact with the soil
Suppose pesticides are being sprayed outside, ensure you close all doors and windows and even switch off the air conditioner to prevent yourself from inhaling fumes
If some pesticides are being sprayed inside your home, take care to remove all utensils, food items and dishes before it is sprayed. And wash all utensils and surfaces where you prepare food thoroughly before you start using them
It's always best to be careful and avoid getting in contact with these chemicals be it at work, during household cleaning and while you are getting your home ready for your baby. All of these have possible harmful effects on your unborn baby. Make sure to check with your doctor if you have any doubts about exposure to these chemicals. Although you can't be expected to stay in a sterile environment throughout your pregnancy, still it is better to be cautious and protect yourself and the developing baby from these dangerous chemicals. Please leave your experience in the comment section below about the chemicals you avoided during pregnancy or if you are you pregnant and trying to avoid your contact to these chemicals?