"Shoe Shopping" are two lovely words that most of us are excited to hear. Shoe-shopping might be fun, but not really when it comes to buying the first pair of shoes for your baby. You'll be surprised that such a simple thing could get a bit complicated at times—especially when you have so many things to keep in mind before buying the first pair. As a mom, you'll be struggling to get your baby to try on a pair without him wiggling out of your lap or throwing a tantrum. And even if you can get your baby on his feet without a lot of hassle, it can be really tricky to find out if the shoes that you have picked are of the correct size. Because most first time moms don't have the experience of getting one, they may find it a bit exasperating, but once you get the first pair, the next time on, it's a breeze. Let's look at some things to keep in mind when you want to get your baby his very first pair of shoes.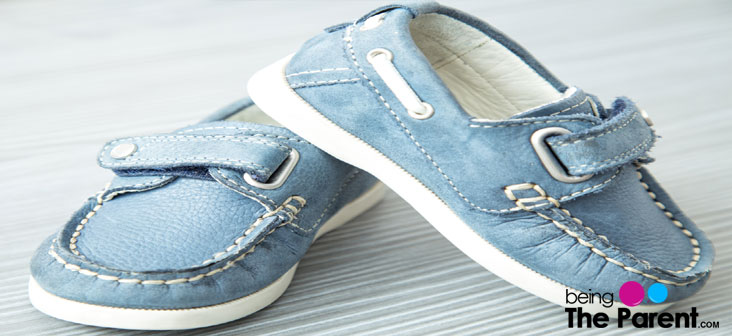 8 Tips To Buy First Shoes For Your Baby
Most doctors suggest that it is best to leave the babies barefoot, so that they practice and perfect the art of walking. In the beginning they tend to wobble and having a footwear might just add to the problem. At this point it is sufficient to have a pair of socks on to keep those little feet warm. But if you're stepping outdoors and your little will not allow you to carry him, then you have no choice. Remember, the whole purpose of a footwear is to protect those little feet from being hurt or be stamped on by mistake. Don't go too much for the looks, utility is important.
Here are some tips to make the task easier for first timers:
Go for breathable,lightweight material : Make sure the material is made of cloth. Leather or plastic can be stiff and won't allow any breathing space. It may also hinder development of the foot
Check for the soles: Make sure they are flexible and offer a good grip. They should not be smooth as your baby can slip. A rubber sole with ridges might be a good choice
Choose Laces or Velcro : You could opt for Velcro or laces so that it can be put on and taken off easily. However, this can get a bit difficult when the baby starts walking well and learns to take off the shoes on his/her own
Padding : If possible opt for shoes that have padding at the heels and around the ankle to offer support, minimize rubbing with the skin and thus be very comfortable
Right fit : It may sound difficult, but your child has to try the shoes on. Make sure you try on the shoes with socks on, so that you can choose the right size. The socks should be cotton, but should not be too tight and not make walking uncomfortable. Make the child walk around with the new shoes on a bit so you can check his/her comfort level. If they constantly try to take it off or walk differently, you might want to try another pair. Moreover, once the shoes are taken off, check for any marks on the feet. Shoes should be fastened well so that they don't come off easily, but they should not be too tight. When he stands there should be some room for your finger to be slipped in between his heel and that of the shoe. There should be a full thumb width space between the end of his longest toe and the front of the shoe

Shop later in the day : The best time to go shoe shopping is later in the day, preferably post-lunch as the legs swell and are bigger at the end of the day
Don't buy many pairs : Little feet grow very fast, so keep checking frequently (once every month) to check if the shoe still fits well. Also, it makes sense not to invest too much on shoes at this stage, because you need to get one often
Right Size : It might sound weird, but it is often noticed that most children have one foot a half size larger than the other. So, make sure you measure both the feet and go for the size that fits the larger foot
Styles For Baby Girl And Boy Shoes
Apart from heels, there is "mini-me" baby version for just about any style of shoe that can find in the adult shoe section.
Some of the popular shoe styles for baby girl include:
Ankle strap Sandals
Mary Janes
Boots or booties
Moccasins
Pre- Walking slip-on sneakers
Sneakers for walking that are secured with snaps, Velcro or laces
Some of the popular shoe styles for baby boy include:
Pre walking slip-on sneaker or high top shoes
Boots for cold weather like the cowboy style, lace up ones or lumberjack
Moccasins
Sneakers for walking that are secured with snaps, Velcro or laces
All major brands have a baby version, so there is no dearth of designs to choose from. But make sure you don't get so excited by the look of it and ignore some comfort aspects. After all, a good footwear not just protects those tiny feet, but also helps it to develop well and assist walking. Don't stress and enjoy shopping. Happy shoe hunting!