Choosing the best color option can be a tedious task, especially when it's for your baby and why not? After all it's your little bundle of joy for whom you will decorating a special place called a "Baby nursery" with all the little things that you might need, be it a changing table, a cozy cot, a diaper stand, drawers and what not. Selecting the best shade and tone of color can have a great impact on the mind and soul. Be it adults or babies, color has always seemed to have a huge impact on our psychology, the way we interpret them and how they derive a certain emotion or feeling in us. This is why; today we shall discuss the importance of colors and their impact on your baby while decorating your baby nursery.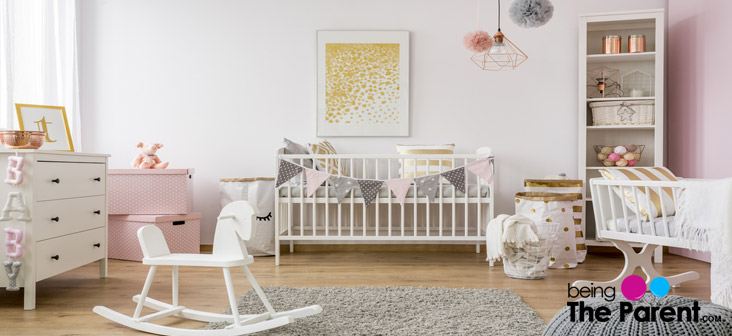 Color Psychology For Baby Nursery
Colors have been seen to have a great impact on human body and mind. They induce emotions and feelings in us. Some color can make you feel happy while others will simply make you feel dull. This is color psychology. It plays a significant role in your baby's behavior and overall lifestyle.
Warm colors: These colors have the tendency to stimulate the mind and often energize the body. Warm colors make a room look cozy and comfortable. Since they are energizing in nature, they are not particularly good for bedtime, especially with energetic kids as they can give you a hard time going to bed! Warm colors include shades and hues of Orange, Yellow, Red, and Pink
Cold colors: These are colors that have a rather relaxing and calming effect on the body and mind. These colors make a room look more spacious and relaxing in nature. However, cold colors should be used in moderation as darker shades can make a room look gloomy. Cold colors include shades and hues of Blue, Green, Purple, White, Grey, and Black
How Colors Affect Your Baby's Behavior?
As discussed above, colors evoke different feelings and emotions in the mind. We have listed down popular colors used in nurseries and the feelings they generate:
Red: This color stands for passion, emotion, excitement. Should be avoided for wall to wall usage and can be used as an accent color. It may invoke a volatile personality to stand out in a baby
Orange: This color stands for warm, cozy and comfortable emotions. It promotes a welcoming feeling and inspires interpersonal skills
Yellow: This color stands for lively, bubbly and cheerful personality. Too much bright yellow in a room can agitate the baby, so be careful with the usage
Green: This color stands for calming and refreshing feeling. This is why it is the first choice for an educational environment
Blue: This color stands for subtleness and healing power. However, blue is a tricky color and a grey-blue shade can mean dullness. Blue color increases productivity but should be avoided around eating areas. It also has cooling effects
Purple: This color stands for luxury, dignity and mystery. It has often been associated with luxury and shades like lavender and lilac give a more royal feel
White: Though not a color, it is associated with purity, peace and innocence. However, an all-white room can be a blank board for a baby so you should add some amount of color to evoke feelings and emotions. Also, white gets dirty easily!
Pink: This color has, for centuries, been associated with feminism, passion and romance. It is a very calming color, especially for kids who throw tantrums
Brown: This color stands for earthy or grounded. Since it is the color of earth, it makes a great choice for furniture in a nursery. However, too much brown can look dull
Black: Not a color, black can be used in a nursery to evoke feelings of authority. However, it should be used in moderation as it can make the room look small, dull and gloomy. There should be ample light in the room with black being used on walls
Tips For Choosing A Color For Your Baby's Nursery
Consider Room Size: The biggest concern while painting your baby's room/nursery should be the size of the room. Certain colors will make the room look large and spacious while others will simply delete the view and size from it
Play with Accent colors: When space is or isn't the constraint, go for accent color walls. These can add so much life to an ordinary same-color wall room
Think of the future: Kids change every now and then. If they love yellow today, they may hate it a few months from now. Not all girls grow up to like pink! This is why you need to select shades that are more generic or universal in nature and easy to repaint or modified
Select of theme: When you are struggling to finalize colors for the nursery, always go for a theme. It will not only give you more options but also make things easier to select it terms of furniture, matching carpets or accessories that come easily in theme styles
Remember, there are endless options when it comes to colors for your baby's room. However, taking a few moments to research what is best for the baby will not only benefit the baby but also benefit their overall development and behavior. This is because the baby will spend a lot of time in this room until it gets a makeover!