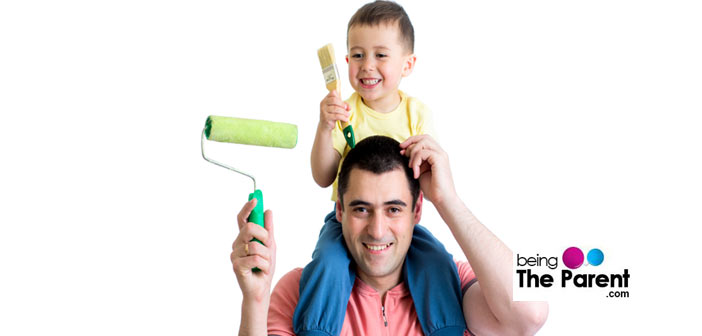 The idea of decorating the room of your little one definitely puts a smile across your face. But beware! It is not as easier as it sounds. With everything so expensive around, you definitely need to think well before buying stuff for setting the room of your price or princess. As William Morris correctly put "Have nothing in your home that you don't know to be useful or believe to be beautiful."
Decorating Your Kids Room
Gone is the era when girls associated with frosty pink and frills. Today girls have stepped out of such conventions and prefer designing their rooms as per their personalities and likes. With lot of options in the market and not-so-fussy nature of most girls in this regard it may be not a very troublesome job!
However, when it comes to designing your lad's room, it becomes more challenging as unlike his sister, he may not be very interested in decorating his room. For a boy, the room design should largely depend on how he spends his time; outdoor or sitting in front of computer?
As your kid transits from your arms to his own room, it's very important to make the room attractive and comfortable for him. Here are a few tips on decorating your kid's room to entice him/her to stay in, be child-friendly and welcome anyone in
What Color Should Your Kid's Room Walls Be?
Choosing Colors For Girls Rooms
Use bold colors or color coordinate, i.e. matching rug or a block on the wall or curtains in similar hues
Using mature colors such as grey, light chocolate or cyan and beige may go for long run
She might love fuchsia and bright colors – if you think this would look gaudy, paint a wall in darker shade and then paint designs in fuchsia colors using stencil
Adopt neutral colors with splashes of bold such as white with red – looks elegant yet lively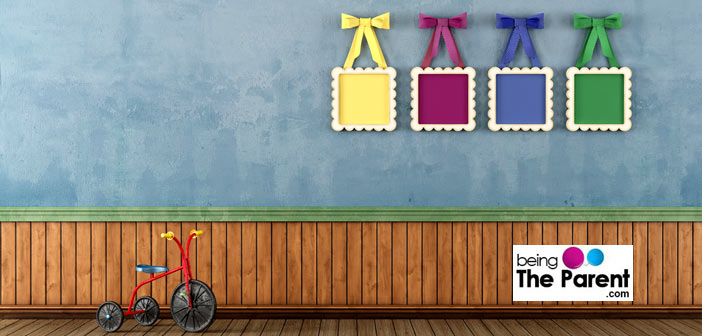 Choosing Colors For Boys Rooms
Paint 3 walls in neutral shade and the last one in bright color – gives an energetic punch; try red, blue or yellow
Try painting the walls in two colors – one row of lighter shade to a certain height and a darker shade from that height to the ceiling
Try painting in stripes. You can simply paint the usual boyish colors and then paint two thin strips of bright colors
Choosing the Right Wall Decor For Your Kids' Room
Choosing The Right Wall Decor For Girls Rooms
Try wainscoting rail of panels for putting posters or drawing
Experiment with glow in the dark paints. Paint either Cinderella's ball or any design with stencil – your girls now has something to look forward to after switching off the lights
Set up a display board for putting timetable or notes. This can be as easy as placing a sheet of galvanised metal that can be used as magnetic board or get velvet covered pin boards
Look for flowery, polka dotted, cartoon-inspired or vintage designed wallpapers
Explore textured wallpapers
Put up artwork depicting females or portraits in beautiful artistic frames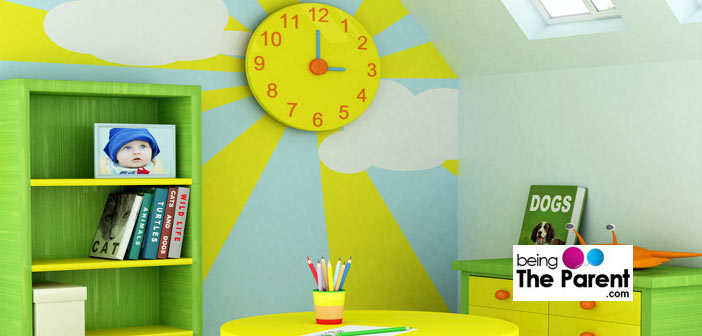 Choosing The Right Wall Decor For Boys Rooms
Set up easy pin up boards, no frilly or velvety stuff
Depending on his interests, select wallpaper depicting superheroes, cars, world map or solar system etc.
Use glow in the dark accessories such as stars and moons on them
If this cannot be done hire a painter, or simply get stencils to paint geometrical figures. Let your kid tag along this while, it's his room after all!
Let him cheer for Manchester United or Sachin Tendulkar through wall portraits
Watches excite guys, get him big designer wall clocks!
What Type Of Ceiling Should A Kids' Room Have?
Ceilings For Girls Rooms
Opt for feminine touch in chandelier and false ceilings
Try just pink ceiling room
Neutral colors popped with bright colors
Hang wind chimes and beautiful wall hangings
Ceilings For Boys Rooms
Get elegant ceiling lights or false ceilings with depth glow
Get sporty and vividly colored lights which can be occasionally switched on
Put neon moons and stars or other characters in the ceiling to make it attractive at night
Choosing the Kids' Room Furniture
Choosing Furniture For Girls Rooms
Brightly colored cupboards with designs can be customized for your girl's room
Highlight the dressing table – as she grows she is going to spend more and more time here
Artistic book racks are a must as she is likely to be studious and an avid reader
Give her space to put up show pieces and art
Explore elect vintage style furniture, esp. dressing stool, bed, cupboard or completely modern chic design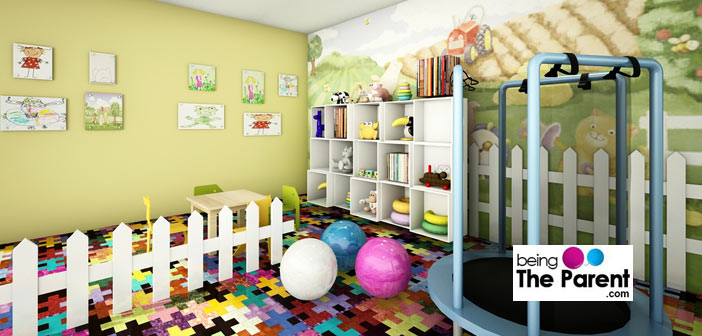 Choosing Furniture For Boys Rooms
He needs one desk for computer/study and another for TV/gaming consoles/ video games
Give him full mirror, he would like to see himself from the tip to the toe
You can go easy on dressing table as your boy is not likely to fiddle for stuff in drawers
You may want to get seating furniture in leather finish, button imprint or those sporting his favourite soccer club
Choose wooden finish or stripes for cupboard
How To Choose The Bed For Children's Room?
Choosing The Right Bed For Girls Room
Determine the theme first now this could be her favorite cartoon character, flowers, butterflies or paisley etc. Buy cushions, curtains and furniture consistent with this theme
Go for textured bedding, esp. those with quilted design offer comfort
Bed covers not only add elegance but make appearance more feminine
Explore four post bed options with elegant curtains
If your girl likes, opt for frilly, ribbon or lacy curtains
Some missies like fluffy beds, others prim and proper; identify what your girl likes!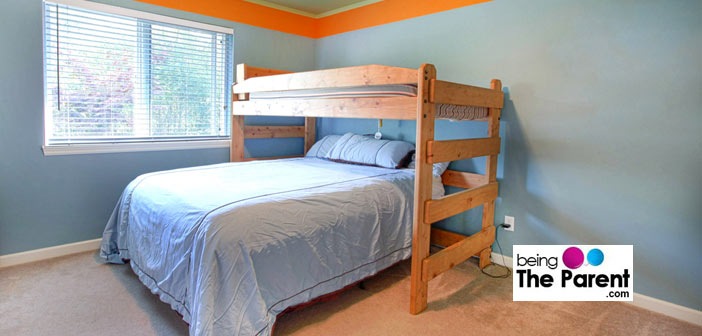 Choosing The Right Bed For Boys Room
Consider bed with leather headrest
Designer beds come in shape of Ferrari and football too. If these are too expensive, simply get him the bedding and cushion with sport prints
Choosing the Rug For The Kids' Room
Choosing the Rug For The Girls Room
Throw in the rug as she may like to lie on her belly and read a novel or dance on wii with her girlfriends
If no such space is available shop smart select beds with drawers these can be withdrawn and can be used as a bed on floor. These are ideal for watching and sometimes mugging stuff!
Weave the theme across the room. For instance polka dotted cushions, mugs, foot mat, blanket and simple wall hanging or painting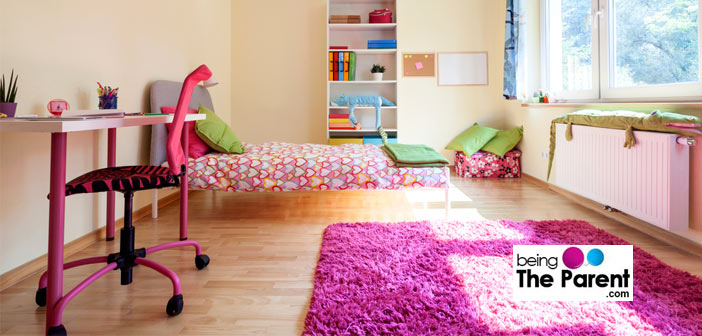 Choosing the Rug For The Boys Room
Try asymmetrical or different shape rugs
Choosing the Right Accessories
For Girls
Huge flower vases and potted plants
Nails/hooks within the cupboard or behind the door for easy placing of handbags
Do install light in the cupboard
If space is restricted try almirahs with mirror
Small blackboard – for her to pretend play teacher-student, write thoughts or simply draw
Fancy jars on desk for storing color pencils/pen
Add storage options, get stylish boxes and baskets to store things. One for toys, one for clothes, one for school stuff etc.
Get elegant laundry bags
For Boys
Get him whiteboard; as guys hate chalky stuff on their hair
Get pen holders in classic form or car designed etc.
Get reasonably colored big plastic tubs from stationary for him to name and organize his stuff
Designing the Room Layout and Play Area
Designing The Right Room Layout And Play Area For Girls Room
Make sure that everything is within the reach – the shoe rack, cupboards etc
Add a floral bed lamp
Consider attached bathrooms. bliss for girls rolling out in bathrobe or towel
How about a room loft halfway through room's height with ladder? It separates play area within the room and provides space for storing toys too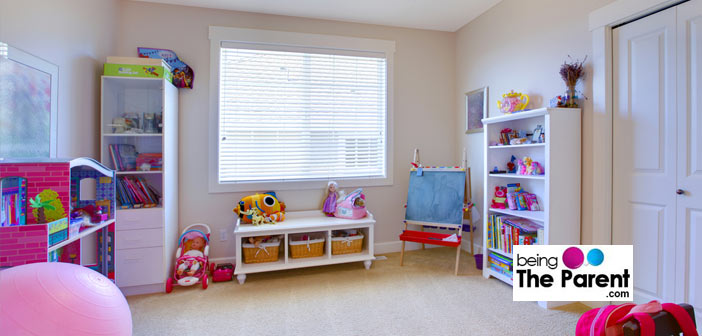 Designing The Right Room Layout And Play Area For Boys Room
Select a theme of his choice; be it bugs, Doraemon, jungle safari, space or skateboarding and incorporate theme in furniture and wall
Guys will be springing around more in the room than girls. You need to provide for a sufficient play space and restrict extra accessories to bare minimum
Consider buying bunk beds, only if your child is at least 6 years
Put up shelves next to each of the bunk beds for putting books and other accessories such as headphones or PS3
Set room loft halfway higher up in the room with ladder.
"Behind every attractive room there should be a very good reason." Sister Parish
Strive to make your kid's room a cheerful place, full of joy and at the same time devise a clutter-free rule "Everything has a place and everything in its place"!
Open the windows, let fresh air in and resort to aromatherapy diffusers for those cold nights to maintain the aura of the room and feel good!