Who does not like reading comics? Some people may say comics are not as good as age old classic or fiction stories, but children like reading comics no matter how old or young they are. They just fall in love with those graphic novels and certainly don't mind reading them again and again. But at times, the mothers get quite apprehensive about whether their child is reading age appropriate comics. Comics are a wonderful way of helping your child develop their imagination and provide them an easy route to escape from actual reality. Relax and sit back while we provide you with a whole list of wonderful comics that your child between 9 and 12 years can enjoy.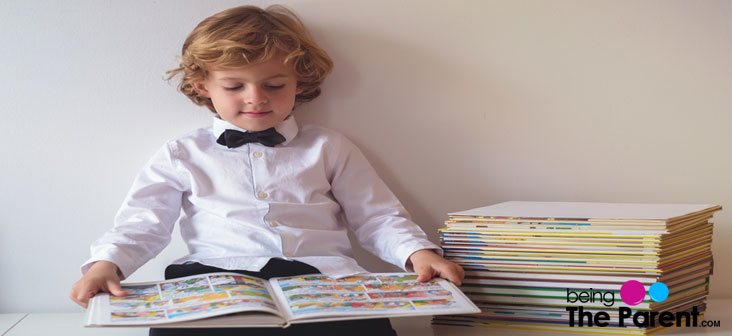 20 Amazing Comic Books For 9-12 Year old kids
Bone: This is one of the top comics that is suitable for all ages. Written by Jeff Smith, this is one of the favorite comics of children filled with adventure, fantasy, horror, comedy all in one. It has a number of series you can purchase. This comic revolves around Bone and his cousins as they get on different fantasy adventures

Thor The Mighty Avenger : Thor, the might avenger is yet another most popular comic for children of this age and keeps pages turning right to the very end. This comic series from Marvel Comics is written by Roger Langridge. It's a superhero story—there are plenty of things and creatures and villains for Thor to hit. This comic is one of the best available today with intense action, witty dialogues and humorous storylines

Ultimate Spiderman: Written by Brian Michael and Mark Bagley, this is something that preteen boys love and do not mind reading again and again

Cow Boy: By Nate Cosby and Chris E, this comic with the cute little cowboy is sure to be an instant hit with your child

Life and Times of Scrooge Mc Duck: Penned by Don Rosa, this is a rich book that your child will keep turning pages right to the last page

Grave Yard Book: By Neil Gaiman, this is a sure page turner and revolves around a boy named Nobody Owens who has been brought up and educated by graveyard ghosts

Adventure Time: Penned by Braden Lamb and Ryan North, this is yet another popular comic series of this age. "Adventure Time" time is adapted from "Adventure Time TV series", which is a show on Cartoon Network. The story is about Finn and his sidekick Jake who live in the Lands of Ooo and embark on crazy and bizarre adventures

Mouse Guard: Written by David Peterson, this comic focuses on how brave even small creatures are. In this book they are mice and how they are wiling to risk everything for one another and how they plan together to face their enemies

Rose and Isabel: By Ted Mathot, the book takes you back to Civil war and is the story of two sisters who do not sit idle when their brothers join war

Doctor who – The Only Good Dalek: Authored by Mike Collins and Justin Richards, this is one more comic that will keep your child glued to the book

The Saga of Rex: A lovely story of Rex who is a fox and is whisked to another land for experiments. The story goes on to tell how Rex meets his love and travels around the world. The author is Michael Gagne

Justice League Unlimited: Slightly violent action with all the super heroes like Wonder Woman, Green Lantern and Batman, this is another popular comic for the above mentioned age group that entices children

Franklin Richards: One of the supporting characters in the comic Fantastic Four, Franklin Richards is a trouble maker that kids enjoy reading about. The comic has a tone quite similar to Calvin and Hobbes

Teen Titan Go: Revolves around a group of teens who are super powerful and strive hard to keep the world a safe place. With lots of humor, little violence and slight mysticism, this is a great read for tweens

Amelia Rules: This is one comic that has risen to being extremely popular these days. Based on a young girl named Amelia and a group of her friends who are secret crime fighters as well. Quite an interesting comic for your girl

The Legion of Superheroes in the 31st Century: A light action filled comic that children love reading

Star Wars – Jedi Academy: Written by Jeffrey Brown, this lovely comic transports you to the world of middle school in graphic language and is loaded with lots of fun and frustrations. Children are educated about galactic aliens in the comic

Amulet: 'Amulet' is a best-selling comic book by Kazu Kibiushi. The story in the comic series follows the adventures of Emily who discovers and wears amulet that uses magical powers. Emily along with her brother Navin, her mother Karen, and rabbit robot Miskit live in the magical universe and befriend allies. Together, they set off to defeat a terrifying monster and save the people they love

Runaways: A totally different story of six teens who discover that their parents are part of a criminal network. The story progresses to when the children escape from and come up with a wonderful plot to rescue their parents

Archie: An all time favorite ever since time immemorial. This is a child friendly comic suitable for all ages. The characters Betty, Veronica, Archie and Riverdale High Gang are still extremely popular with children ever today. They are best for light reading
All the above mentioned comics are sure to interest your child and lead him to the wonderful world of humor and imagination. So go ahead and pick some of these comics today and don't forget to share your child's reading experience with us by commenting below!