Dressing your newborn is no easy task. You need to pick the right clothes. You need to layer them up well. You need to ensure all clothes are hygienic. And what's more, your newborn itself is very small, fragile and has a neck that is yet to gain strength. And if this is your first baby and you have never handled a small baby before, changing the clothes can be a frustrating and daunting task. Babies do not like air brushing against their skin and resist being pushed and pulled through clothes. And then they break into crying. All this makes the "dressing up" task difficult and confusing.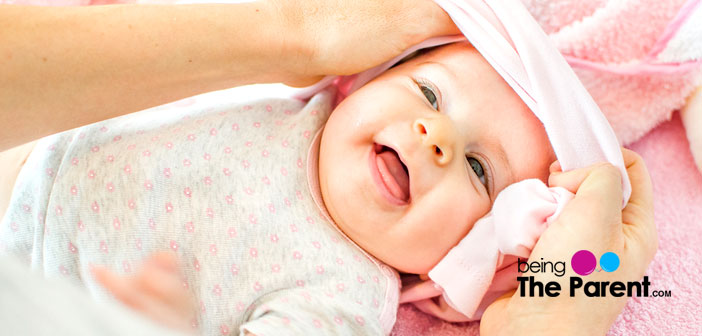 Here are a number of tips that will make your life easier.
Picking The Right Clothes For The Baby
First of all, do not buy too many clothes. Babies grow up fast, outgrowing everything you would buy in months. Also, you will be getting a lot of clothes as gifts. So do not spend a lot of money
Buy onesies and clothes with "envelope necks" that make it easy to pull over the head
Choose snug fit clothes as they are more comfortable
Make sure the cloth material is soft and comfortable. It should also be low maintenance, that is, do not pick anything that requires hand washing, dry cleaning or ironing. You will not have time for all that, trust us
Full length jump suits that cover up to the feet are a good idea. Pick ones that button up at the bottom so that you do not have to remove the entire dress to change the diaper / nappy
Do not pick anything with sequins or ribbons or needs to be wrapped around the neck. Do not pick anything that has buttons, which can loosen up and lead to choking
Ensure that the sleeves are loose fitting so that you can feel the baby's wrists for her temperature easily
Dressing the baby for bed in the night also needs to be taken care of, do read the tips on night time safe dressing tips
Resist the temptation to adorn your princess with hair bands and other accessories; they may not be safe for small babies
Layering The Baby In Clothes
Always remember to keep your baby warm, no matter what the climate is. However, you need to ensure you do not overheat the baby too. Here are some tips to help you maintain a balance:
When it is cold, put several layers of cloth on your baby. Start with a vest and diaper. On top of it, put a pajama and tee shirt or a jumpsuit and finally swaddle the baby in a blanket to ensure warmth
When it is hot, your baby will need only one layer and a swaddle in a thin blanket. Always put one extra layer on your baby than yourself. This means that, if you are comfortable with a single layer of clothing, make sure you put two layers on your child. Add one more layer if the baby is premature. Find some tips on dressing your baby during the summers in this article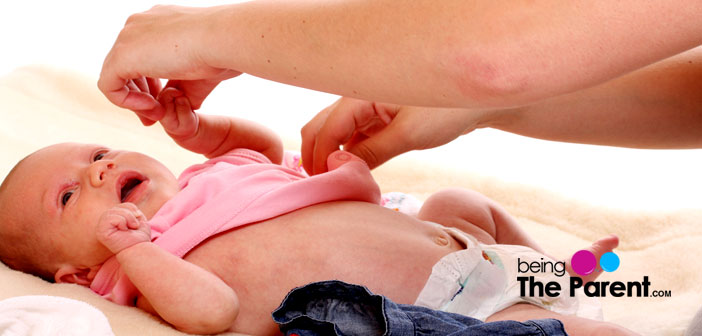 Dressing Up The Baby Safely
Choosing the right outfit for the right season is only half the job done to ensure safe dressing. The next major task is to put it on and take it off your baby safely. Here are some tips for that.
Make sure the baby is comfortably lying down before putting the clothes on. Remember that if he is cranky or restless, it makes the "dressing up" an all the more difficult ordeal
Stretch the outfit around the neck area and carefully pull it over the baby's head. Stretch widely to ensure that the outfit does not get stuck at baby's ears or nose
Put your hand through the baby's sleeve and gently pull in baby's hands through it. This is why loose sleeve clothes are easier to put!
Once both hands are in the sleeve, gently pull the outfit down and button up at the bottom if necessary
When undressing, do everything in reverse. Start by unbuttoning the bottom part, carefully take the sleeves out one at a time, and gently pull the garment over the head, while making sure one part of your hand supports the neck and the head
If the baby is cranky, you can sit cross legged and put your baby on your lap. Change the upper part of the garment (top or tee shirt) in this position. Being in your lap, your baby might remain calm. Once this is done, move the baby to the bed or changing table to change the pajama
Babies do not like being in an undressed state for long as they feel cold. They also do not like being pushed and pulled. It might take you a few tries to get the hang of it, and this is normal. Do not try to rush through the whole ordeal though. If the child is uncomfortable during a cloth change, then he will remember and get cranky every time you try to change his clothes.