Did you have a summer pregnancy and your child is arriving in winters? Have you just given birth to your little one in the lovely season of winter and enjoying newly found motherhood? Winter is a beautiful season where everything looks white and lovely, and we even have a beautiful list of names for the angels born in this season. However, you will naturally be apprehensive about how securely you can dress up your new born and make sure he is well protected against the cold weather both indoors and outdoors. You also need to take care that your little mite is not overdressed which may result in overheating which is dangerous too. The biggest tension is your little one cannot tell you whether he is uncomfortable or not and you need to assess the situation on your own.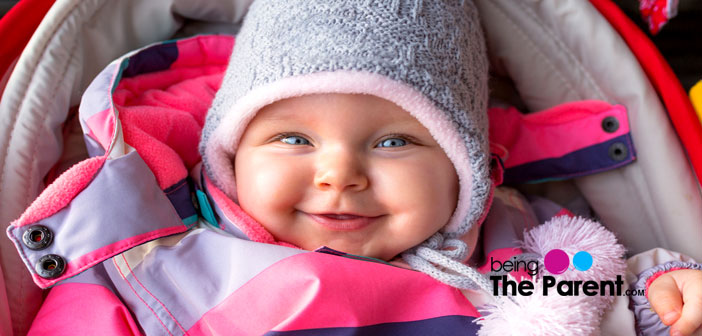 How Can I Know If My Baby Is Feeling Cold?
The best way to know whether your little baby is warm and cozy is to touch her and find out. Given below are some tell tale signs of your baby being too cold if-
The stomach is quite cool to your hands. If you discover the belly is quite cool, then you can understand the little one is quite cold and trying to keep her body warm
If the little bundle's feet and hands seems to be extremely cold, you can at once decipher your baby is getting very cold
The hands and feet appear a little blue or even blotchy
His eyes tear and he may appear uncomfortable and fussy
Here are some simple guidelines that can be followed quite easily to ensure your little one remains snug and warm during this season.
Tips To Dress Your Baby Comfortably During Winters
Layering: This is the main key behind winter dressing for babies. The most important rule to bear in mind is to dress your little one up in one more layer that what you are adorning and feel comfortable in. The best advantage of layering lies in the fact that you can be assured your baby is well protected and can anytime do off with one layer if by any chance you feel it is getting too warm for the little one. So ensure you adorn your baby with enough layers that are easy to put on and take off whether at home or outside
Choose the perfect layer: An excellent thermal base is supposed to be the ideal layer for new born babies. Polyester or wool is good but make sure you don't buy cotton as they have pores which will let the cold right in and make the little one feel quite cold
Mittens and hat: These are an absolute must during the winter season, if you plan stepping out with your little darling. It is good to adorn mittens on the little hands that are exposed and also a hat of soft material to beat the cold. Anyhow, remember to put an extra pair of mittens with you as your little one may wet it if he or she has the habit of sucking his tiny hands
Snowsuits: A snowsuit is a perfect option for outside weather during the cold winter season. A snowsuit comes with ideal leg and arms fitting and also has a hood attached. So dressing your baby in a snow suit on top of his usual clothing just before you step out would be an excellent idea to combat the cold. Just take care to buy something that comes with good quality insulation made of flannel or fleece apart from a water proof outside material. It is extremely important that your baby stays dry and warm whether outside or inside
Blankets: If you happen to discover that it is really freezing outside, it would be a good idea to cover your little angel in a blanket over the snow suit to ensure he remains absolutely warm in that weather
Opt zip ups: You never know when it may get too warm for your baby. This means you need to go in for layers that can be removed soon and easily. Even diaper changing becomes easy if the clothing is easy to get off your baby. Best options are front openings that extend right to the bottom that makes your job so much easier
Sleep sacks are a good option: Opting for a sleep sack while putting your little darling to bed at night would be an excellent choice as this is sure to keep them cozy and warm right through and guarantee a full night sleep. A sleep sack is nothing but a blanket that comes with armholes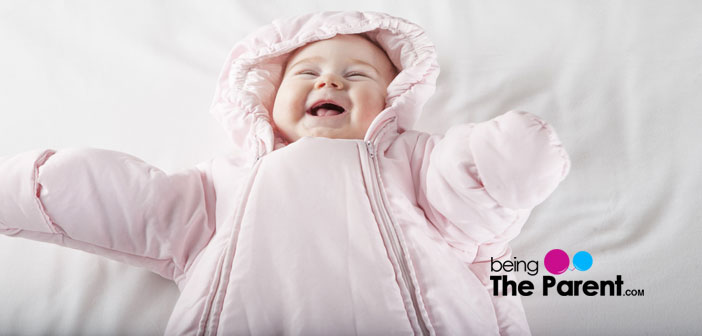 Making The Baby Sleep During Winters
Do not pile on blankets: As a common tendency, we tend to pile on layers of warm blankets while sleeping during winters. With a baby, things are not so simple. You need to ensure that the blankets do not cover the baby's face and the baby is put to sleep on the back. Plus, to avoid the risk of SIDS (Sudden Infant Death Syndrome) you need to find that balance between warm and too warm.
How Long Can I Take My Baby Out In The Cold?
Some fresh air is definitely good for your baby, and as long as the weather is not too cold, a walk around in the stroller or a pram is a good idea. You can even carry your baby in a backpack. Just ensure that you notice your baby's non-verbal signs and keep on checking the baby's little hands and toes, ears and face and get inside comfortably if they feel chilly. Also, if the baby begins to fuss or cry after sometime, it could be a sign that the baby is feeling cold now and needs warmth. However, if your baby was a premature one or has some medical condition, do take your pediatrician's advice on when and how long can your baby be outdoors in the cold.
All these simple tips are sure to help you bundle up your little darling properly during the cold winter season. There will be lots of people to give you advice about what is right and wrong. However common sense should prevail and you are the best person to know what suits your baby the best. So just following the above mentioned guidelines will help to make sure you are dressing your little mite perfectly to handle the biting cold season.