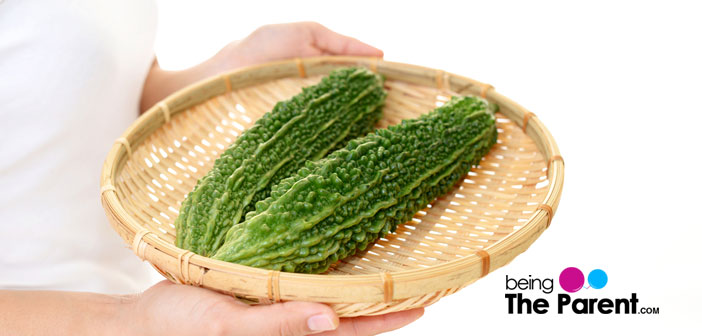 Just conceived and considering a total revamping of your diet and lifestyle in order to ensure you welcome a healthy baby into your arms? And for this, you need to ensure you have a wholesome diet rich in all the minerals and proteins that are required for a healthy pregnancy and normal delivery. Fresh veggies and fruits are beyond argument to be included in the diet. The next question is what vegetables and fruits are best during this period. Bitter gourd during pregnancy is one such veggie that would be ideal for incorporating into your pregnancy diet as it has found to have immense health benefits during this sensitive period of your life. But, given some controversies, you'd be wondering if the vegetable is safe, especially Bitter gourd during pregnancy for you – and we have your doubts cleared before.
What Is Bitter Gourd?
Bitter Gourd During Pregnancy Is It Safe to Eat?
Bitter Gourd For Pregnant Women Is It Harmful to Eat?
12 Amazing Health Benefits During Pregnancy
Risks Of Eating It During Pregnancy
Ways to Eat Bitter Gourd for Pregnant women?

What Is Bitter Gourd?
Bitter gourd during pregnancy is it safe or not. Bitter gourd is also called bitter melon or balsam pear in different parts of the world, bitter gourd has an extremely bitter taste, but is loaded with minerals and vitamins that are excellent for your health. This beautiful veggie has amazing medicinal properties that are ideal for many health issues that are common in men and women all over the globe. It is often advised to people suffering from many ailments and is widely used as a natural drug, especially in South-East Asia. India, too, boasts of its use as a medicine for various diseases.

Bitter Gourd During Pregnancy Is It Safe to Eat?
Bitter gourds have rich in nutrients that are good for the health of your baby. But, there have some controversies due to consuming bitter gourd during pregnancy time have some risks in it. The jury is still out on this one, so it is your choice to add bitter gourds to your diet plan or else avoid them entirely in this phase.

Bitter Gourd For Pregnant Women Is It Harmful to Eat?
As you are aware now of the benefits of bitter gourd contains, you should also know about the risk factors it carries. Too much eating bitter gourd during pregnancy, or if you are consuming for the first time, it will cause abdominal cramps and also gas inside your stomach. In some people, It will cause toxicity due to its alkaline components in it, which can furtherly cause stomach pain, nausea, diarrhea, redness of the face, and weakness of muscles in the pregnant women.

12 Amazing Health Benefits During Pregnancy
1. Loaded with folate:
Folate is one element that is imperative during pregnancy to ensure your fetus is protected from all kinds of neural tube anomalies that can occur. Bitter gourd has commendable amounts of folate that meet almost quarter percent of the requirement of this mineral for a pregnant woman
2. Helps to keep digestive tract disorders in check:
Hemorrhoids and constipation are two of the most common woes that the majority of the pregnant women grapple with during this phase. Bitter gourd contains lots of fiber that helps combat both these issues
3. Averts diabetes:
Bitter gourd has been proven to have excellent anti-diabetic characteristics that make it ideal for women who are prone to gestational diabetes. It is rich in polypeptide-P and Charantin that work to combat gestational diabetes in women. Bitter gourd can be included in the daily diet for maximum results
4. Rich in dietary fiber:
Load with dietary fiber, bitter gourd provides you with a full feeling after eating. This makes it easier to reduce the food cravings that you experience while you are pregnant
5. Excellent antioxidants:
Bitter gourd during pregnancy has adequate traces of Vitamin C which is actually an antioxidant and is ideal in combating against dangerous bacteria
6. Boosts the Immunity System:
This vegetable is also helpful in providing an excellent boost to your immunity system, especially during pregnancy with its rich antioxidant traces
7. Helps to control bowel movements:
This wonderful veggie is found to be excellent in ensuring proper peristalsis in your system that automatically aids in controlling your bowel movements and even your digestive system
8. Packed with all the necessary nutrients:
Bitter gourd is loaded with all the required nutrients that are essential for the proper development and growth of the fetus. It includes zinc, potassium, manganese, magnesium, niacin, pantothenic acid, and pyridoxine, all that is ideal for the proper growth of your baby. This ideally makes it a super veggie perfect for consumption during this crucial pregnancy period
9. Ideal for weight watchers:
As bitter gourd has plenty of dietary fibers and curbs your hunger pangs, it is ideal for women who do not want to gain too much weight during pregnancy
10. Loaded with vitamins:
Bitter gourd also contains adequate quantities of various vitamins like Vitamin B2, B3, and B1 apart from minerals like thiamine and riboflavin
11. Packed with calcium:
This veggie also has traces of beta carotene and calcium too, that is all required for pregnant women in adequate quantities
12. Rich in iron:
Bitter gourd also has considerable traces of iron that makes it really a good supplement during pregnancy and keeps pregnancy anemia at bay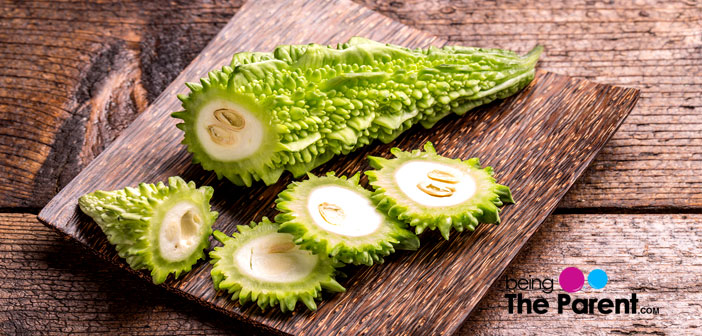 Risks Of Eating It During Pregnancy
Although bitter gourd is a wonderful vegetable to be included in your pregnancy diet due to the excellent benefits mentioned above, make sure you consult your gynecologist before adding this into your diet, especially if you have never eaten the vegetable before. Given below are some of the risks associated with having bitter gourd.
Preterm delivery:

 Too much consumption of bitter gourd can trigger uterine activities that can even cause 

early labor

 in some women

Stomach issues:

 Overeating of bitter gourd can cause various stomach issues like 

abdominal cramps

 and diarrhea. Some people are also sensitive towards the effects of the seeds of bitter gourd

Can turn toxic:

 Bitter gourd also contains traces of alkaline compounds, including Morodicine, Resins, Saponic Glycosides, and Quinine. These elements can toxify your body and cause severe stomach ache and vision dimensions
Ways to Eat Bitter Gourd for Pregnant women?
Bitter Gourd during Pregnancy can be eaten in a variety of things instead of raw or juice form. Some of the most interesting types are given below,
Curry

 – Cook your usual curry and include the Bottle gourd as an ingredient in it. You can also cook it by using coconut milk or yogurt to add more texture and flavor to the dish.

Mix Vegetable

 – Mixed Vegetable is a common dish to add all the available vegetables together. In the home, to make delicious dishes, but why not adding Karela to this dish and make it much healthy?

Karela Fry

– You are lazy to cook the dish and want to whip a quick meal for yourself in this phase, then Karela Fry is the perfect dish for you to cook it. Cook bitter gourd with your favorite spices and add potato or onion or just bitter melon, and that's it, eat with Chapati/Flat Bread with this fry.
And if you have never eaten bitter gourd to date, it is better to refrain from including this veggie in your diet as you cannot predict how your stomach may react to this new veggie. So ensure that you ask your doctor whether bitter gourd can be consumed before you start consuming this wonderful vegetable during this crucial period.