Turnip is one of the starchy vegetables cultivated in the temperate zone with bulbous tap root and fresh green tops. Even though it is available throughout the year, it is tastier during the fall and spring when turnips are are small, tender and sweet.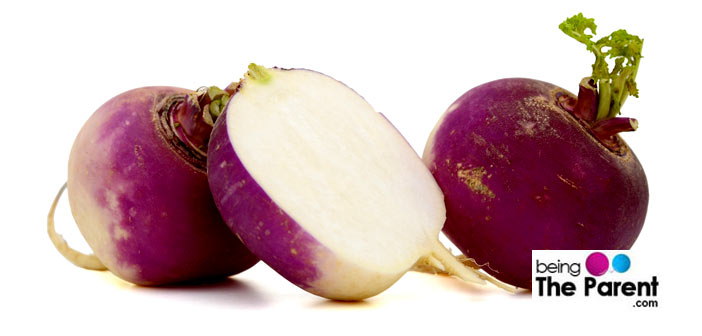 Nutritional Facts Of Turnips
Turnips are sufficient in lots of minerals and vitamins, making them a storehouse of essential health benefits. Turnips are remarkably rich in vitamin C. 100 grams of turnip contains 27 mg of vitamin C. It is a very good source of dietary fiber and antioxidants. It also contains omega 3 acids like ALA (alpha linolenic acid).
Nutritional Facts Of Turnip Green
In spite of the fact the root part is widely consumed, the green tops are really several times more nutritious than the root. When selecting turnip greens, always select fresh looking bright green leaves which are crispy and have a slender stem.
One cup of cooked Turnip green has 203 mg of potassium, 137mg of calcium, 3.5 grams of dietary fiber and 118 mcg of foliage. Turnip greens provide 10% of your daily required magnesium.
Is It Safe To Eat Turnips During Pregnancy?
Eating Turnip is absolutely safe during pregnancy period, unless you are allergic to cruciferous vegetables, in which case you should consult a doctor. Turnips come with low amounts of calories sodium, fats, and cholesterol making it an ideal root vegetable to eat. Tender turnips can be added to salads or can be eaten raw. Full grown turnips are usually consumed after cooking. We can add Turnips with other vegetables during the preparation of stews and other curries. Washing and scrubbing turnips thoroughly under running water before cooking or adding to salads is important to get rid of bacteria and pesticides.
Health Benefits Of Eating Turnips During Pregnancy
As early mentioned, turnip is a rich source of vitamins and minerals. Let us analyze the daily requirement of minerals and vitamins during pregnancy, their role in having a healthy baby and the vitamins and minerals provided by turnip.
Provides calcium in pregnancy

The daily requirement of calcium during pregnancy is 1000 mg
Calcium plays an important role in building your baby's bones and tooth bud and in regulating fluids
100gms of Turnip provides 30 mg of calcium. One cup of turnip green provides 137 mg of calcium. Thus, roughly 20% of your calcium intake can be met by making turnips a part of your diet

Provides iron in pregnancy

Daily intake of 27 mg of iron is required during pregnancy period
Iron intake is important for pregnant women because it prevents anemia and plays an important role in increasing blood volume
1.15 mg of iron is present in one cup of turnip leaves

Provides Magnesium and potassium in pregnancy

Pregnant women need 4,700 mg of potassium and 350 mg of magnesium during pregnancy
Potassium helps in maintaining fluid and electrolyte balance while magnesium helps to reduce muscle cramps and in blood clotting
100 grams of turnip gives 233 mg of potassium and 11 mg of magnesium

Provides vitamin C in pregnancy

It is recommended to take 85 mg of vitamin C during pregnancy daily
Vitamin C is essential for tissue repair and development of bones and healthy skin of your baby during pregnancy
Turnip is a rich source of vitamin C. 100 grams of Turnip contains 27 mg of vitamin C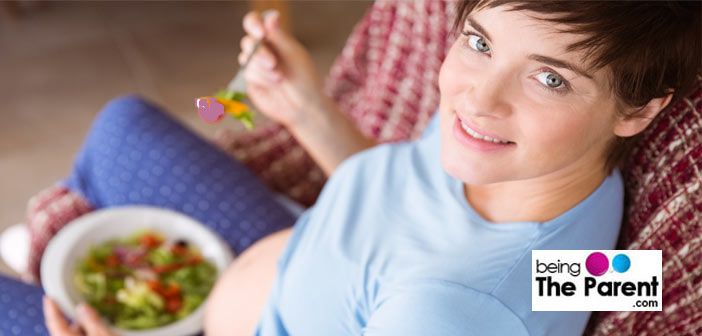 Despite all the above vitamins and minerals, Turnip also has folate, vitamins-B2, B3, B9, vitamin K and vitamin E in comparatively small quantities. All of them have a significant role during pregnancy. Turnips also contribute 4.6 grams of dietary fiber of 25 – 35grams of daily requirement of fiber during pregnancy. Constipation during pregnancy can be relieved by eating turnips and it also builds thus protecting you from various infections. It also helps maintain optimum blood pressure levels.
Therefore, intake of Turnip during pregnancy will provide great health benefits.
How Can I Eat Turnips During Pregnancy?
Here are some ways to enjoy this nutritious vegetable:
You can always use turnips in the recipes where potatoes are used. Whether it be a curry or stew
Cube the turnip and roast it with little olive oil
Use turnip greens instead of spinach during the preparations of pasta, sauteed and steamed recipes
While making coleslaw, replace cabbage with shredded turnips
You can eat turnips by baking, steaming or boil and mashing it
When Eating Turnips Should Be Avoided During Pregnancy?
Turnip usually don't have any side effects. But you should not eat turnips without asking your doctor if you are allergic to Cruciferous vegetables (vegetables belonging to family Cruciferous family such as broccoli, cabbage, cauliflower etc.).
Oxalates are found in Turnips which, when too concentrated in body fluids, tends to crystallize and cause problems to kidney and gall bladder. Hence, though widely safe and highly nutritious, in the event you have any doubts over consumption of turnips when you are pregnant, it is wise to take your doctor's opinion.