Nuts and seeds are abundant in many vitamins and minerals. Now that you are pregnant (congratulations!), you will be scurrying many pages to know what's safe and what's not. We try to ease your doubts about eating walnuts during pregnancy. Walnuts are edible, delicious nuts belonging to the tree nut family-like cashews. Walnuts are usually harvested in the month of December. Among the nuts, walnuts are considered to be their king. Walnuts should be consumed fully, including the skin. About ninety percentage of phenols in walnuts are found in their skin. So don't remove the skin even if it is slightly bitter in taste.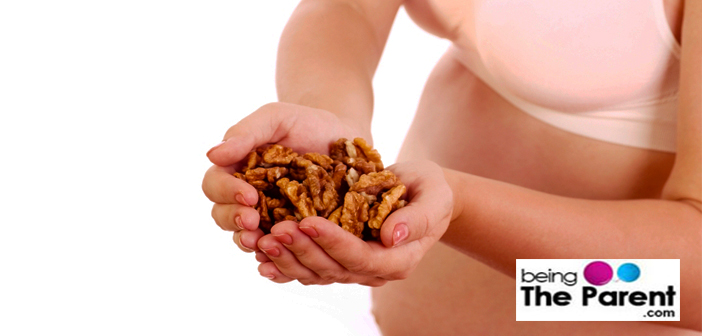 Walnuts During Pregnancy Period Is It Safe to Eat?
Nutritional Benefits Of Walnuts
Health Benefits Of Eating Walnuts During Pregnancy
What Are The Risk Factors Of Eating Walnuts During Pregnancy?
How To Include these In Your Pregnancy Diet Plan?
What Precautions Should Be Take?
Storing Walnuts
FAQ's

Walnuts During Pregnancy Period Is It Safe to Eat?
Walnuts are known as Akhrot in Hindi, are extremely healthy and safe for consumption walnuts during pregnancy completely. The kernel of a walnut resembles a brain, and it also not only resembles the brain but also helps in the proper functioning of your brain. Apart from it, there is a number of other potential benefits of eating walnuts while pregnant phase.

Nutritional Benefits Of Walnuts
Walnuts are rich in proteins, vitamins, and minerals

Walnuts are known to boost the activities of the brain, all thanks to their content of Omega 3 fatty acids

It is also considered as the only nut with a sufficient quantity of alpha-linolenic acid, which is an essential fatty acid which can be attained only through diet

It is the richest source of antioxidants. Antioxidants help in preventing or delaying cell damage. The aging process is controlled by antioxidants

Around eight percent of daily required vitamin B6 is present in one ounce (28 grams) of walnut. Vitamin B6 is essential for the metabolism

It has vitamin E in the form of gamma-tocopherol, which is remarkable because, in most of the nuts, vitamin E is found in the form of alpha-tocopherol. Gamma-tocopherol form of vitamin E contains unique properties which make it a more effective form of vitamin E

The regular consumption of walnuts during pregnancy has been found to decrease the level of LDL, which is bad cholesterol and increases the level of HDL, which is good cholesterol. Thus, it plays an essential role in retaining a healthy heart

Its manganese content is also high. Half of the daily required amount of manganese can be provided by one serve of walnut

Other minerals like phosphorous, zinc, potassium, magnesium, calcium, and iron are also found in walnuts

It is also a rich source of copper which is an essential trace element plays a necessary role in metabolism, absorption of iron by the body, stimulate immune systems and to neutralize free radicals ( free radicals cause cell damage)

Walnuts are found to reduce the risk of cancer and increase the health of the heart
As you can see, walnuts come with a host of nutritional benefits, justifying being the king of nuts! Now, let's find out whether they are as good in pregnancy.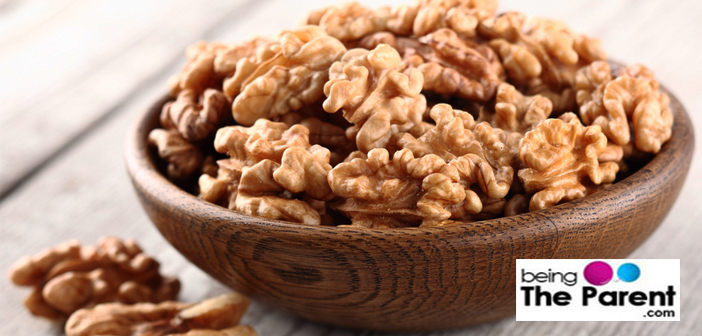 Health Benefits Of Eating Walnuts During Pregnancy
Walnuts have countless health benefits as it is packed with lots of minerals and vitamins which helps in the healthy development of your unborn child

The Omega 3 fats found in walnuts helps in the development of eyes and brain of your unborn baby

Walnuts help in reducing the inflammation of blood vessels which benefit in controlling high blood pressure during pregnancy

Walnuts help in maintaining the favorable lipid profile during pregnancy

Copper in walnuts helps to ensure the normal growth and development of the fetus

The anti-inflammatory phytonutrients that are present in walnuts contribute to disease-preventing mechanisms during pregnancy

Walnuts are well-packed with antioxidants, which help to increase immunity during pregnancy. Some of the antioxidants present in walnuts are unique as they are not found anywhere else. You should eat walnuts along with its brown skin as 90% of the antioxidants found in the walnut is concentrated in its skin

It also helps in maintaining weight during pregnancy because of its rich fiber and protein content. The fiber content can also help with constipation

Melatonin is a hormone that helps to bring about sleep. Walnuts are found to elevate the melatonin level in the blood, helping to get proper sleep during pregnancy

Earlier it was believed that intake of nuts is not safe during pregnancy as it may develop nut allergy in the child in the future. Further research found this claim to be a misconception, and It was found that among the women who stopped eating nuts during pregnancy, the number of babies born with a nut allergy was higher than the women who consumed nuts during pregnancy. This is maybe because they are not able to develop immunity against nut allergy when they are in the womb as their mother did not have them. Therefore, it is good for you to have walnuts during pregnancy if you are not prone to the nut allergy
What Are The Risk Factors Of Eating Walnuts During Pregnancy?
Among the first eight foods that cause allergy, walnut is one. So if some symptoms like wheezing, coughing, skin rashes, swelling of lips, and sneezing develops after eating a walnut, consult a doctor before taking it anymore

Sometimes its property of preventing blood from clotting to improve the blood flow will turn to be a curse at the process of delivery by increasing the bleeding

Eating too much of walnuts during pregnancy is found to cause diarrhea, limit the intake to be a handful of walnuts every day

Having four to five walnuts per day is considered to be a proper consumption. Having walnuts in a limited quantity suggested by your doctor is recommended during pregnancy
How To Include these In Your Pregnancy Diet Plan?
You may try the different ways of incorporating walnuts during pregnancy into your diet plan.
Add the whole or finely chopped walnuts in your salads or as toppings in it.

Include it to baked foods, vegetables, and fruit salad, and fish dishes or meat for a rich and crunchy taste in it.

Finely chop the three to four nuts and mix it in a glass of water with two tablespoons of honey in it. It helps relieve stress, insomnia, and headache.

Slice a banana, dip it in the honey, and top with the chopped walnuts. These snacks will keep you full and may help you to manage the sweet cravings.
Walnuts are healthy and should be added, and it cautious in your pregnancy diet plan. Have them in a moderate way for variety, but most important for health. If you are in doubt about eating them or think you may have allergic to them, talk with your doctor first before consuming it.

What Precautions Should Be Take?
Ask your doctor before your diet plan to include them in your diet.

Prefer natural nuts only. Avoid some variants such as salt coated, sugar-coated, or candied walnuts.

Store it in the airtight container or fridge to keep them fresh.
Storing Walnuts
Walnuts are rich in oil. So if you keep them at room temperature, they will quickly get spoiled. Therefore always store them in the refrigerator or in airtight containers. Enjoy this tasty, crunchy nut, in limits (as suggested by a doctor), without inhibitions during your pregnancy. Click here to read about eating nuts and seeds during pregnancy.
FAQ's
1. Can Walnuts Give me Allergy During Pregnancy?
Yes, they can. Nuts are a common source of allergies. Pregnancy makes your system more fragile, increasing the risks.
2. Can Eating Walnuts During Pregnancy Help Improve Baby's Brain?
Yes, it can. Walnuts are brain food. They are rich in omega-3 fatty acids which are important for brain development.
3. Can Walnuts Help You Stay Young?
Walnuts are rich in antioxidants. They help reduce cell damage. Thus helping you look younger.
4. Can Walnuts Help my Sleep Problems During Pregnancy?
Yes, they can to an extent. They are rich in melatonin. A sleep inducing hormone.