PCOS is abbreviation for Polycystic Ovarian Syndrome. This is a condition in women  where sex hormones like estrogen and progesterone are out of balance. This leads to a growth in the ovary which are called Cysts. These are benign in nature and not harmful to the body.  This could start during puberty in some girls or in others could be during early adulthood. This is a genetic hormone disorder related to diabetes. It is something that you are born with. 
Symptoms of PCOS:
The symptoms of PCOS could be physical or emotional. In many cases the symptoms of PCOS could go unnoticed because these are attributed to regular growth in the girl child during puberty or becoming a woman. But it is good to be alert about a few indications or common symptoms.  These are: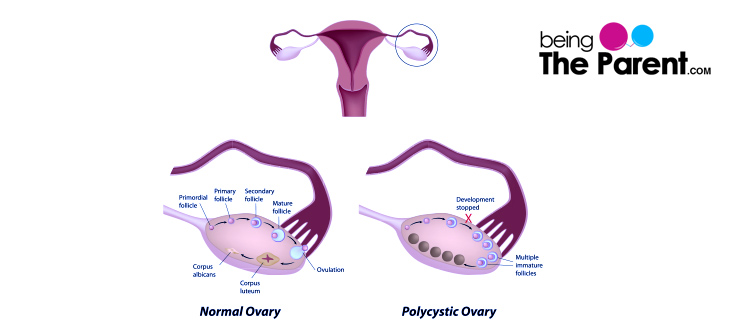 Missed period: An irregular or a missed period is one of the main indicators of an anomaly in the human body. It could be caused due to this hormonal imbalance and also due to improper ovulation. Some women ovulate occasionally and some don't ovulate at all.
Pelvic pain: There will be pain in the pelvic region accompanied by bleeding or sometimes without any bleeding.
Hair thinning: There will be hair thinning and hair loss.
Weight gain: Women tend to gain unnatural amount of weight and may become obese.
Fatigue: Women with PCOS syndrome may feel less energetic and tired all the time.
Sleep apnea: In some women there could also be disturbed sleep, or they could stop breathing for short periods in sleep. This also further leads to increased blood pressure, heart problems and weight gain.
Headache: Hormonal imbalance can cause headaches.
Acne: PCOS in women can cause acne and also skin discolouration in patches.
Unwanted hair: There could be hair growth on the face, stomach, chest etc. because PCOS is caused by a reduction in the female sex hormones. Thus women start looking masculine.
Mood change: One of the symptoms is depressed state of mind, anxiety or mood swings.
Pregnancy and PCOS:
PCOS is the leading cause of infertility in women. But having said that, it is not true that having PCOS makes you infertile. PCOS can be treated with oral pills or hormonal injections and other procedures. It is just that women with this condition are at a higher risk with regard to pregnancy and delivery of a child. Also, there could be miscarriage in the early stages of pregnancy or there could be gestational diabetes. It is common for women with PCOS to have diabetes during pregnancy.
Fertility treatment for PCOS:
There are a few fertility treatments available for PCOS and which help women conceive. Some of them which help increase fertility are: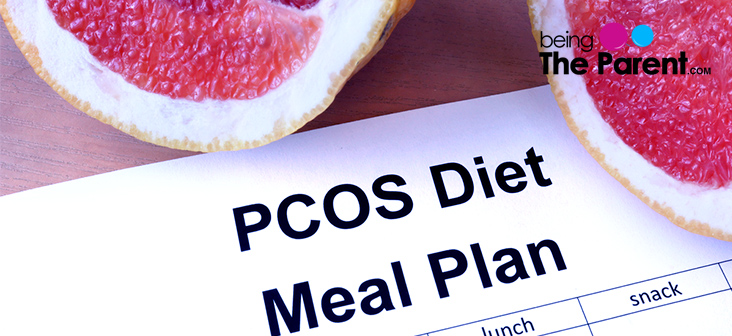 Clomid fertility treatment: This is an oral medication and used commonly to treat infertility or women with PCOS.
Metformin: This is an oral medication and has been used over the years to help control diabetes. A few blood tests are done at the laboratory before women are started off on metformin. The starting dosage is 500mg a day. After one week it is increased to 500 mg twice a day and then increased to three times a day, after a week more. If the body is unable to tolerate this dosage 3 times a day, then the dosage gets reduced to twice daily. But three times a day is the most effective dosage for metformin.
Femara: It is an oral drug used to treat infertility. It increases the chance of pregnancy as it increases the Follicle Stimulating Hormone (FSH) which in turn helps ovulation.
Injectables for treating PCOS: These are injectable FSH hormone products. When oral medication does not give desired results, doctors often opt for injectables. But there is a risk is of multiple pregnancy because this injectable often develops multiple follicles.
IVF treatment: This involves stimulation of follicles and egg developing. These eggs are retrieved and fertilized in a laboratory. The embryo is then transferred to the uterus.
The main thing to remember is that there are ways to treat women with PCOS. We can ensure that they eat a nutritious and balanced diet. It is also important to exercise regularly to control the blood glucose level and also maintain optimum body weight. PCOS is something that you are born with but it can still be remedied to a good extent.