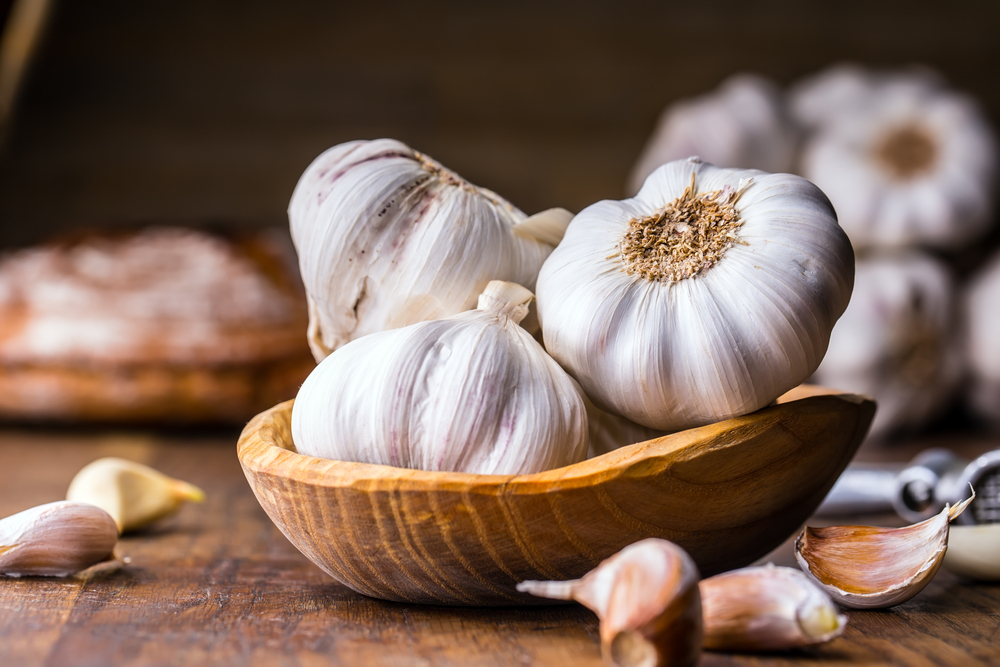 First bites are the most awaited by the baby and the mother as well. The shift to solid foods from the breast milk or formula is a huge one. It is one of the most perplexed topics for the parents wherein they need to decide what all foods should be given which are healthy as well as nutritious. The choice is very tough as the babies should get fruits, vegetables, nuts, etc. Garlic is generally used to enhance the flavour but it has immense medicinal properties. So giving garlic to babies in one form or the other will always be beneficial for them. Garlic is strong and pungent even though it has ample benefits, so let us study the right time, quantity, benefits, and the measures one needs to take when giving garlic to the baby with some delicious recipes.
Can Babies Have Garlic In Their Food?
It is completely safe for the babies to consume garlic but its best to give fresh garlic rather than paste or salt. While cooking it should be finely chopped and never overcooked. Garlic should only be given to the babies at the right time and in small quantities to accrue all the benefits.
When Can Babies Have Garlic In Their Food?
Garlic is safe for the baby as long as it is given at seven months or more. It has ample health benefits and should be finely chopped. It is also important to not give it directly to the baby rather should be added to the food which is made as chewing the garlic alone could pose choking issues for the baby.
Garlic And Its Nutritional Value
Garlic is densely loaded with nutrients and is a healthy option to be given to the babies as well. It even has vitamins and other minerals as well. The nutritional value of garlic for an intake of 100g is given as below:
| | |
| --- | --- |
| 95% vitamin B-6 | 52% – Vitamin C |
| 33% – Copper, | 21% – Iron, |
| 18% – Calcium, | 26% – Selenium |
| 73% – manganese | |
6 Health Benefits Of Garlic:
Helps in the proper functioning of the baby's heart: Garlic is known to lower down the cholesterol levels and thus also reduce any chances of heart attacks keeping a healthy heart.
Fights against intestinal worms in babies: Garlic acts as a drug to kill the intestinal worms which enter the baby's body in the form of eggs. They settle in the intestinal walls and keep growing with the nutrient intake resulting in infections.
Garlic helps to fight the common cold in babies:It is common for the babies to catch a cold, fever, wheezing or related respiratory issues. Intake of garlic helps to reduce its intensity and even throws the toxins from the respiratory system. Oils present in garlic help to clear the respiratory passage and even offer protection from cold.
Garlic Antimicrobial property promotes healing: Garlic even helps in healing the wounds. It has been seen that giving the fresh juice of garlic in fruit or vegetable juice helps in instant healing once the child has taken this concoction.
Helps to treat abdominal pain: Garlic is also beneficial in reducing the abdominal pain and other stomach related issues. It can be given along with honey for better results. This even works as a remedy for gastric disorders as well.
Garlic can help to ward off cancer: Offering crushed garlic helps in protection against different kinds of cancer due to antiviral, antibacterial as well as antioxidant properties
How Much Garlic Is Safe For Baby?
Remember, when it comes to introducing new food to baby, no food can be considered 100% safe. Sometimes your baby can be allergic to garlic. Therefore, while introducing it to your baby, add it to the foods that your baby is already eating (like dal rice). That way, you can detect any minor allergic reaction fast.
Coming to the quantity of garlic, only one clove of garlic should be given in a day and a check should be kept for any allergies or side- effects.
Measures To Be Taken While Serving Garlic To Your Baby
Choose the right garlic for your babies: The garlic clove that is white and juicy is the best one for the babies. Never offer raw garlic to the child as it is too pungent and the child might not like it. Moreover chewing the garlic can even pose choking hazards for the baby. So always remove the thin layer and add it by finely chopping it.
Choose one clove of garlic in early days: It is recommended to start by giving only one small piece of clove in the initial days as it is too pungent and strong, making it a difficult choice for the kids.
Control strong flavour of garlic: Some babies do not like the smell or taste of garlic, so it is advisable to give them with a pinch of sugar in the initial days only a few times. Once the baby gets accustomed to the taste, sugar can be stopped. In case sugar is given with garlic for many days, the baby might only develop a taste for sugar and not garlic.
3 Delicious Recipes Containing Garlic For Babies:
1. Indian Rasam
This recipe is famous for its nutrient value and soothing effect
At first stir-fry black pepper, garlic and cumin seeds with few drops of cooking oil.
Boil the tomatoes till they are soft and set them aside till they cool down.
Crush all the ingredients and strain until the skins of tomatoes are separated.
Finally, add the preparation that was sautéed to this mashed mixture.
It can serve either as soup or even can be given with rice.
2. Garlic soup with chicken
Garlic soup with chicken is the best option for dinner time for babies. It is excellent for soothing the throat, especially in winters as it also helps in keeping the body warm.
Add garlic, onion, ginger, boneless chicken salt and pepper.
Add water and leave it on medium flame cooking for around 10 minutes.
After 10 minutes, the flame should be reduced and cooked yet again for 15 minutes.
Strain after done and give to the baby while it's warm in order to reap its benefits.
3. Garlic bread (Once baby starts to chew the food)
Garlic bread should only be given to the baby once he is one year or more so that he can relish the taste.
The garlic cloves should be crushed and added to a bowl along with butter and coriander.
Put this mixture on a slice of bread.
Toast or grill the bread on a high temperature for about 10 minutes or till the bread start becoming brown.
It is ideal for the baby at the time of teething as it helps to soothe the gums.
Thus we can say that garlic is the best choice for kids as it is densely packed with nutrients. It has a plethora of health benefits and even helps to improve the baby's health apart from adding taste to the food.