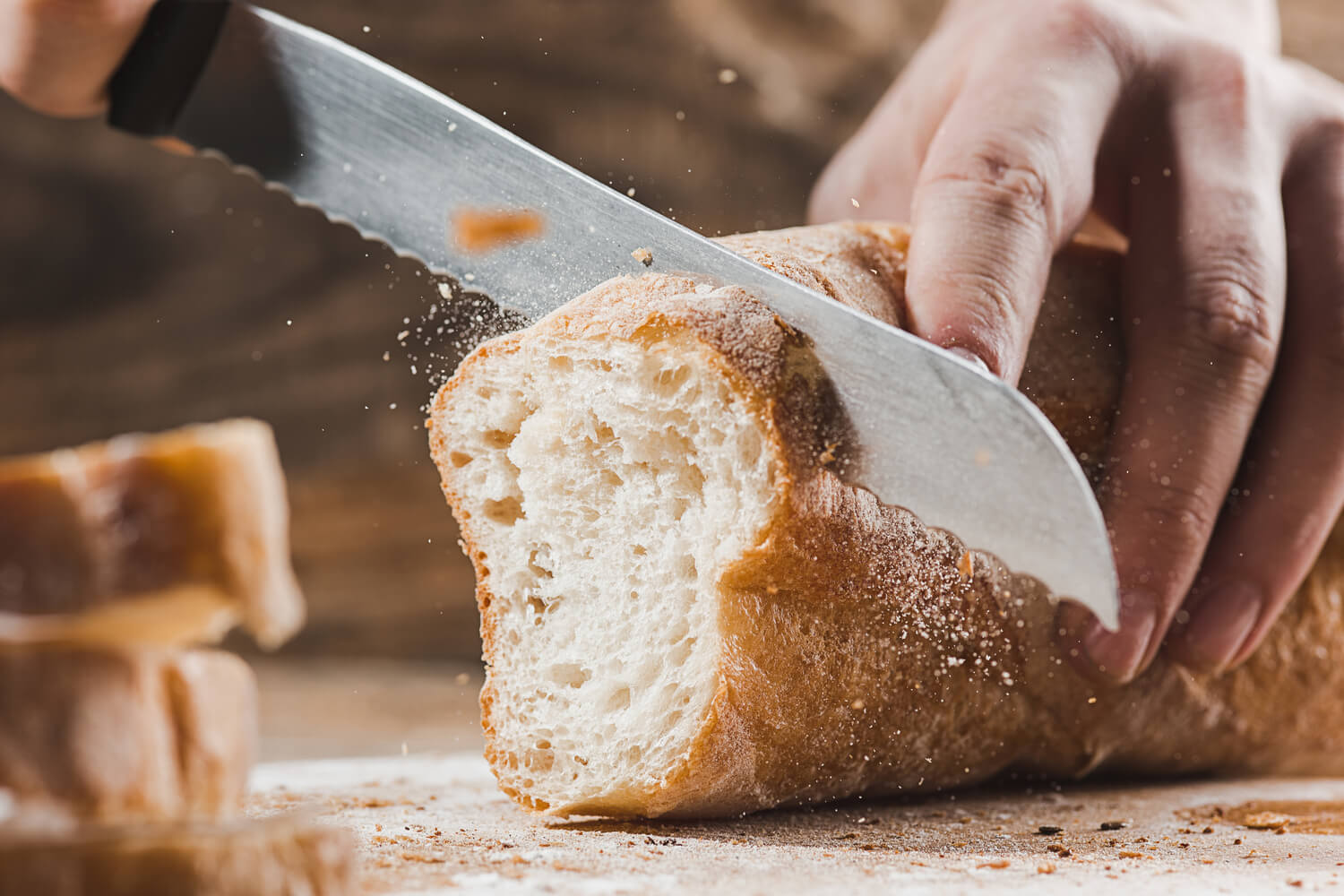 A baby's food journey is interesting, fun, and very challenging. As a parent, it can be very confusing not knowing what to give and what not to give; what your child will like or reject; when to start what foods, etc. When you plan a wholesome, nutritious meal for your baby, more often than not, it is rejected. What can a parent do now? Many of us reach for some food that is readily available. Bread is one of the most easily available options. In this article, we touch upon the various aspects of bread for babies.
Bread is extremely versatile in many ways. It is easily available, and you can readily buy it at any grocery store. It gives you an option of variety in terms of fillings and toppings. Bread jam, sandwiches, bread pizza-the choices are unlimited. It is easy to pack and when you are stepping out, it can be filling too. However, is it safe to give it to your child? When can you start giving bread to your baby? Can it actually harm your baby? Come, let's find out.
In This Article
Nutritive Value of Bread
Bread is one of the early foods loved across the world. Everyone loves to eat, as well as feed bread to their babies. Breads have a high nutritional value.
Whole wheat bread has more energy than refined bread.
Bread is high in protein.
It is rich in carbohydrates, which are essential for a baby's health and growth.
Bread is also an excellent source of potassium, phosphorous, and calcium.
It is a good source of folate, which is essential for brain development.
Safety of Bread For Babies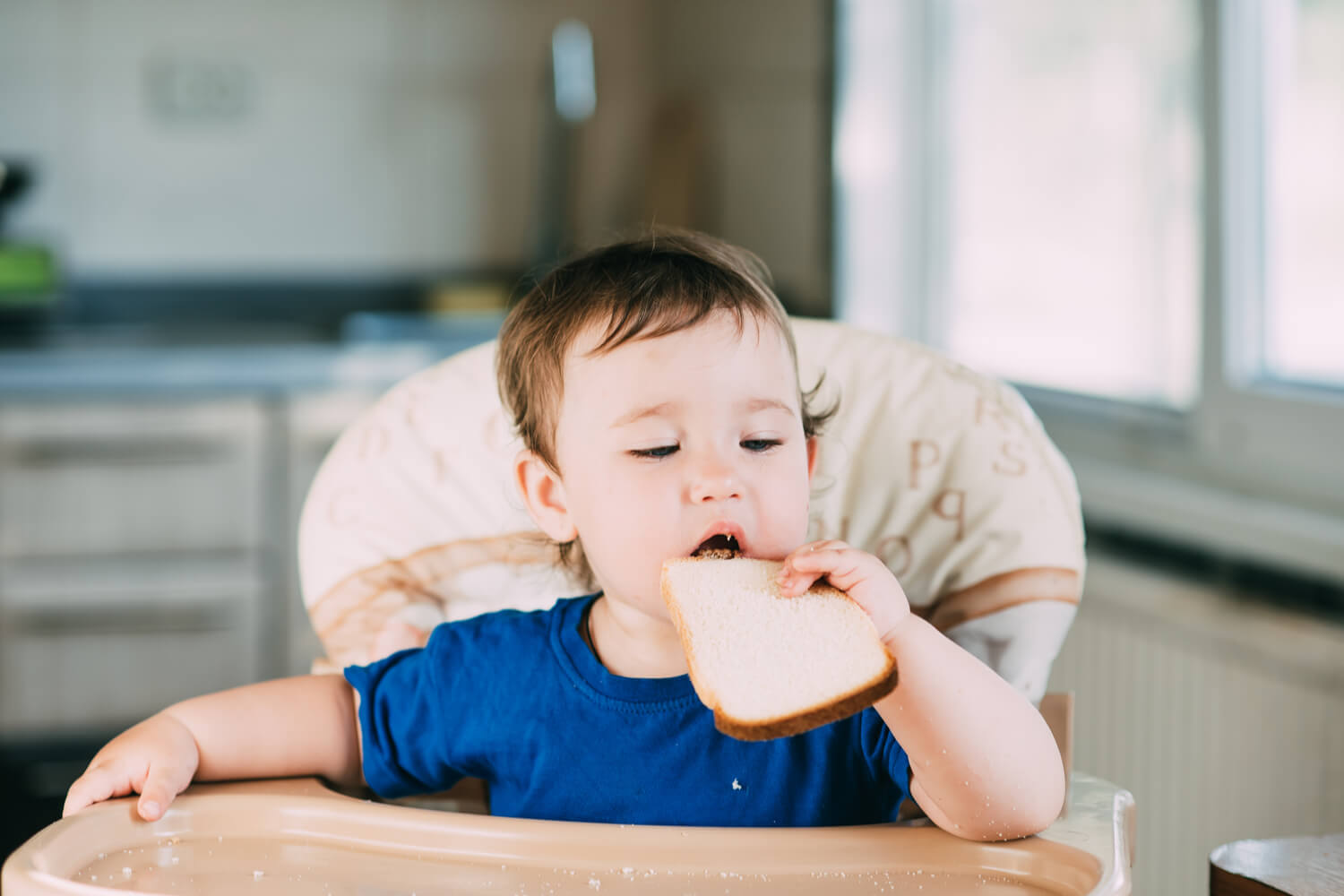 Bread is safe for babies. But always check with your pediatrician before starting bread, and start slowly. See how your baby is able to digest it. Opt for whole-wheat or multigrain bread over white sandwich bread. They are more nutritious and easier to eat for a baby. The softer the bread, the higher are the chances of choking. Whole wheat and multigrain bread are not as soft as white bread.
Bread contains allergens and can cause allergies in some babies. So, always watch out for any allergic reactions when you introduce each variety of bread. It is important to rule out any nut allergy before you give them bread made with nuts.
If the bread is cut into small pieces or toasted, the risk of choking is much less. With a variety of bread on the market today, choosing and eating the "right" bread is essential.
When to Introduce Bread to Babies?
You can start as soon as they start their solid journey. Bread is made up of milk, eggs, gluten, etc. These are common allergens. It is a good idea to rule out each of these allergens by introducing them to your baby, individually. Once you are sure they have no gluten allergy or lactose intolerance, you can start giving bread.
[Read : All About Egg Allergies In Babies]
How Much Bread Can You Give an Infant?
Doctors recommend an exclusive milk diet for babies up to the age of 6 months. You can start introducing solid foods around the 6-month mark. However, do not overload on this food item.
You can give up to two slices per day for an 8-month-old if it is whole wheat bread.
For babies above the age of 8 months – about 3 medium-sized slices.
Multigrain or whole wheat bread is a healthier option.
Precautions to Take When Giving Bread to Babies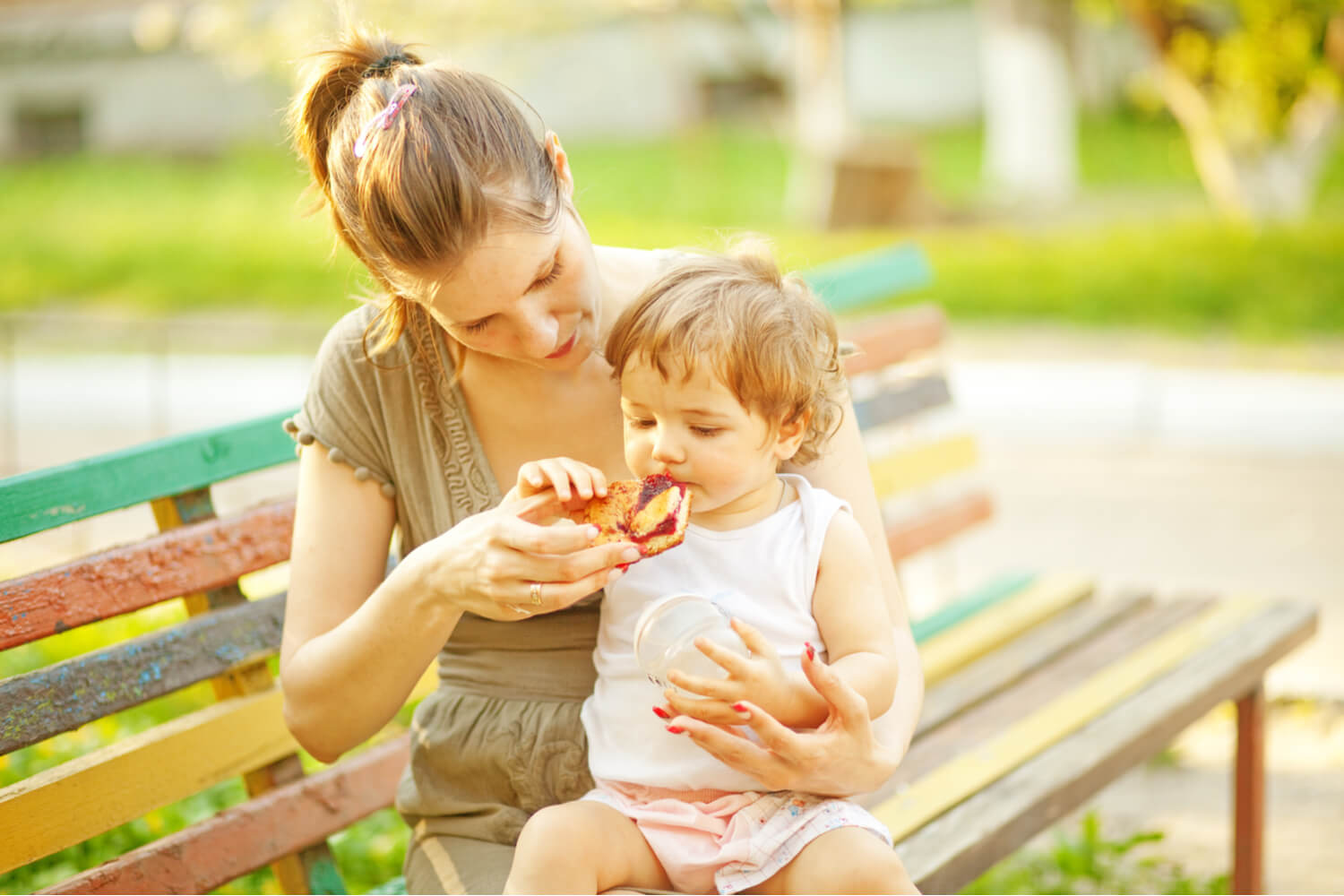 When you are giving your baby store-bought bread, you always must ensure it is safe for them. Check the ingredients and see what is going into that bread. Some brands will have more refined flour and some will have excess sugar.
Opt for bread that does not use preservatives.
All brown bread is not fully wheat or organic. You need to choose wisely.
Avoid improvers that help the bread rise and stay soft. This is not needed.
Ensure the bread is fresh and not expired or close to expiry.
Check for salt content.
If you are giving bread with nuts, ensure your child is not allergic to them.
Bread is made of allergens, so watch out for any reaction after giving bread to your baby.
Baking the bread at home is the best option since you are aware of the ingredients that go into it. You can control certain ingredients and add some healthy ingredients to make it a healthier food option for your baby.
Some general precautions to take when you feed the bread (store-bought or home-baked) to your baby.
Do not give very big pieces that can choke them.
Avoid giving them the soft part alone (the center part of white bread). This may seem easier to chew, but a slightly big piece can get sticky and make it difficult for them to chew.
Ensure they chew well, as swallowing bread can restrict airflow and cause them to choke.
If they seem to struggle with swallowing the bread, give them some water.
Always stay around when giving bread and other foods to a small baby.
[Read : When Can I Give Ghee To My Baby?]
Bread Recipe Options For Babies
Bread is very versatile and easy to work with to make a delicious dish. Here are some tasty recipes for your baby:
1. Toast
Bread simply toasted with ghee can be very tasty and healthy too. Ghee has many beneficial properties which can increase the nutritional value of the bread.
2. Spreads
You can use some organic spreads to make the bread/ toast tastiest. Peanut butter or any other nut butter can be a great option.
3. Sandwich
Sandwiches are the universal go-to food at any age. You can make a light sandwich with fresh vegetables and season it lightly.
Older kids can enjoy this and get a nutritious meal at the same time.
Alternatives to Bread For Babies
Not too keen on bread? Here are some alternatives to consider:
Pancakes: They can be made with a variety of flour and other ingredients.
Chapati: A staple food in many Indian households. Chapatis can be a great food option for babies in their BLW method.
Everyone loves bread. It is one versatile food item that is a staple in most homes. Getting your child used to this food item can be very beneficial when you want to travel or find a quick snack that is not loaded with preservatives and taste enhancers.
[Read : When Can I Give Paneer And Cheese To My Baby?]
FAQ's
1. Can I Give My Baby Whole Wheat Bread?
Yes, you can. In fact, they are safer than white bread as they won't gum up when kept in the mouth for long.
2. Can I Give Store-Bought Bread to My 7-Month-Old?
Yes, you can. Not everyone can bake at home. Ensure you opt for a reputed brand and freshly baked bread. You can even opt for home bakers who provide bread made from organic ingredients.
3. Should I Toast the Bread for My 9-Month-Old?
Yes, you can. Toasted bread, unlike white bread, is not a choking hazard. When toasted with ghee or butter, it makes it tastier and healthier, too.
4. Can I Give My Baby Bread Frequently?
Technically, there is nothing wrong with it. It helps to introduce a variety of foods for a baby. If you are on the move, bread can be a great meal option for small babies.
Read Also: Corn For Babies: Health Benefits And Recipes