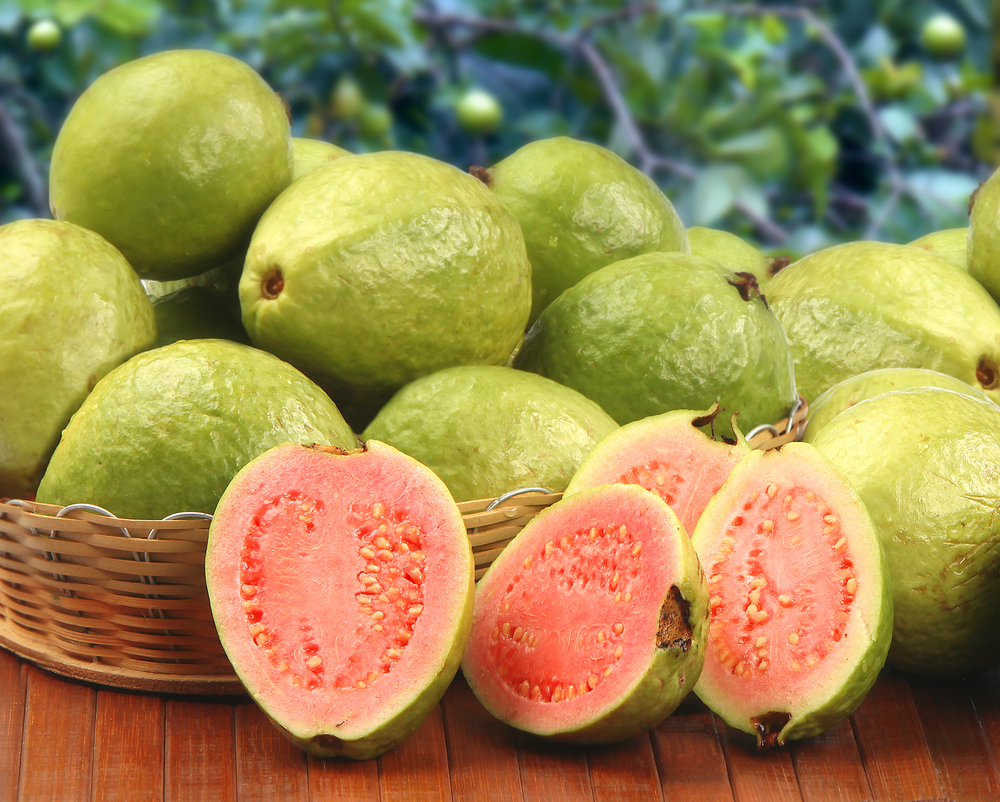 The best time for introducing solid food to babies is around six months or more. At this time, only a liquid diet does not suffice for the baby and he is in need of some main and vital nutrients for the proper growth and development of the baby. Fruits are certainly the best for the child to be introduced as baby food since they have umpteen flavours and varying textures. They are also enriched with vitamins and minerals and both are crucial for the baby's growth and progress.
There is a myth prevailing that eating a guava is not considered safe for babies. The fact although is that it has numerous nutritional benefits that especially for the small babies. Let us study its nutritional value, the time to be introduced to the baby, the safety of consuming guava and its seeds, health benefits, the manner in which guava can be given and some great recipes.
Nutritional Value Of Guava
Guava is both a tropical and sub-tropical fruit and is also a nutritionist's delight. It is enriched with minerals and vitamins. It is highly nutritious for being consumed during pregnancy. The nutritional base for guava is enlisted as under:
Guava is enriched with Vitamin C, A, B2 and E. The vitamin A and C content which is present in guava is much more than oranges or lemons.
It consists of other nutrients like copper, potassium, calcium, manganese and phosphorus, and all these minerals play a vital role in the development of bones and cartilage.
It even helps in the protection of cells from damage.
They even help in regaining the energy.
It is also enriched with folic acid which is crucial for the overall growth of the baby.
The folic acid is also good for the circulatory system.
Folic acid also helps in the development of the nervous system of babies.
Guava also comprises of lycopene which is why the inner pulp appears pink and this helps in minimising the growth of the cancer cells in the area around the mouth.
Is Guava Safe For Babies?
Guava has many tiny seeds, which are hard to bite and difficult to digest for the babies. In case the baby is eating guava and feels any sort of discomfort, it is best to stop feeding him for some time. After a gap of few days try and feed the same fruit in order to let him get used to the taste.
When To Introduce Guava For Babies?
Guava can be introduced to the baby from the age of six months but it is advisable to always consult a doctor. Always give small quantity to the baby and keep checking for any side-effects.
How To Introduce Guava For Babies?
Start feeding your baby pureed Guava. You can blend Guava puree with other fruit puree to enhance its taste and flavour. Remember, the consistency of the puree depends on you. Make it as smooth as you can.
How To Make Guava Puree?
Wash guava thoroughly
Peel them and cut it into slices
With a spoon scoop the seeds off ( you can have it, it is loaded with vitamins and minerals)
Slice it and boil it in adequate water for about 5 minutes. You can poke with a fork to make sure it is well cooked.
Put it in a blender. Puree it thoroughly without any lumps.
Puree is ready.
Are Guava Seeds Harmful To The Babies?
Even in the case of adults, eating Guava seeds alone may cause stomach disorders. However, eating fruit seeds along with its flesh will not cause any harm to them. When it comes to babies, even if gulp down with the flesh, guava seeds can be hard on their delicate digestive system   .
What Are The Benefits Of Guava For Babies?
On account of the nutritional properties, guava qualifies as being called the "superfood". Consumption of guava is beneficial in many ways.
Enhances Baby's Eye Sight: Regular consumption of guava is good for the baby's eye health as it is loaded with vitamin A.
Combats Infection: It is enriched with Vitamin C and helps with relieving congestion and cold. It also helps to prevent Scurvy (a disease caused due to vitamin C deficiency, which can be fatal if untreated).
Prevents Cancer: It is also loaded with antioxidants that help to prevent the development and growth of cancer cells.
Increase Immunity: Being a richest source of Vitamin C, Guava helps to boost the immunity of the baby.
Prevents Nervous Issues: Guavas also consist of folic acid and other vitamins that greatly help in the growth of the baby's nervous system against any neurological deformities.
Improves The Brain Development: It is a good source of vitamin K, B3 and B6 and It is also loaded with Pantothenic acid, thiamine, riboflavin, and folate. Therefore, Guava is an excellent fruit that enhances the development of the baby's brain.
Facilitate Digestion: Since guava is loaded with fibre it enhances the digestion process.
What Are The Points To Keep In Mind While Feeding Guava For Babies?
Always use fresh and ripe Guava
Always give fresh puree to baby. Avoid using freeze puree.
It is always better to boil it before making puree. This way it will be easily digestible
Never expect the baby will have all bowl at once. Start with a couple of spoons and eventually increase the quantity.
Restrict feeding guava puree maximum two days per week. Remember, this fruit is acidic and overconsumption can bring about diaper rash in baby.
Guava Recipes For Babies:
Here are some delicious and easy to prepare Guava recipes for your little one:
1. Guava-Kiwi Puree:
Make a puree of half a guava
Now peel and grate half a kiwi
Sieve the kiwi mixture to remove all seeds
Now mix both the guava and kiwi puree.
Offer the baby a delicious new and tempting flavour.
2. Guava-Pear Delight:
Make a puree of half a guava
Now peel the pear and grate ¼ of it.
Sieve the pear and remove all seeds.
Mix the pulps of the two fruits and serve.
Therefore, it is always good to remember that one needs to have ample patience for the child to get used to the flavour of any fruit and especially guava as it is not sweet nor sour. It is extremely significant to keep introducing the baby to all sorts of food in order to protect his health as well as development.