For the first six months of his life, breastmilk provides all the vital nutrients to your baby. But after your little darling crosses the six month mark, it is time you begin introducing him to solids, juices and fruits gradually. Although you do have many options available to you, you want nothing but the best for your baby and so start thinking about what to feed your baby with. Oranges are a lovely option to choose as they are packed with all kinds of nutrients and minerals that help to make your baby healthier.However you may have a lot of apprehensions regarding this fruit – when to begin feeding your baby with oranges? its benefits and so forth. Given below are all the important facts that you ever needed to know about oranges and the wonderful benefits of this tangy fruit.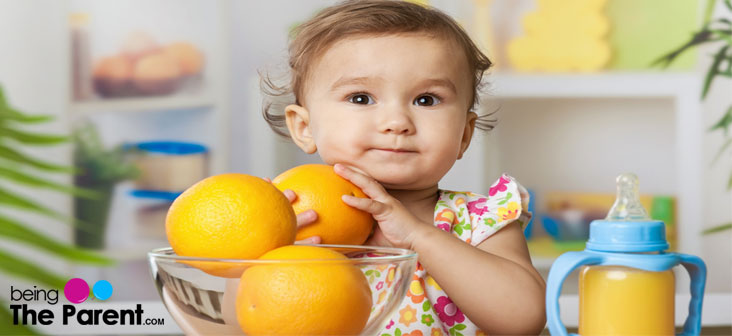 When Can Babies Have Oranges?
5 Wonderful Benefits Of Oranges
Precautions While Feeding Oranges To Babies
What Is The Best Way Of Serving Oranges?
When Can Babies Have Oranges?
You can safely begin feeding oranges to your precious darling as he reaches one year. This is because of the acidic nature of this citrus fruit that may cause intolerance in the little one if introduced earlier. It can even trigger rashes in an earlier stage and can be quite sensitive to the little one's tummy. However, not all babies are sensitive to oranges and so if your doctor gives the go signal, you can start feeding oranges as early as eight months.
5 Wonderful Benefits Of Oranges
Loaded with umpteen vitamins and minerals apart from Vitamin C, oranges are a healthy option for your little baby. They have lots of fiber too, that is extremely good for your little one. Some of them are:
Excellent cure for cold and cough: Oranges are packed with Vitamin C and are beneficial for cough and cold that occurs in your little one. They also provide an excellent boost to the immunity system of your little darling and protect them from any kind of secondary infections
Wonderful respite from constipation: Suppose your little one is not getting the required quantity of roughage from his or her diet, this may result in constipation that becomes so tough for the little one as well as for you. Pulpy oranges are a wonderful solution to this issue as oranges have high content of fiber in them. Mixing freshly squeezed orange juice with water is also found to be quite a good cure for diarrhea
Loaded with Calcium: Rickets is one disease that little babies can suffer from due to lack of enough quantities of phosphate and calcium. Since oranges are loaded with calcium and phosphate, it helps to avert rickets and other such issues in your baby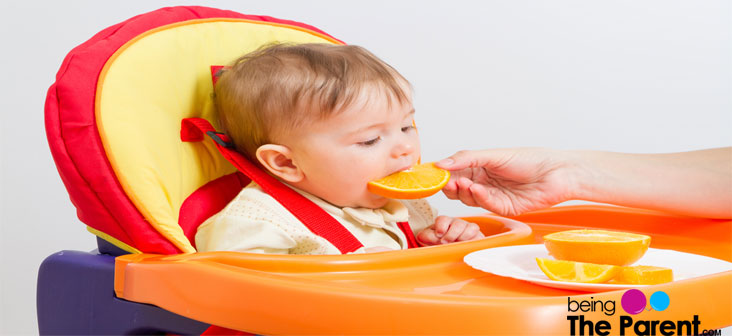 Improves Digestion: Oranges have been found to be excellent in improving the digestive function of your little one. Thus, oranges help to prevent dyspepsia and indigestion in little babies
Rich in Nutrients: As mentioned above oranges are packed with all good nutrients and mineral vital for healthy growth of your baby. They help to ensure your little one gets all the necessary supplements that are specially needed for that first year of growth and development. They are found to be rich in iron too
Precautions While Feeding Oranges To Babies
Given below are some of the precautions that need to be observed before feeding oranges to the little one :
Fiber, peel and seeds: Oranges need to be washed and peeled well. Also ensure you take out the seeds and the fiber that is around the flesh of the orange as this may cause discomfort to your little one and babies can choke on the small seeds present in oranges
Sweetness: Make sure the orange you plan to feed is sweet in flavor. Babies do not like sour taste and may refuse to eat oranges that have even a mild sour taste
Freshness: Strictly feed only fresh and juicy oranges as stale ones can trigger indigestion or any other related issues
Avoid readymade orange juice or pulp: You will find commercially prepared orange juice or orange pulp all over supermarkets and other grocery stores. However, it is best to avoid feeding your little one with this and stick to homemade freshly squeezed juice or pulp
What Is The Best Way Of Serving Oranges?
There are many ways of serving oranges to your little one. Some of them are:
You can either devein the orange and cut into small slices and feed it to the little one directly if she or he is willing to eat it this way
You can also mash up the juicy fruit and feed the orange pulp to your baby which becomes easier for them to eat if they are reluctant to chew
You also have the option of squeezing fresh orange juice and if needed dilute with a little water and feed your baby with this juice. They love juices and are sure to drink it up in no time. Try serving this in a sipper and your little one is sure to enjoy this tasty treat
Foods that go well with oranges are blueberries, avocado, cranberries, peaches, sweet potato, yogurt and chicken. You can look up on the internet and try out various healthy and nutritious recipes to serve to your little darling.