During pregnancy, elevated hormone levels can bring about a variety of skin changes. The most commonly experienced skin issues revolves around acne. With regard to a non- pregnant woman who receives a broad range of prescription drugs, the pregnant woman has simply a limited choice as she has to be more careful when it comes to selecting the medicines.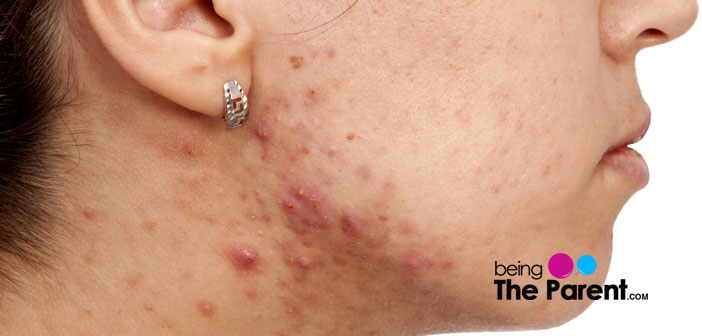 Acne most frequently appears during the first and second trimesters of pregnancy. This can happen even if you had a clear skin during the pre-pregnancy time.
What Causes Acne During Pregnancy?
An increased level of a hormone called androgens results in boosting the activity of the sebaceous glands of the skin resulting in the production of more sebum, an oily and waxy substance. This oil along with the dead skin cells can block the pores, offering bacteria the space to dwell. This accumulation of bacteria results in inflammation and breakouts. Women who are susceptible to acne during their menstrual periods have an increased chance of experiencing pregnancy acne.
Is It Safe To Use Acne Medication During Pregnancy?
No. Majority of the acne medications are not safe and might harm the unborn child. Even though most pregnant women will be watchful when it comes to what they eat and drink, many of them may not probably be aware that, what they apply to their skin needs equal concern.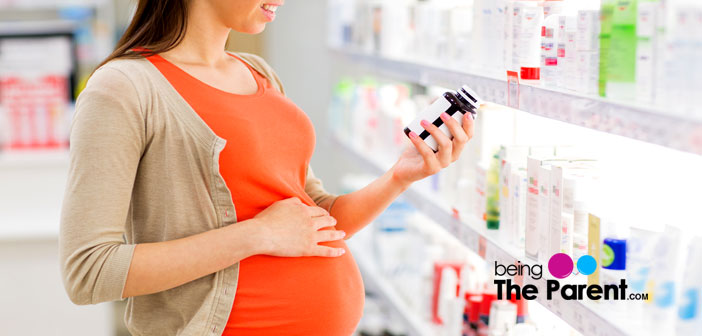 What Makes Acne Medications Unsafe During Pregnancy?
Let's examine why most of the acne medicines are dangerous during pregnancy. Acne medication includes topical medicines, oral medicines or a combination of both.
Most of the topical ingredients get absorbed by the skin and get into the blood stream of the mother. Some of them are proven to have some harmful effect on the unborn baby. Usage of several oral acne medicines and antibiotics (used to treat severe acne) are strictly prohibited while pregnant, as they cause several health issues, mainly for the unborn child. Some of them can even trigger miscarriage. Here are some of the components in acne medicines which are proved to be dangerous in the course of pregnancy. Double check the medicine's cover and confirm that these ingredients are absent in the anti-acne (topical or oral) medication you take:
Retinoid: These are a type of vitamin A which accelerate the divisions of the cells. It is found very effective in treating moderate to severe acne. During pregnancy, you should keep away from anti-acne cream or gel which contains retinoid. Oral retinoids are found to cause birth defects among the babies
Tretinoin/ Isotretinoin/ Adapalene: If acnes cream or oral medicines are found to have these elements, then these medicines should be averted. Products containing the above mentioned ingredients can bring on serious health issues for the baby or even increase the chances of infant death
Tetracycline: This antibiotic is used to treat acne. Using tetracycline after four months of pregnancy has a toxic effect on the developing baby's teeth and bone
Salicylic acids: This is a mild acid which is a chief component of certain anti-acne toners and cleansers and peels. Though no significant issues may occur if applied mildly once a day, most of the doctors will not encourage it in the course of pregnancy as it can cause various pregnancy complications and birth defects.The peels which contain salicylic acid are not permitted to apply while pregnant as the skin absorbs more quantity of this chemical. Salicylic acid belongs to aspirin family and a peel is as dangerous as taking one or more aspirin during pregnancy
Accutane: This oral acne medicine has harmful effects on the developing baby
Hormonal therapies: Anti-androgen therapy, which is used in the treatment of acne is definitely not approved in the course of pregnancy. Flutamide and Spironolactone are generally used for hormonal therapy. Make sure they are not present in your acne medicines.
'Leave on' topical medications: Be very cautious when selecting a leave-on gel, cream, peel or mask for treating acne. As it stays longer in the skin the chances of absorbing the harmful ingredients increases
How Can I Treat Pregnancy Acne Naturally?
The cream and lotion that is applied every day as the part of skin care may pass the skin barrier and get assimilated into the body. With a developing baby in your womb, you should consider this before attempting to treat the acne. Of course, you can't also leave the acne untreated. It is possible to treat and control acne during pregnancy through proper skincare routine based mainly on natural methods.
Cleanup: Cleaning face with gentle, soap free face wash twice a day is very important
Never over-wash: Over washing the face washes off the skin's natural moisture. This results in increased oil production, thereby aggravating acne
Never use hot water to wash the face: Hot water dries out the skin, thereby the glands produce more oil. Instead, use cool or lukewarm water. After rinsing the face always pat dry
Never rub or squeeze the acne: Scratching and squeezing the acne increases the number of acne and causes scarring. Never even touch the face as it increases the chances of bacterial activity. Also, never scrub the face
Use water-based make-up: Instead of oil-based make-up, always pick out water-based composition, that too, if you are really in need of a "make-up" (if possible, it's better not to use the cosmetics while you are pregnant). Also, select the make-up products which labeled 'non-comedogenic or non-acne genic' which means they will not block the skin pores thereby decreasing the chances of having acne. Click here to know the cosmetics that you should avoid
Eat and drink well: A healthy diet with plenty of fruits and vegetables and drinking plenty of water (avoid carbonated beverages, processed food, and refined sugar) is a key to healthy skin
Wash the hair regularly: Oil can accumulate on the scalp and ooze down, which increases the chances of acne. The oily scalp also increases the chances of having dandruff which in turn aggravates the acne. Therefore, regular hair wash and maintaining a healthy scalp is important in the treatment of acne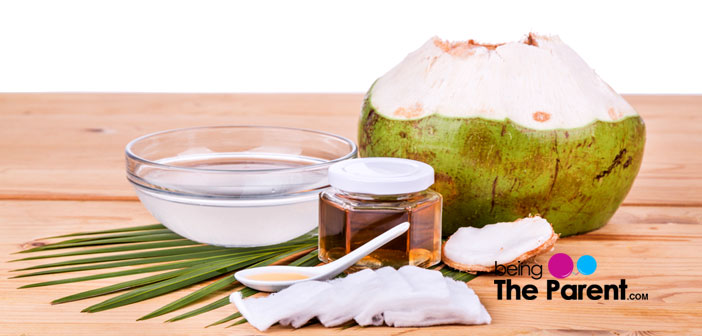 Instead of allopathy medicines, try natural ways, such as:
Using apple cider vinegar as a toner: Mix one portion of vinegar with three portions of water (never use it without diluting as it is too strong and may cause burns). A toner which is rich in alpha hydroxy acids, which has an anti-fungal, anti-bacterial and anti-virus property and capability to keep the bacteria at bay is ready
Using virgin coconut oil as moisturizer: Coconut oil is not like other oils. It can induce amazing changes on your skin because of its antibacterial and anti-fungal property. Use it as a +moisturizer. You will definitely see the difference. Make sure you use virgin coconut oil only
Oatmeal and cucumber: This paste is a wonderful pack which provides a cooling effect for the skin
Baking soda: Mix one spoon of baking soda with one spoon of water. Apply the mixture on individual pimple (spot treatment). The baking soda dries the oil,thereby, promotes faster healing of acne
Products containing benzoyl peroxide are considered safe to use during pregnancy
Honey: Antiseptic and antibacterial properties of the honey help in the treatment of the acne. Apply honey directly to the affected area after rinsing the area thoroughly with warm water. Leave it around 30 minutes. Again rise with warm water and pat dry
More on treating pregnancy acne naturally here.
Luckily, pregnancy acne is found to disappear after delivery as the hormone levels go down to normal gradually.