Acne or acne vulgaris is a skin disease involving the sebaceous or oil glands found at the base of hair follicles. Treating Pregnancy Acne With Home Remedies is the good option. These skin eruptions termed as pregnancy acne are very common during pregnancy – so much so that one out of every two women experience a breakout in the first trimester.
Pregnancy acne can appear on neck, face, back, and chest. Sometimes even on the bumps. Treating Pregnancy Acne With Home Remedies.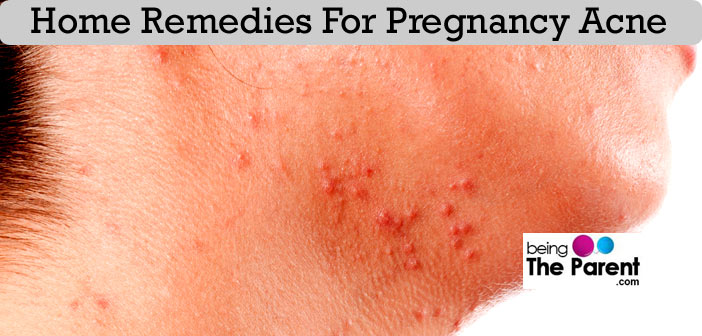 ---
Causes of acne during pregnancy 
Signs of pregnancy acne
Treating pimples during pregnancy
Treating pregnancy acne with home remedies.
Do pimples during pregnancy tell if it's a boy or a girl?
Unsafe treatments for acne during pregnancy
When do pimples during pregnancy go away?
---
Causes Of Acne During Pregnancy
Skin breakouts during pregnancy is quite common. The chief cause of occurrence of acne during pregnancy is the changing hormonal level during the first trimester. The increasing level of hormones causes surplus production of natural oils. The condition worsens if you already have an oily skin. Also, if you have had acne during your teens, or if you do get a zit or two during menstruation, you are likely to have pregnancy acne of some degree as well. However, women who do not have acne during the first trimester are not likely to have it in the second and third trimesters as well.
Pregnancy zits are mere natural condition occurring due to changes in hormonal levels that trigger the secretion of sebum more than normal. This extra sebum blocks your pores, and create an environment where bacteria can multiply rapidly leading to inflammations or acne on skin. Pregnancy acne can be for a few days, or can last through entire pregnancy.

Signs of Pregnancy Acne
The acne appears as reddish tiny bumps or eruptions on skin. They might become filled with pus. Sometimes they are painful and itchy.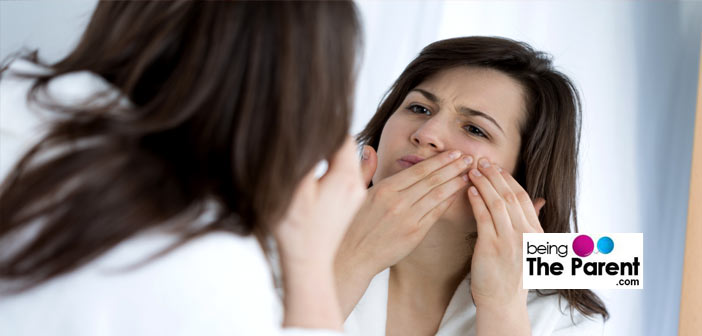 Treating Pimples During Pregnancy
If treatment it is advised to you do wish to take medical help for pregnancy acne, keep in mind that your doctor needs to approve the same for better health of you and your baby. It is safe Treating Pregnancy Acne With Home Remedies.
Some basic tips that may help with pregnancy acne are:
Keep the acne prone area clean and wash with clean water two or three times a day
Do not rub on the affected area
Use a natural mild cleanser like rose water or raw milk for cleaning the affected area. But be gentle
If your hair is oily, keep them clean and shampoo regularly
Do not squeeze or pop the acne-it can lead to scarring
Minimize or limit the use of cosmetics on the affected region
Take regular baths and keep your body clean. Use a mild soap or home-made scrub to wash face and be gentle on the skin. Do not rub harshly
Drink at least 10-12 glasses of water every day. Water not only cleans your digestive system but also hydrates your skin and makes it supple and healthy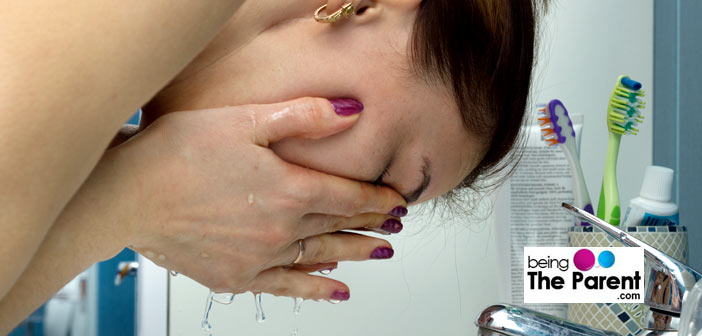 Treating Pregnancy Acne With Home Remedies:
Nothing beats home remedies when it comes to acne, and here are some ways of Treating Pregnancy Acne With Home Remedies that you could try.
Fuller earth or mulani mitti: Make a fine paste of multani mitti and add few drops of rose water in it and 1-2 drops of lemon juice. Apply it evenly on the affected area. Leave for 5 minutes and wash off with tepid water. Repeat it 2-3 times a week and you will notice subsidence in acne pain and swelling
Baking soda: Sodium bicarbonate or baking soda can work wonders for you. It removes the dead skin and unplugs the pores. It also normalized the pH balance of your skin and has wonderful antiseptic and anti-inflammatory properties
Lemon juice: The acidic qualities of lemon extract are very effective curing acne. Lemon not only removes dirt clogging the acne but also soften the accumulated hard sebum. Apply lemon juice every day on the affected region for 5 minutes and then wash off. The acne will soon be history
Oatmeal: Oatmeal is helpful in absorbing excess oil from the acne and cleans the skin pores. Mix half a teaspoon of honey in half a cup of cooked oatmeal. Now rub this mixture gently on the affected area and leave for 15 minutes. Wash off with tepid water. Repeat this three or four times a week
Toothpaste: Apply toothpaste on the acne area before retiring to bed. The astringent properties of toothpaste will soon subside the acne swelling and will dry the acne too. Isn't it the easiest and simplest home remedy?
Tea tree oil: Another simple and hassle free remedy is application of tea tree oil. Due to its antiseptic properties, tea tree oil clears off the acne destroys bacteria and other germs. Simply apply a drop of the oil on the affected area in the night
Apple cider vinegar: It is an amazing powerhouse in treating acne. it is antiseptic and kills off the bacteria. Being alkaline it regulates the pH balance of your skin. Mix one part of water in three parts of apple cider vinegar and apply it on the affected area. Leave for 10 minutes and then wash off. Apply a good herbal moisturizer afterwards
Papaya: Raw papaya is effective in treating acne. It eliminates dead skin cells and excess oil too. Mash the papaya flesh and make a smooth. Paste now apply it on your skin for 5-10 minutes. Then rinse off with lukewarm water.
Orange mask: The tangy, refreshing oranges have unmatched antiseptic and astringent properties. They contain vitamin C and inhibit the growth of bacteria and other microbes. Grind the dried orange peels and add a few drops of rose water to this grounded powder. Apply this paste on the skin and leave for 5 minutes and then wash off with clean water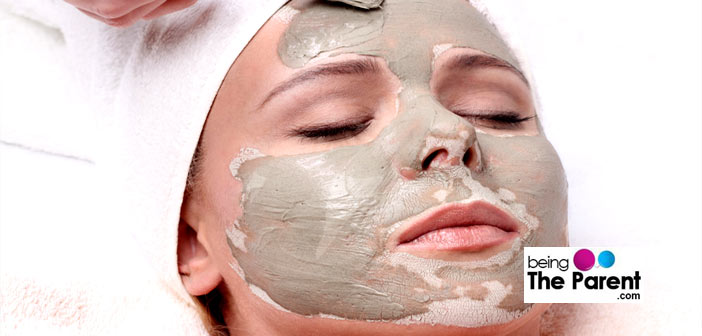 Do Pimples During Pregnancy Tell If It's a Boy Or A Girl?
The old wives take has it that pregnancy acne is an indication of the gender of the forthcoming baby. Having zits during pregnancy indicates that you are having a girl. Well, maybe too many female hormones are causing all those eruptions, eh?

Unsafe Treatments For Acne During Pregnancy
Many pregnant women wonders are ace medicines safe during pregnancy. Here are a few 'not-to-do' treatments for treating pregnancy acne:
Isotretinoin is effective in combating with acne spread, but its usage in pregnancy is contraindicated. It can result in serious congenital defects in newborn so do not use it
Never use Retin A products or ointments because they can potentially harm your newborn
When Do Pimples During Pregnancy Go Away?
Just as other pregnancy hormones induced conditions, pregnancy acne will go away once the pregnancy is over. If you have acne scars, the same will also go away with time and with an effective and efficient skin care regime, you will get back your glowing and clear face.