Dyslexia is defined as "a disorder in children who, despite conventional classroom experience, fail to attain the language skills of reading, writing, and spelling commensurate with their intellectual abilities."
In other words it can be called as the difficulty in comprehending or learning to read. It is actually disability in learning and it interferes with an individual's ability to spell, write, read or speak words.
Active intervention is required as soon as the disorder is detected to get best and positive results (improvement in language skills).
Commonly seen signs and symptoms of dyslexia include: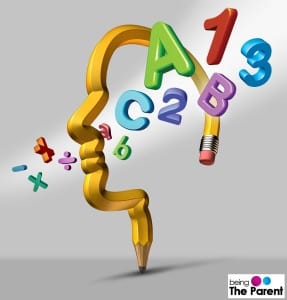 Difficulty in copying work from a book or board
Inability to remember content
Difficulty to participate in organized sports and games
The child might be disorganized or un-coordinated in games
Dyslexia affected children usually have difficulty in keeping pace with the rhythm of music.
Auditory problems are also faced by dyslexia children
Children often miss recalling said sentences and words
Recollecting correct sequence of things is also a tough task for such children.
They have difficulty in expressing themselves
Such children are often depressed
They become singled out from others
Their self esteem is adversely affected
Restricted sibling or peer interaction
The parents need to be sensitive towards dyslexia affected children. These kids require love, affection and understanding. If you feel your child might be affected with dyslexia, immediately consult a child psychiatrist to get professional help in coping with the baby.
The professional caregiver will carry on a standard battery of diagnostic tests such as-
Wechsler Intelligence Scale for Children-Third Edition (WISC-III)
Stanford-Binet Intelligence Scale
Woodcock-Johnson Psycho-Educational Battery
Kaufman Assessment Battery for Children (KABC)
Wechsler Individual Achievement Tests (WIAT)
Beery Developmental Test of Visual-Motor Integration
Motor-Free Visual Perception Test
Kaufman Tests of Educational Achievement (KTEA)
Peabody Individual Achievement Tests-Revised (PIAT)
Test of Auditory Perception (TAPS)
Test of Visual Perception (TVPS)
Bender Gestalt Test of Visual Motor Perception
Peabody Picture Vocabulary Test-Revised
Expressive One-Word Picture Vocabulary Test
Visual Aural Digit Span Test (VADS)
Test for Auditory Comprehension of Language
 Well, there is no sure shot treatment for dyslexia but scientists believe that active intervention can instil encouragement and confidence in children with dyslexia. According to experts a number of techniques are available to cope with children with dyslexia. Such kids should be given extra attention in the class and should be given seats in the front row.
Special tips-
Enhance your knowledge about the disorder. This would help you understand the condition more sympathetically.
Read about the latest treatment modules and recent researches.
Talk to other parents having kids with dyslexia as they can give you some valuable information and emotional support.
Learn to appreciate and encourage your child in her daily activities.
Regularly talk to your child's teacher and find out how he/she is doing in her academics.
Visit your child's psychiatrist on regular basis and keep update with her/his development.
Read out books to your child.
Ask your child to read loudly to her capabilities.
Learn to encourage whenever your child read or recollects things.
Be patient and composed while handing your baby.
Create a stress and noise free space where he/she can do homework or read out books.
Encourage your child to participate in other co-curricular activities such as dancing, sports, theatre, etc.
Be positive towards your child's development and minor activities.
Remember encouragement and accolades can enhance your child's abilities.