Ovulation Chart
Ovulation chart or ovulation calculator as it is most commonly referred to as is not as complicated as it sounds. If you are planning to conceive, you first need to know the days in the month when you are most fertile. That way you will know when is the best time to go for an intercourse so that the chances of conceiving are very high.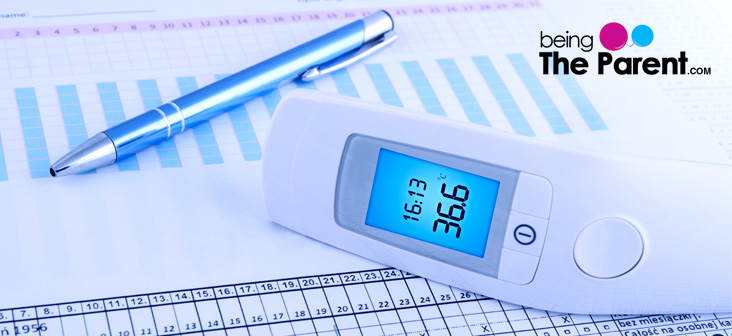 Most women ovulate approximately 2 weeks before the first day of their menstrual cycle. Therefore for maximum accuracy, you need to know the first day of your last period and how long your cycle is. Based on that you can calculate your ovulation dates that gives you an idea of the entire fertility window. This means you are fertile on the days leading up to your ovulation and these are the best days to go in for an intercourse if you are planning for pregnancy. Besides calculating the dates for ovulation, there are other physical signs that you can look out for to know when you are actually ovulating.
What are these?
Chart your basal Body Temperature
Your basal body temperature normally increases shortly after ovulation. Basal body temperature (BBT) is your body temperature when you wake up in the morning or after a minimum of three hours of uninterrupted sleep. To record your BBT you need to use basal thermometer which is slightly different from the normal thermometers we use in the sense that it records very minute changes in your body temperature. To know whether or not you are ovulating, you need to check your basal body temperature first thing in the morning and every day at the same time.
When you ovulate, you will notice a rise in your basal temperature that lasts until the next menstrual cycle. If the temperature remains slightly higher for three consecutive days, this is an indication that you are ovulating. Remember, the temperature spike will not be more than about 0.2 degrees as compared to the previous 6 days. Only when you make a note of the basal body temperature for 2 months in a row will you be able to notice a pattern to understand your ovulation cycle clearly. And once the pattern is visible you will understand which are the best days in the cycle for you to have intercourse.
Chart your cervical mucus
Another way to understand your ovulation cycle is through the look and feel of the cervical mucus which is discharged from the vagina. You may be surprised to know that as your hormone level changes during the menstrual cycle, the color and texture of the cervical mucus changes too.
How to use cervical mucus to chart ovulation?
A couple of days after the end of your menstrual cycle, you will notice that your cervical mucus becomes clear and slippery. About three days after this, it can be stretched like a string between your fingers. In the next day or two, you will feel a further change as the mucus becomes more slippery and wets your underwear. This is when you are most fertile. Gradually it becomes dry which means that you have crossed the fertile window. Basically you don't need to really chart your cervical mucus but just keep on the lookout everyday to understand the change in appearance and consistency.
Sample Chart Pictures:
Here are some sample charts from the Internet to help you understand the ovulation chart better.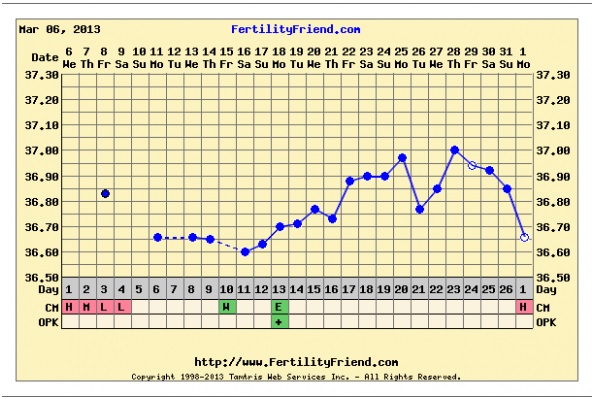 Source: https://www.google.co.in/url?sa=i&rct=j&q=&esrc=s&source=images&cd=&ved=0ahUKEwjZgu6Sg5DWAhWBvY8KHYKEAOgQjRwIBw&url=http%3A%2F%2Fboards.weddingbee.com%2Ftopic%2Fhelp-me-understand-my-fertility-friend-chart-not-showing-ovulation%2F&psig=AFQjCNH8Bm_wotCjaeCaD8VFJf8dA98E_g&ust=1504768878868005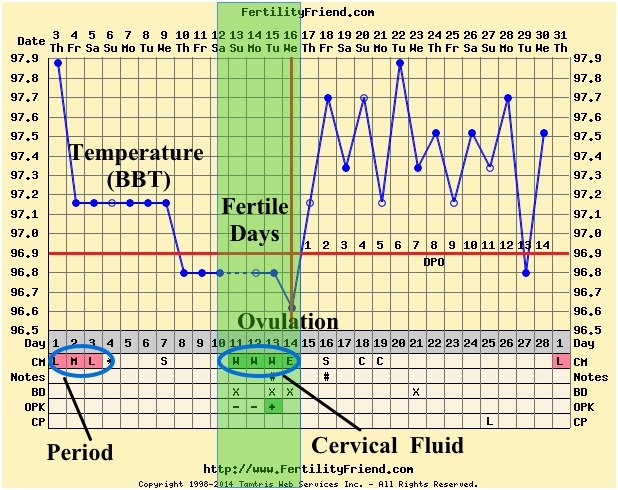 Source: https://www.google.co.in/url?sa=i&rct=j&q=&esrc=s&source=images&cd=&cad=rja&uact=8&ved=0ahUKEwi6o4Xng5DWAhULRY8KHT4JCbsQjRwIBw&url=http%3A%2F%2Fwww.fertilityfriend.com%2Fcourses%2Flesson.php%3Fp%3D1%3B1%3B0%3B0&psig=AFQjCNH8Bm_wotCjaeCaD8VFJf8dA98E_g&ust=1504768878868005
Steps for Preparing the Ovulation Chart
To start with you can look up the Internet for sample ovulation charts to know how and what to watch out for to understand your ovulation cycle.
On the first day of your period, make a note of the date and day of the week in a separate sheet of paper.

Each morning, first thing after you get up check your basal body temperature and make a note of it. Make a note of the temperature fluctuations.

Check your cervical mucus after your menstrual cycle ends to notice changes as the days progress. Make a note of the changes.

When your basal temperature is about 0.5 degrees to 1 degree higher than the other days and stays that way, note the cervical mucus to see if it is slippery and watery. That is the date of ovulation.

Track these for a couple of months to see a pattern. That will help you understand your ovulation cycle.

For best results have intercourse on every alternate day during your fertile period.