In India, especially in Hindu religion, Piercing Baby's Ears is a common practice. Some Hindus pierce their baby's ears irrespective of the gender. For Hindus, it has more to do with religious beliefs than fashion statements.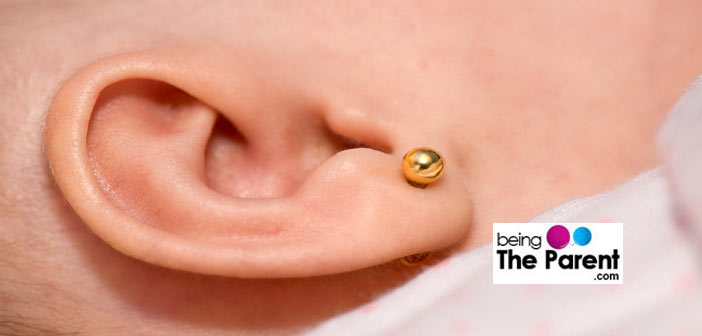 ---
The Ear Piercing Practice in India
When Can I Get My Baby's Ears Pierced?
Where Should I Get My Baby's Ears Pierced?
What Precautions Should I Take Before Getting My Baby's Ears Pierced?
How Can I Get My Toddler's Ears Pierced?
What Earrings Should I Choose For My Baby?
Ear Piercing Care For Babies
What Should I Do If The Ear Lobe Gets Infected?
---
The Ear Piercing Practice in India
While some believe that ear piercing wards off the evil eye, others say their piercing the ears has a therapeutic value. There are yet others who get ear piercing done because it is the tradition. Even though these customs are old they are practiced actively in most parts of the country, including most big cities and suburban areas. Most parents often take the baby for piercing without proper information and guidelines. To make things easier, here we answer some questions when it comes to piercing and caring for your baby's pierced ears. This piece on piercing baby's ears advice will help you plan the ceremony easily.

When Can I Get My Baby's Ears Pierced?
Almost every religion in India has a custom of piercing the baby's ears. Some customs have a small ceremony to celebrate the ear piercing day of the baby. This ceremony is called the Karnavedha Sanskar (कर्णवेध संस्कार). In some customs the ear piercing is done alongside the Mundan (मुंडन) ceremony, which is shaving off hair from the baby's head. Some people also schedule the ear piercing to coincide with the naming ceremony of the baby or the Namakarna (नामकरण). In Hindu customs it is believed that piercing the ears is a Shubh Shagun (शुभ शगुन) and it brings good fortune and wards off the evil.
According to some customs a baby's ears need to be pierced within 40 days, since the birth date. However, there is no conclusive rule as such. Some families perform ear piercing of the baby during the first or third year. Some others wait till the baby is old enough to know what ear piercing is. You can pierce baby's ear any time you want. Try to schedule it after a month or two since a newborn baby is too fragile, sensitive and prone to infections.
Needless to say if your baby is unwell, he or she is definitely not fit for getting a piercing until they are in the best of health. Also make sure you consult a doctor before scheduling the piercing appointment, so that any forthcoming sickness can be ruled out. The doctor may also give some painkillers to help the baby.

Where Should I Get My Baby's Ears Pierced?
For decades, Indians have been going to their local jewelers to get their baby's ears pierced. Most jewelers in India are equipped and are experienced enough to conduct the piercing efficiently. They normally rub an ointment on the ear lobe and mark the spot you want to pierce through. Then they push a thin gold or silver metal wire through the ear lobe. It may not seem very hygienic but it is a common practice in India, which has worked well for many years without harming the baby, though infections cannot be ruled out.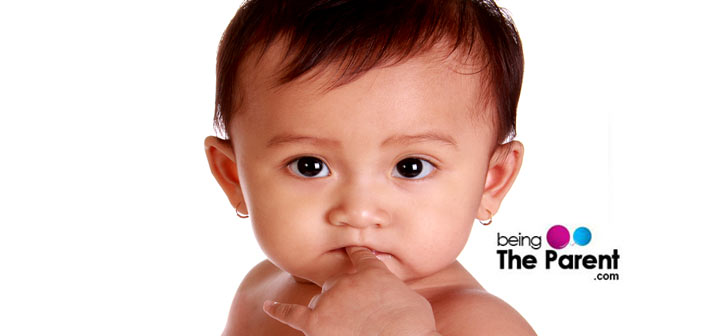 Off late, many dispensaries and clinics have started the facility to get piercing done. The procedure is mostly conducted by doctors or well experienced specialists. The specialists might use a gun for the procedure. Piercing guns are very safe, but it is not recommended if your baby is too small plus they have the chance to be contaminated with infections. The piercing gun shoots a stud through the earlobe, which is thicker than the gold or silver wires, hence it is more painful and takes more time to heal as well. Always use surgical steel or 14 carat gold as your baby's first ear jewelry as other metals could give your baby an allergic reaction if the baby is too young.
In some households, the piercing is done at home and it is conducted by an experienced adult of the family or the maalishwali. This method is however not recommended. It is better to take your baby to an experienced professional or a specialist. The crux here is that the piercing should be done in hygienic conditions.

What Precautions Should I Take Before Getting My Baby's Ears Pierced?
As mentioned earlier, it is crucial that your baby is the best of health while getting the piercing done. If the doctor has advised you against the piercing it is best to pay heed to the doctor's advice. Also ask the doctor to recommend an ointment or painkiller. Ointments are also available off the counter, you can ask your local chemist and he will give you a suitable ointment. The best thing is to use homemade ointments and natural ingredients like coconut oil and turmeric powder. Also make your baby wear dress that can be buttoned up. This will help you not brush the baby's ear when you change her clothes.

How Can I Get My Toddler's Ears Pierced?
Talk to your baby, if the baby is old enough to understand, about ear piercing. Also, prepare the baby for the procedure. Toddlers can get a little difficult to manage hence it is always recommended you pierce your baby's ears as early as possible or wait till the baby has grown up. Also speak to the specialist who is going to conduct the piercing procedure. Make sure he is experienced and is using sterilized equipment. Some specialists recommend getting both the ears pierced at the exact same time to reduce the pain and trauma, this is an effective technique as well.

What Earrings Should I Choose For My Baby?
Surgical steel or 14 carat gold is your best bet when it comes to choosing the right jewelry for your baby's ears. Many mothers insert a neem twig in the pierced hole, owing to its antiseptic and healing properties. If you pick up gold, make sure that the posts and the backs are all gold. The baby would be tugging at the ear, so it is best not to buy baalis, or else, she causes injury to herself. All earrings should be secure enough not to come off when the baby tries to pull them, as the baby can swallow them and this could cause serious choking. It is best to buy something that the baby will be comfortable with, and will not hurt her while sleeping and breastfeeding.

Ear Piercing Care For Babies
You must  keep the  area of ear piercing clean and germ free. If the doctor or the specialist prescribe an ointment, make sure you apply it regularly. If not, then you can apply turmeric powder a couple of times since it has healing properties. Also rub coconut oil and massage the ear gently. It might hurt your baby. Therefore, make sure you are extremely gentle. Do not take off the earring for at least 2 months. Or else, the piercing might fill up again.

What Should I Do If The Ear Lobe Gets Infected?
The  area will be a little warm and red after the piercing. However, this will subside in a couple of hours. In case there is swelling, redness or extreme pain, even after a day or two since the piercing, consult the doctor immediately.
The doctor will examine and determine exactly whether the child has an infection and he will prescribe medicines accordingly.