"A baby is a blessing. A gift from heaven above, a precious little angel, to cherish and love"
Welcoming a new baby is one of the most pivotal moments in the parents' lives. Throwing a baby shower(गोद भराई) before the birth of a baby is a way to share joy and happiness. Indeed a baby shower(गोद भराई) is a very joyous and exciting occasion for the couple, especially the mother who is eagerly awaiting the arrival of her baby. Its fillled with fun and games. All the wishes and messages that she receives on a baby shower(गोद भराई) just makes her feel special. These genuine and heartfelt messages are considered a part of the celebration and fun. But if reading all this makes you confused and if you cannot come up with the perfect message to write or not sure how to wish the parents when you are invited to a baby shower (गोद भराई), then you can really stress yourself out. To help you out, we have compiled 50 beautiful (गोद भराई) baby shower messages and quotes to choose from. Also read baby shower games printable.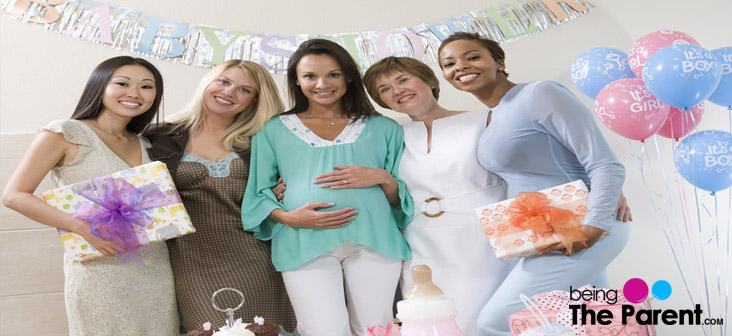 1.Top 50 (गोद भराई) Baby Shower Messages And Quotes
2.Funny (गोद भराई) Baby Shower Messages
3.(गोद भराई) Baby Shower Messages For Mom
4.Baby Shower (गोद भराई) Messages And Quotes For Baby
5.Wishes For Baby Girl
6.Wishes For Baby Boy
7.Popular Baby Shower(गोद भराई) Quotes

Top 50 (गोद भराई) Baby Shower Messages And Quotes
Sincere and heartfelt wishes are magical and touch the hearts of the people whom you wish. So for the couple who are ready to enter this beautiful phase of their life, shower them with sincere wishes, words of advice or wisdom, and congratulate them and show them that you are a part of their joy and celebration.
Wishing you and your baby love, laughter, sunshine, and happiness

Baby booties, baby toys, baby shower, baby joys. Warmest wishes to you and your baby

We are so excited for you. Your life will never be the same. Have fun and enjoy, your little bundle of joy

Of all the precious gifts in life, the best is surely a baby – a blessing for now and forever

Wishing you a magical and memorable few years of upcoming babyhood. All the best

Your home will soon be filled with toys and will never be quiet again. Your house will often be a mess, and you'll frequently be tired. But there will always be love and laughter. All the best and many happy memories

Babies are a gift from heaven. Enjoy your new addition and may you have a happy and healthy long life together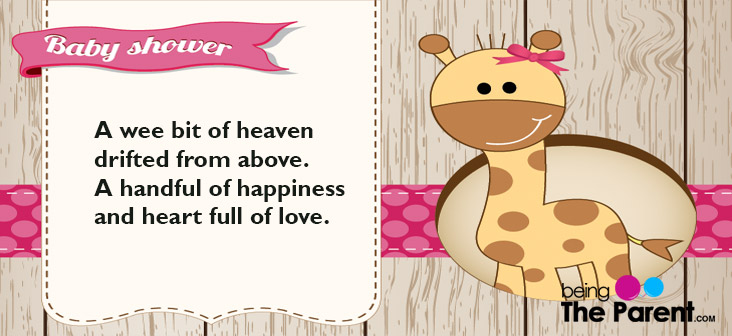 Here's to smiles, laughter, patience, and joy. We hope you get a healthy baby girl or boy

Roses are red, and violets are blue, you will be given a new baby, congratulations to you!

What a bliss a new baby brings to our life. So happy for you both and congratulations!

May you cherish every minute because time flies so fast. God bless you and your new baby!

The cuddling, the snuggling, the kissing, and the loving. All of it, you get to enjoy with the arrival of your new little bundle of joy

Babies are treasured, cherished, prized, beloved and adored, may you enjoy the best gift that you've been given

A wee bit of heaven drifted from above. A handful of happiness and heart full of love

Baby powder, Baby oil, Soon you'll have someone to spoil!
Funny (गोद भराई) Baby Shower Messages
A baby shower is also a good time to add some humor to the expectant parents' plate. If you are invited to a baby shower of a close friend, then you can definitely be a little naughty. So why not make your card or baby shower messages stand out by adding an element of humor to it. Some funny baby shower messages are:

I heard about your newest development. Congratulations on being so creative!

If you are worried about having enough space after the baby comes, you can get rid of your bed. You won't be using it much for a while, anyway

Hello, baby! Goodbye, sleep!

Trade in the designer purse and high heels for a diaper bag and flip-flops, you're having a baby!

Get excited because soon you're about to lose ten pounds in one day!

Enjoy this wonderful and exciting baby shower, because it's the last party you'll have for a long time.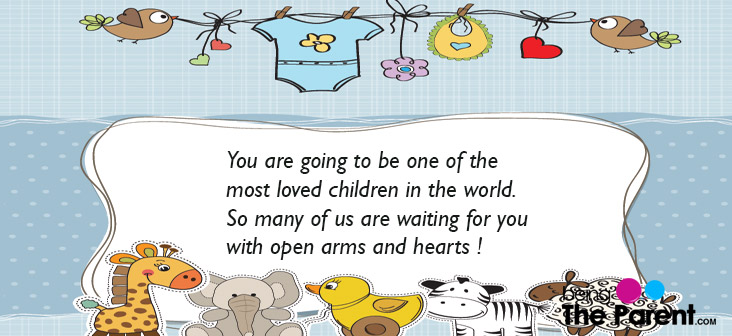 (गोद भराई) Baby Shower Messages For Mom
Shower the mom, who is the guest of honor of this event, with messages filled with love and recognition that she deserves as she enters this new and exciting phase of her life. These baby shower messages are perfect for wishing and congratulating the expecting mom

A mother-to-be has a wonderful dream. Such beautiful plans and love that never ends

In another couple of weeks, it's going to be good-bye tummy and hello mommy! Can't wait for enough to see the baby's pink-cheeked face and two beautiful eyes. We know your baby, be it a girl or a boy, will be a bundle of joy. Hoping to see your new star soon and a shower of blessings to you and your new baby

Congratulations on your upcoming new arrival! I know you'll be a wonderful mother

You are going to make a great mother, and I can't wait to meet your little one

The celebration of a baby shower means that the happiest moment of your baby's birth is very near! So I wish the new mom with a very safe and easy delivery, to let the world open to your new-born!

Wish the sweet would-be mom happy pregnancy on this blessed day of your baby shower! I hope you will enjoy every moment of this period while waiting for your tiny bundle of joy!

Believe you are too busy now in creating a tiny new world for your little baby! So hope you will not mind if I disturb you a bit to wish the very best in your new talent of this creativity, to welcome your sweet little baby!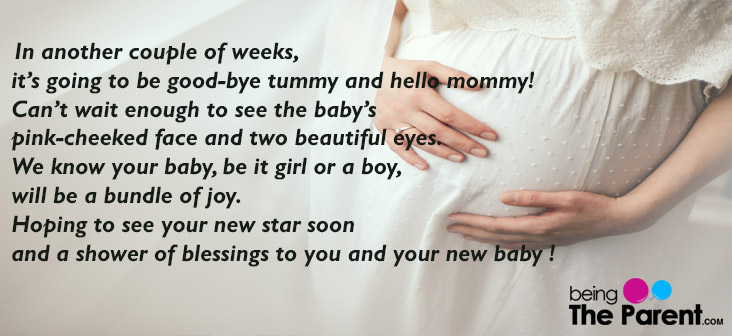 Soon you will be entering into a magical world of all story- characters with your little kid while reading them out to him/her. You are so waiting so eagerly to find you like a kid again, with your own child!

Sincere congratulations on your upcoming start to a new department, you are adding love to the world. There is nothing more precious for a mother than having her baby. We are excited to meet the new baby of your family in a couple of weeks. We wish you a safe delivery!

Baby booties and baby bottles and baby books galore! Now that you've got a child, you have a lot of things in store. But just because it's hard work doesn't mean that you should fear. Because that baby will be something you'll always hold dear
Baby Shower (गोद भराई) Messages And Quotes For Baby
Twinkle twinkle little star, can't wait to see how cute you are

A little gift wrapped up and tied, a little wish for the baby inside!

I wish the baby a life full of adventures, blue skies, dreaming coming true, happiness, and joys!

The littlest feet make the biggest footprints in our hearts. Enjoy this love

You are going to be one of the most loved children in the world. So many of us are waiting for you with open arms and hearts

My wish to you: may your life be full of sticky fingers, dirty feet, lots of adventures, dreams, hugs, and kisses

Precious one, so small, so sweet, dancing in on Angel's feet, straight from heaven's brightest star, what a blessing you truly are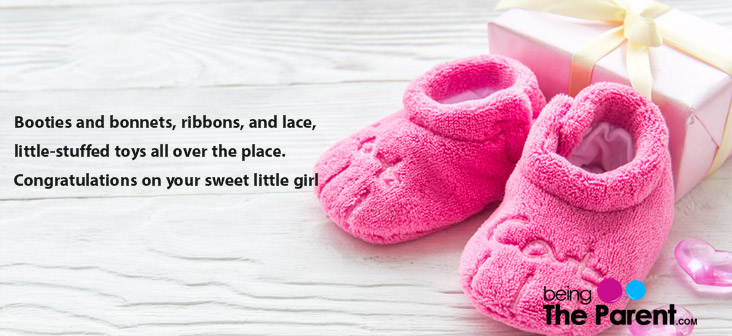 Wishes For Baby Girl
A baby girl is a blessing, a gift from heaven above, a precious little angel, to cherish and love

A beautiful little girl to play with and adore, to spoil a little, and love a lot, who could ask for more!

Booties and bonnets, ribbons, and lace, little-stuffed toys all over the place. Congratulations on your sweet little girl

We're tutu excited to meet your darling daughter. Best wishes for the pregnancy
Wishes For Baby Boy
Tiny fingers and tickly toes, cowboy boots, and trucks to tow. A bundle of joy, created by love. A precious gift, from heaven above

A baby boy arrives, and just like that, everything changes. The world gets bigger, the heart grows fuller, and the life gets better as he is in it

Get ready for toy cars in all shapes and sizes, for balls, bats, and bikes, and all sorts of surprises. Congratulations on your little man

He'll soon be here for us to love, a sweet baby boy from heaven above!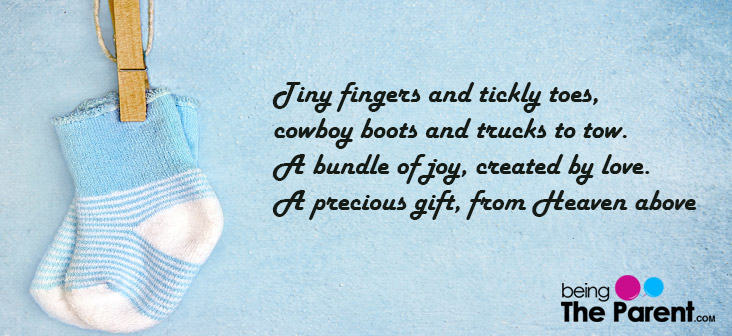 Popular Baby Shower(गोद भराई) Quotes
"Giving birth should be your greatest achievement, not your greatest fear"

 -Jane Weideman

"From there to here, and here to there, baby things are everywhere"

 – Dr. Seuss

" No language can express the power and beauty and heroism of a mother's love"

– Edwin H Chapin

"Babies make your heart bigger!"

– Brienne Kearney
We hope these baby shower messages will help you write a beautiful and heartfelt note for your friend or family member who is soon entering motherhood. These wishes will only make them feel special. You can also read: Planning An Indian Baby Shower
If you have any more (गोद भराई) baby shower messages, quotes, or wishes for it, do share it in the comments section below.