Raisins are storehouse of nutrients and an important member of the dry fruit family. These little delicacies in golden, green or black colour are loved by everyone and babies are no exception. Raisins are widely used in cooking, preparing desserts, in baking or as a snack. In fact, with high nutritional value and plenty of health benefits for babies, raisins are considered as "little gems". Read along to know 6 Health Benefits Of Raisins For Babies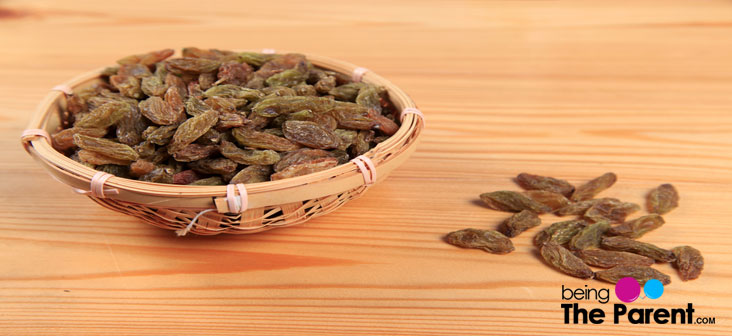 ---
Why Raisins?
Is It Safe To Give Raisins To Your Baby?
Health Benefits Of Raisins For Babies
Raisins are natural laxative 

Best source of all useful minerals 

A tonic for fever

Increases Hemoglobin

Prevents acidity

Heals brain injuries 
How To Include Raisins In Your Baby's Diet?
Precautions While Feeding Raisins To Your Baby
---
Why Raisins?
Dry Fruits are incomparable when we talk about fulfilling the daily dose of nutrients in your baby's diet. Talking about raisins, it is an excellent source of carbohydrates, potassium, calcium, iron, magnesium etc. that give lot of health benefit to babies. It is considered as the best food for relieving constipation, it is anti-microbial and one of the top nutrient foods that should be added to baby's diet. Raisins are a healthy alternatives to candies and chocolates as the best grapes are dried to form raisins.
Is It Safe To Give Raisins To Your Baby?
The answer is certainly YES! However, you need to be a little cautious before you start adding raisins in your little one's diet. The best age to start giving your baby raisins is once he is around 8-10 months old as this is the time when the jaw of your baby is strong to chew raisins. The best time to give raisins to your baby is along with his meal as this will reduce the risk of cavity. Since babies have a habit of putting everything in their mouth, you should be careful about the choking hazards that can be possible because of small size of raisins. Also keep in mind that although raisins do not contain any extra sugar, they do have natural sugar that is present in grapes before they are dehydrated. So avoid eating them in excess. Remember, moderation is the key here.
6 Health Benefits Of Raisins For Babies
Listing down 6 Health Benefits Of Raisins For Babies:
1. Raisins are natural laxative
The amount of dietary fibre found in raisins is high, thus it is the best food when it comes to getting rid of constipation in babies. Regular intake of raisins helps to improve your baby's bowel movement and boosts his digestive system. Raisins can be offered to babies by boiling them in water and then crushing them to make a smooth paste
2. Best source of all useful minerals
You cannot ignore the importance of minerals in your baby's diet for his proper growth and development. Raisins are full of iron, potassium, magnesium, calcium, and phosphorous. All these minerals are very necessary for the mental and physical development of the baby
3. A tonic for fever
When a child is ill, then as a parent, you may find it really tough to feed your baby. His appetite will go for a toss. But raisins that are sweet in taste and are best to give to your sick baby. Raisins also works as tonic in fever and are helpful heal your sick baby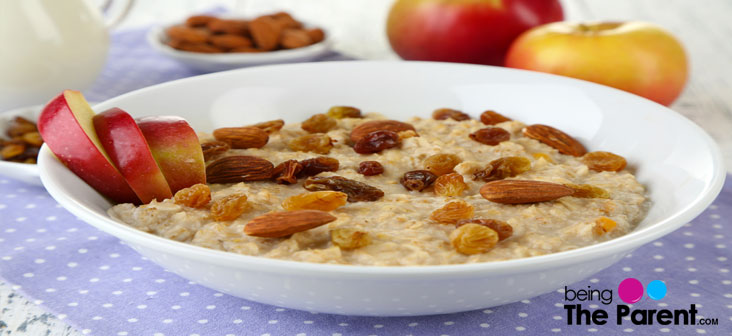 4. Increases Hemoglobin
Once the baby starts growing, it is essential to keep a check on his hemoglobin levels. As raisins are full of iron they are useful in making new red blood in your baby's body. So, if you want your baby to grow in a healthy manner then it is essential to add raisins to his diet
5. Prevents acidity
One more benefit of raisins is reducing acidic levels in your baby's body. Raisins reduce chances of acidosis thus ensuring your baby's good health
6. Heals brain injuries
According to a recent study, regular intake of raisins can actually heal brain injuries in babies. They are also useful to protect the central nervous system and apart from these raisins can also benefit by increasing your baby's memory
How To Include Raisins In Your Baby's Diet?
As the little ones don't have teeth to chew raisins thus you can boil the raisins in water and once they get cold, then you can crush them, make a paste of it and then feed your baby. Apart from this, raisins can be an interesting addition to certain recipes for your baby. It can be used for garnishing dishes like your baby's cereals or can be mixed in pancake batter or you can add it to breads and other baked food items.
Precautions While Feeding Raisins To Your Baby
Raisins are sugary and chewy, which can lead to certain side effects. Some of them are:
Raisins can stick to your baby's teeth and since they are high on sugar, this can cause formation of bacteria. In the long run, it can lead to tooth decay
It is necessary to develop a brushing habit in your baby at night to ensure all deposits of raisins are cleared
You must not give raisins to your baby during bed time as it increases the risk of choking
Never feed your baby with raisins during travelling like in a moving car as it may lead to choking hazards. Keep in mind that small babies don't make any choking sound and you may not be aware of it
Make sure that your baby is having one raisin at a time, so make him sit in one place and give him raisins one by one
It is better to avoid juice of raisins, as it can lead to the formation of cavities. Offer raisin juice only in extreme condition, like when your little one is suffering from fever
Hope this piece of writing will prove helpful to you. Do leave your experience in the comments section below.
Happy Parenting !