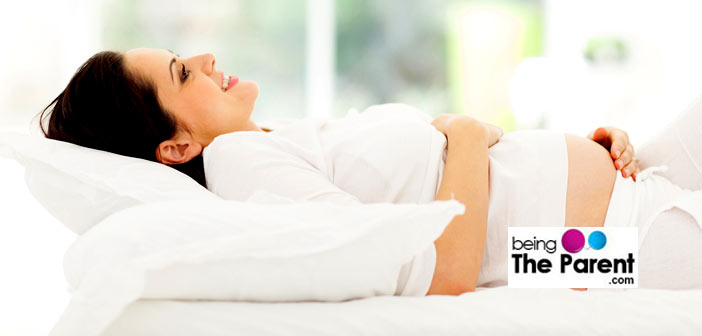 Ask any mother what is one thing that she misses most from pre-baby days. And most often, the answer will be "sleep". But your sleeping woes do not start only after you deliver the child. It starts from around the time you get pregnant. Yes, you heard that right. If you are pregnant, and have landed on this page, it is probably because you want to sleep better and safer. There are many sleep related questions that pop during pregnancy, some of which commonly asked are as below:
"How can I sleep better?"
"Why am I NOT sleeping?"
"How can I reduce the heart burn in the night?"
"How long can I sleep on my stomach?"
"Which side should I sleep on – left or right?"
"Should I prop up my legs?"
The list seems never ending. This article focuses on perhaps the most important question of all:
Can I Sleep On My Back During Pregnancy?
The answer is pretty straight forward: In the initial months (first trimester), you can. After that you should not.
So, although it is okay to sleep on your back for the first three months, we would recommend that you start practicing sleeping on your side from the initial days, especially if you are not accustomed to sleeping on your side. This will ensure that by the time you are in your second trimester, you are already used to your new sleeping position.
Now the natural second question is: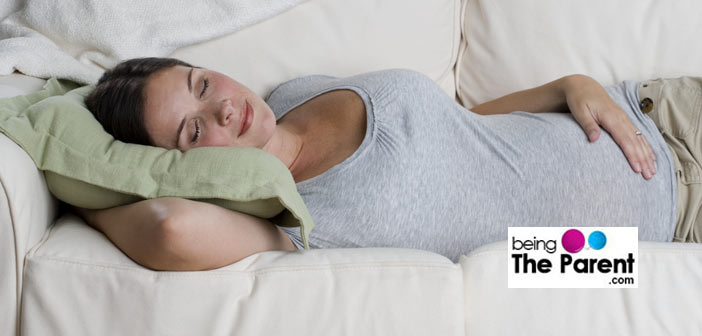 Why Can't I Sleep On My Back During Pregnancy?
By your second trimester, your uterus with the fetus inside would have become bigger and heavier. When you lie on your back, your now heavier uterus will compress a blood vessel called vena cava with its weight. This blood vessel is a major one as it takes care of blood flow to your baby. With it compressed, your baby will not get enough blood and you in turn will feel breathless and nauseated. This is even more pronounced if you have conditions like diabetes or hypertension, wherein these conditions determine how much oxygen and nutrients the baby is getting. If you lie on your back for longer periods of you, you could also feel dizzy and unwell. Medically, it is recommended to sleep side ways after your 16th week of pregnancy.
Which Is The Best Sleeping Position During Pregnancy Then?
Sleeping on your tummy is impossible with a bulging tummy. Sleeping on your back is, as we mentioned before, not good for you or baby. So, sleeping on your sides is the best! Traditionally, it is recommended you sleep on your left as vena cava (the blood vessel we talked about earlier) is on your right side. Sleeping on the left side also helps your kidneys to flush out waste toxins from your body, which inturn will help you with edema. But now, more and more practitioners are suggesting sleeping on either sides – as long as you feel comfortable. This is because even if you sleep on your right side, your vena cava is not compressed much. Of course, there are way to make your sleeping position more comfortable. You can use pillows to support your back and tummy. You can also use full length pregnancy pillows to support your entire body (most of these pillows can double up as feeding/nursing pillows once you have baby).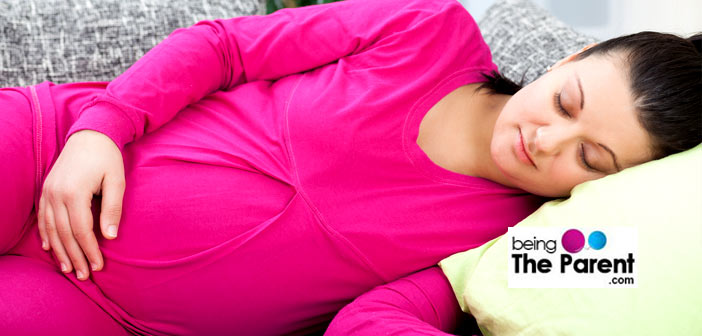 I Slept On My Side. But I Woke Up On My Back. Should I Panic?
No. Some amount of back-sleeping will not hurt. If you do it often and every night, then it is a problem. Since habits die hard, it is advised you do not sleep on your back at all. That said, there is no need to panic if you wake up on your back. You might be moving a lot in your sleep, rocking and turning to get comfortable and get some real sleep. If there was an issue, you would have woken up invariably, feeling uncomfortable, dizzy and nauseated. Since that did not happen, all is good. We'd say pregnancy is a time when you are prepared for more sleepless nights ahead. Yeah, you read that right!
Click here to read more on sleeping in pregnancy.
Take care.