During pregnancy, our body goes through many changes, and so does our mind. Common conditions like morning sickness, food cravings, and aversions, mood swings, weight gain, irritability, etc. would make your pregnancy period memorable for your entire life. We expect a superbly glowing skin, thick and beautiful tresses, a beautiful baby bump, and lesser stretch marks. But most of us also have to deal with some not-so-pleasant pregnancy symptoms, such as an itchy belly and itchy breast during pregnancy.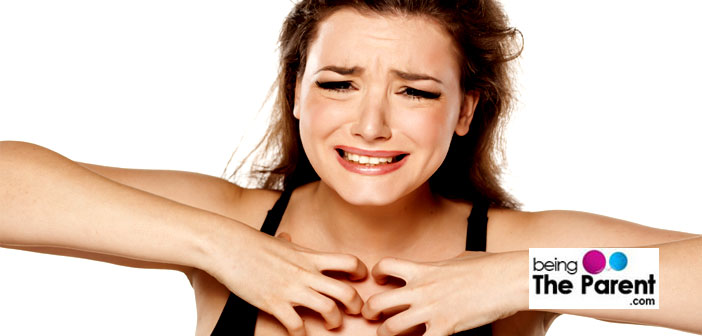 What Is Meant By Itchy Breasts For Pregnant Women?
What Causes It for pregnant women?
How Can I Soothe Itchy Breast During Pregnancy?

What Is Meant By Itchy Breasts For Pregnant Women?
It is not unusual to feel itchy on your belly area and itchy breast during pregnancy, which is growing day by day. Same way, itchy breast during pregnancy is also not uncommon feeling. In fact, in some cases, it is one of the first indications of pregnancy. The urge to scratch when you are in a public place will put you in an awkward position. Scratching with nail may cause an infection resulting in bringing up another trouble during pregnancy. Plus add to it the constant worry of your breasts losing shape and becoming saggy, boy, that is some real trouble there!

What Causes It for pregnant women?
Your breasts will increase in size during pregnancy. It is quite natural because the most important purpose of your breasts is feeding your baby. The development of milk ducts and milk-producing cells happens as the pregnancy progresses. More layers of fat can get collected under the skin. These all will bring out visible changes in your breast size. Click here to read why breasts become bigger during pregnancy.
Some of the reasons that trigger dryness and itchy breast during pregnancy are:
1. Hormonal Changes:
Hormone fluctuation is one of the reasons that cause an itchy breast during pregnancy. Increased estrogen level is one of the reasons that cause changes in the tissues of the breasts. It will make your breast skin unusually sensitive. Sensitive skin is more prone to itching. Some hormones affect the sweat glands. It will lead to heavy sweating. Sweating will increase the chances of developing dryness and cause itching of the skin, especially that covers the cleavage area and under the breasts
2. Stretching Of Skin:
As the breast size increases, the skin on the breasts stretches and expands, developing stretch marks and itchiness in that area. When the skin stretches, the glands of the skin that produce oils get affected, and oil production will be delayed leading to apparent dryness and itching. As the breasts size enlarges towards the end of the pregnancy itching and dryness will also tend to increase
3. Increased blood Flows:
As your breasts grow in size during pregnancy, the blood flow also increases. It will make your breasts – especially nipples highly sensitive and might even result in a tingling sensation
Other than the above reasons, if you already have skin conditions like eczema or allergies like dermatitis, itchiness, and dryness of breasts, your pregnancy will be more irritating and painful.

How Can I Soothe Itchy Breast During Pregnancy?
Usually, the itchiness that develops during pregnancy will disappear after delivery. But itchy breast during pregnancy will be an annoying add-on to other troubles that you are facing at this phase of life. Soothing and treating dryness and itchy breast during pregnancy can be done if we take care of certain things.
1. Selecting Proper Inner Wear:
Selecting suitable inner wear is very important if you have an itching breast. You can read on maternity bras here. Choose cotton bras that permit your breasts to breathe. You can choose from different types of bras designed for specific purposes such as:
Pick a pregnancy sleep bra, which is designed as not to inhibit the free movement of the breasts when tossing and turning while you sleep. This will help your skin to breath during the night

Opt for a maternity bra that provides support during day time. Make sure it is of the right size. Even if the material is skin-friendly, but the bra is too tight, it will increase your irritation

Go for an exercise bra that provides extra support for your breasts as your breasts are heavier now. This type of bra designed for exercise will absorb the sweat which helps to minimize the irritation due to itching
2. Using Body lotion Or Cream:
Pick up a suitable lotion or a cream enriched with vitamin E. Make sure it is devoid of alcohol or fragrance. Remember, more the chemicals present more the chances of increasing the damage due to dryness. Select from Cocoa butter, almond oil, olive oil, and aloe Vera creams. All these are known to reduce itching. Use it daily. Massage it into the breast's skin. It will not only help in hydrating the skin, but will also increase the circulation of blood, thus, helps to reduce stretch marks. Remember to leave the cream or lotion for a while before wearing a bra. Thus, your skin will get enough time to absorb it

3. Use Mild Soap And Detergent:
Using mild skin-friendly soap will reduce the chances of your breasts drying further as they will not inhibit the oil production. Thus, they help in reduces itching. Washing clothes with a mild detergent which are fragrance-free are recommended because using cloths washed with harsh detergent is found to increase the itching due to the chemicals present in it
4. Moisturising The Skin:
Using moisturizer upon your breasts immediately after taking a bath will help the skin to retain moisture from the water. You should also use the moisturizer before going to bed at night. This will help to keep your skin and nipples well hydrated
5. Take An Oatmeal Bath:
Taking a bath in hot water increases the dryness, making your itching worse. This is because hot water washes away the natural oil from the skin. To soothe your itchy skin opt for an oatmeal bath with lukewarm water. You can merely add oatmeal to your bath or else make a paste and apply on the affected area and wash after some time with lukewarm water
6. Use Petroleum Jelly:
Applying petroleum jelly upon the breasts and especially rubbing it in the nipple is found to be very effective in soothing the itchy breast during pregnancy. Use petroleum jelly after applying moisturizer. This will help to ensure that the moisture of the skin will not escape
7. Excessive Scrubbing Should Be Avoided:
Scrubbing the dry skin during the bath or drying breasts after bath roughly with a towel will increase the dryness because, by doing so, you are damaging the oil-secreting glands of your skin. Thus, sebum, naturally produced oil by the skin, will get lost, thereby increasing the dryness and itching of your breasts. Always pat dry your breasts after bath
8. Apply Aloe Vera:
Scoop out the gel inside the leaf of Aloe Vera. Rub it thoroughly onto the dry and itchy skin. Keeping this gel for some time in the refrigerator before applying will pacify your itching more gently
It is a usual practice for some of us to apply powder under the breasts and between the cleavages before wearing a bra. This will aggravate the problem of itching as the powder will absorb the oil secreted by the skin, leading to further dryness
I hope these tips help deal with itchy breasts during pregnancy.