Spring heralds happiness, cheer, warmth and life – eager to bloom, eager to blossom, eager to unchain the shackles of the desolate winter. True to its name, "Spring – the season of birth" – is resplendent with the hues of dancing daffodils, pleasing bluebells, lush green fields, chirping birds, parks teeming with children, melting ice resulting in swelling rivers, and an azure blue sky! This season of love and new beginnings inspires many a baby name. We've compiled a list of names that you can choose from, in this season of spring, to name your little bundle of joy.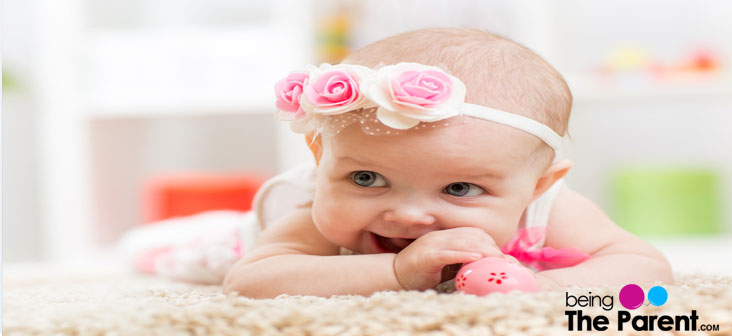 50 Spring Baby Names Inspired By Spring
Here are some baby names for a little girl and boy inspired by spring. Take a look and pick the most appropriate one for your little darling.
50 Baby Names Inspired By Spring
Sr.No
Name
Meaning
Gender
1
Amaryllis

A beautiful name of a flower belonging to the same botanical family as the Lily. It means pure pastoral beauty in Greek

Female
2
Anemone

It is a word for a delicate flower

Female
3
Anastasia

The name means resurrection and has a royal ring to it. The name is popular as the story of Anastasia – the famous lost daughter of the Russian Czar – that has been told and retold in many languages across the world through movies and novellas

Female
4
Apple

With apples blooming during the spring, it certainly makes for a name of a spring baby

Female
5
Aviv

It is Hebrew name meaning spring

Male
6
Aviva

A Hebrew word meaning spring.It also means vivacious and memorable

Female
7
April

Spring is in its full bloom in the month of April

Female
8
Aya

Aya finds its origins in both, Japanese and Hebrew where it means colorful or bird

Female
9
Attwell

The name has a typical classic English ring to it. As for its meaning, Attwell means the one living by the spring

Male
10
Aurora

In Latin, the name means a fresh start or a new dawn

Female
11
Azalea

A beautiful and uncommon name that means a flower

Female
12
Berilo

In Spanish the name means a pale green gemstone

Male
13
Beryl

The name is a British favorite meaning a green gemstone

Female
14
Blossom

And what do you say about this one here. As the world blossoms during the spring, so will the baby!

Female
15
Bloom

Flowers bloom in spring making the world a happier place!

Female
16
Bluebell

A pretty little flower that blooms during the spring. A cute name for your little princess

Female
17
Bradwell

Another name that sounds classic British! It means from the broad spring

Male
18
Bluma

A beautiful Jewish name that is in the same vein as Blossom and Bloom

Female
19
Brooke

A conventional girl's name and an unconventional, yet trending, boy's name that means a brook or a stream

Unisex
20
Clover

This lovely name is associated with wealth and good luck – blessings of spring

Male
21
Claire

This beautiful French name means bright and clear – embodying spring for all of us! Also, Claire has an air of the high society to it!

Female
22
Caroun

This Armenian derivative of Karen means springtime

Female
23
Cerelia

An unconventional choice of a name for a baby born in April or May meaning relating to springtime

Female
24
Chloe

This name made it in the Top 50 Popular Baby Names of 2015. The name has a beautiful meaning which goes as a young green shoot or new growth. Touche!

Female
25
Dahlia

This pretty name of a flower has an air of sophistication to it!

Female
26
Daisy

A little springtime flower

Female
27
Deborah

In Hebrew the name means a bee. Happy springtime!

Female
28
Dawn

So in awe of the name that means a new day, a new beginning, a new life! What a perfect sentiment for spring,I say!

Female
29
Denver

Your mind races to the name of the place, but Denver means green valley. Now imagine the lush green of the valley!

Male
30
Florence

You could borrow the name of this mesmerizing city, the name of which means blooming! Spring, so apt!

Female
31
Fontanne

What a lovely French name which signifies the fountain of spring!

Female
32
Haruki

This Japanese name means spring wood

Male
33
Haruko

Again, a Japanese name that means spring child

Female
34
Iris

A delicate name of a flower for your little, precious, delicate newborn! The name also means rainbow

Female
35
Kelby

A truly gorgeous and uncommon Gaelic name that means place by the fountain or spring!

Female
36
Jarek

This Slavik name derives its meaning from spring!

Male
37
Laverna

Absolutely smitten and enchanted by French names! This particular one means born in the spring

Female
38
Leif

Leif is how the Scandinavians like to spell Leaf. So apt for the season of green luscious leaves!

Male
39
Margeurite

The name means a type of the flower daisy. Can you find a more stylish way to call the spring out?

Female
40
Midori

Green in Japanese. Symbolically, it means fame!

Female
41
Maxwell

A nice dapper Scottish name that means Magnus' spring

Male
42
Pastelle

A nice soft shade of warm spring colors. This name is cute and perfect for your little baby girl

Female
43
Peony

A beautiful flower, yet again

Female
44
Nouvel

This modern name means new, fresh and original. It is a unisex name

Female / Male
45
Primrose

This small yet beautiful flower is one of the earliest spring flowers in much of Europe

Female
46
Signe

This Scandinavian word means new victory signifying hope and better prospects

Female
47
Violet

A lovely, little, purple flower

Female
48
Verde

French for color green

Female
49
Weldon

This English name means hill near a spring

Male
50
Zelenka

What a beautiful Czech name that means green, new, fresh, innocent, and all things spring!

Female
We've tried to intersperse common spring baby names with the uncommon, unconventional ones in this list to make your journey of name selection an interesting one! With your little one arriving this spring, your hands seem to be full! Happy name surfing!For more baby names see here