Which baby foods to introduce first?
The selection of first food for your baby is every mommy's concern. So here is a list of first food for your baby that will ease your worries and make her first food experience a fun and healthy. Without further ado let's have a look:
Avocado – Avocado is one of the best first food for a baby because it is filled with nutrients and all the essential fats which are important for a baby's growth. Avocados are smooth and creamy due to which it is easy to eat and to digest. It has Vitamin A and C, Niacin, Folate and so many minerals such as Phosphorous, Potassium, Magnesium, Iron, and Calcium.
Bananas –

Bananas are other nutritious food for babies. It is also loved by most babies due to its sweet taste and smooth texture. Bananas have mucosal property which help in digestion. It is rich in Vitamin A and C, Folate, Selenium, Potassium, Calcium, Phosphorous, and Magnesium.

Organic Brown Rice Cereal –

A blend of organic brown rice ground in blender and 1 cup of water makes a nutritious food for the baby.

Pears –

Pears are rich in Vitamin A, C, Folate, Calcium, Magnesium, Potassium, and Phosphorous which is also good for babies.

Sweet Potato –

Sweet Potato is also a good source of nutrients which are essential for the growth of the babies. Sweet Potato has Selenium, Potassium, Calcium, Sodium, Magnesium, Vitamin A, C, Folate, and Phosphorous.
What can I feed my 6 month old baby?
Well the answer of this question is described above, a parent can give all the above-mentioned foods to their babies. Along with this add apple and mango, as both these fruits are very nutritious and help to keep your baby healthy. Here is a list of food items which you can give to your baby as a meal:
Mashed Banana

Stewed Apple

Well steamed and pureed vegetables such as carrot, sweet potato, French beans, pumpkin, etc.

Pulse soup

Rice water

Single grain cereals like oats, barley, rice, etc

Steamed and pureed fruits

Homemade vegetable soups
What is the first vegetable to give a baby?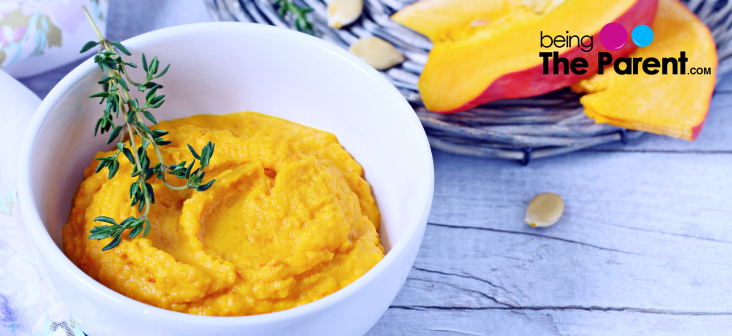 Feeding first meal to the baby is always a big step for parents but at the same time the reason of concern too. Parents are generally concerned about what is good for the baby and what's not? So, here we introduce a list of vegetables which are perfect for the baby as their first meal.
Squash – Squash includes various squashes like zucchini, butternut, acorn, pumpkin and other. This food is the one of the most suitable food for a infant.

Sweet Potatoes – The sweetness of the sweet potatoes and its color attract the babies and loved by them a lot.

Carrots – The flavor of the carrot is liked by infants. It will be given to the baies after proper steaming and smashing and it is also good for eyes.

Peas – The taste and color of peas may find appealing to the infants. But always give the peas after complete steaming and smashing because the whole peas are unsafe for babies as they has chances of choking.

Green Beans – Green beans are also given in the form of a puree, so that the baby can swallow it easily.
What is the best first food for a baby?
Once you know your baby ready to eat solids start preparing healthy tasty and easy to eat finger foods. While you introduce solids to your little one, these essential nutrients must form a part of her daily diet:
Protein

Niacin

Fat

Iron

Zinc

B6

Vitamin E

Calcium

Magnesium and other trace minerals

Phosphorus

Omega 3 and omega 6 fats (in the proper balance)

At around 8 months, baby also needs:

Vitamins A, B, C, D, and K

Plus potassium
Foods that contain the nutrients in good quantity are –
Blended Red meat

Egg Yolk

Liver

Avocado

Banana

Butternut squash

Fermented foods